Sino-Russian trade ties set to strengthen
By Li Dong | China Daily | Updated: 2019-09-16 08:01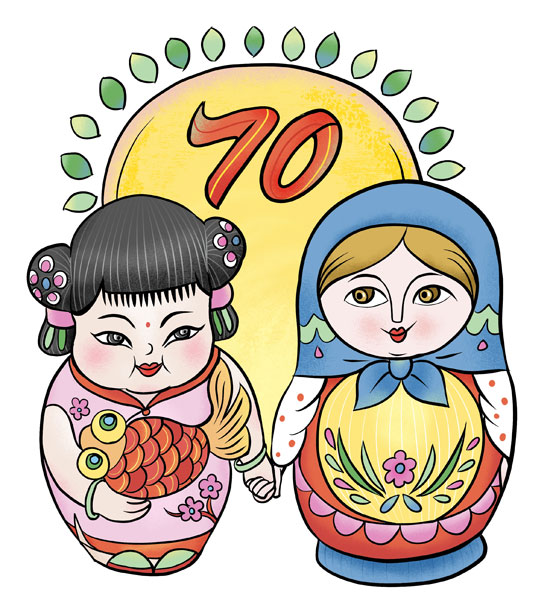 China and Russia have built a comprehensive strategic partnership while expanding and deepening cooperation to achieve win-win results. With the world facing uncertainties, Beijing and Moscow are determined to upgrade their practical cooperation in order to overcome the global challenges created by slowing economic growth and rising protectionism.
The two countries' efforts to deepen pragmatic cooperation have started paying dividends. Both the quantity and quality of Sino-Russian trade have improved, and China has been Russia's largest trade partner for nine successive years. The bilateral trade volume was only $8 billion in 2000, but by 2018 it had exceeded the $100 billion mark. And in the first eight months of this year, the trade volume increased 4.5 percent to reach more than $70 billion.
According to the Russian government, Sino-Russian trade is expected to increase to $200 billion by 2024. As for the Sino-Russian trade structure, it has improved to a large extent with an increase in the proportion of quality goods, especially high-tech and advanced electrical products. Bilateral trade in agricultural products, too, has increased, reaching $5 billion last year, up 28 percent year-onyear. Sino-Russian e-commerce has also expanded in keeping with the times.
Beginning from projects in equipment manufacturing, China and Russia have strived to boost mutual investment and financing in order to deepen their pragmatic cooperation. The China-Russia Investment Cooperation Committee has listed about 70 cooperative projects over the past two years, and the construction of cross-border infrastructure is progressing well. For example, the Tongjiang-Nizhneleninskoye railway bridge and Heihe-Blagoveshchensk highway bridge are expected to be completed by the end of this year.
Due to the upgrading of Sino-Russian financial cooperation in fields such as insurance and settlement of payment in local currencies, bilateral trade is progressing more smoothly. The two sides are also strengthening all-round cooperation in the exploration and exploitation of oil and natural gas, which is of particular importance because oil and natural gas exports account for about half of Russia's budget income and comprise the largest proportion of its exports to China.
The China-Russia crude oil pipeline will consolidate their partnership in the energy sector as it ensures the supply of about 15 million cubic meters of crude to China per year. And the China-Russia East-Route natural gas pipeline will supply 38 billion cubic meters of gas to China per year after it becomes operational by December.
Thanks to the co-investment and co-development of the two countries' oil and natural gas industries, they have become closely interlinked, with an apt example being the Yamal LNG project, which is China's largest investment in Russia and first mega energy development project in the Arctic.
The increasing participation of private enterprises in Sino-Russian economic cooperation has injected new vigor into the market. More than 1,200 Chinese enterprises-including more than 40 State-owned enterprises-are now doing business in Russia in fields such as energy, transportation, household appliances, telecommunications, agriculture, finance, logistics, e-commerce and light industry.
But despite the remarkable achievements, Sino-Russian cooperation still faces some challenges due to sluggish global growth and rising trade protectionism. Moreover, China's economic development has slowed down, and Russia faces multiple problems including possible recession, economic sanctions by some Western countries and fluctuating oil prices.
If the two countries do not overcome these challenges, bilateral trade will not grow to its full potential. To overcome the problems, China and Russia should strengthen pragmatic cooperation making the best use of their complementary economic structure and advantages. In this regard, the dovetailing of the China-proposed Belt and Road Initiative and Russia's Eurasian Economic Union will play an important role in future Sino-Russia economic cooperation.
The two countries should also make joint efforts to strengthen cooperation in mutually beneficial areas by laying greater emphasis on innovation and improving the investment environment.
The author is a researcher at and deputy director of the Institute of Eurasian Studies at the China Institute of Contemporary International Relations. The views don't necessarily represent those of China Daily.