Cherishing China's rich athletic heritage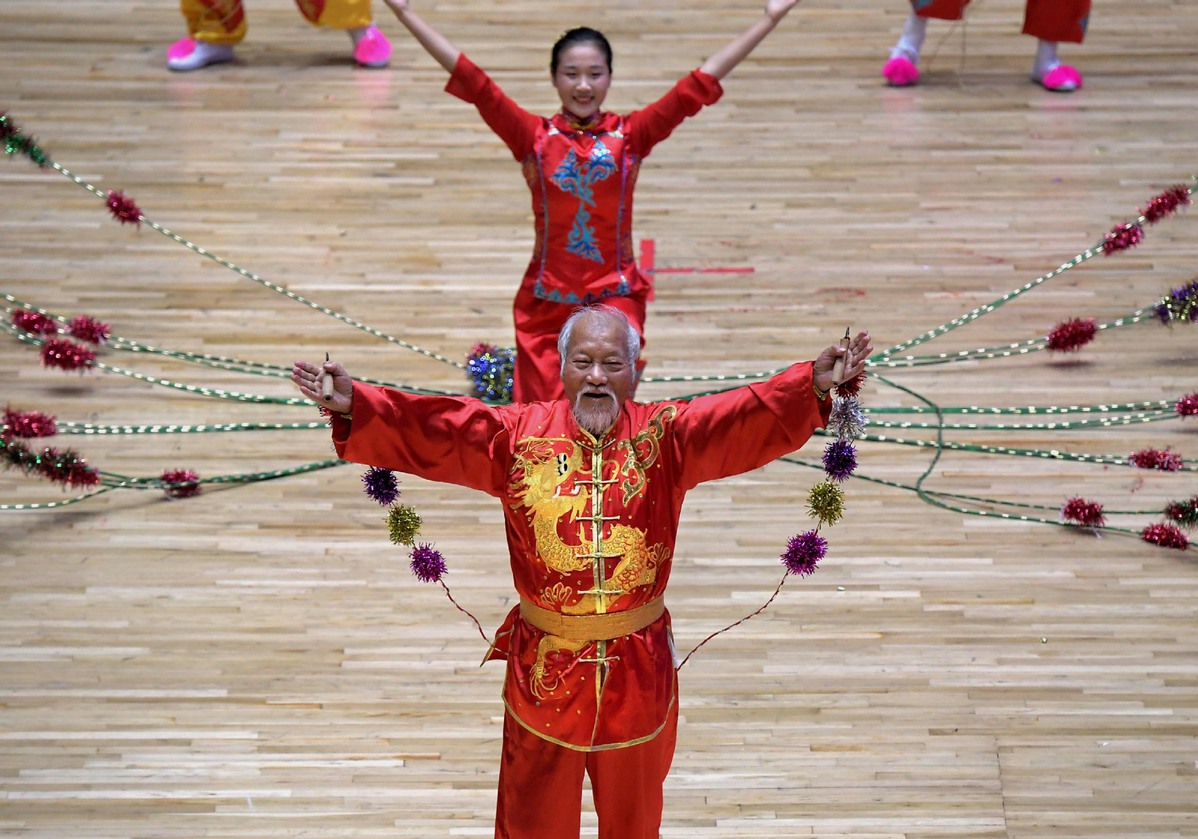 Tradition takes center stage as cultures converge in Zhengzhou
Eighty-one-year-old Hu Anmin used to perform Chinese rope skipping alone at China's Ethnic Games, but not anymore.
He is credited with inspiring over 100,000 people to take up the sport, which ranks as one of the retired teacher's proudest achievements since making his debut at the Games two decades ago.
Getting people involved in traditional sports such as rope skipping is the very essence of the Ethnic Games, which today will close the curtain on their 11th edition in Zhengzhou, Henan province.
Skipping king
Known as the "King of Chinese rope skipping", Hu, from the Man ethnic group, sports grey hair and a beard. Browsing through his photo albums, it's clear he's lived his life to the full.
Hu is a connector of dots, a bridge that brings people together. He has mastered about 300 styles-either inherited or created-of rope skipping, a sport that has a long history in Man culture.
"I love being here because it's something that I've never experienced before," said Hu, one of the oldest athletes at the Games, which began on Sept 8. "I love all of the dreams I have fulfilled and am still chasing at the Ethnic Games."
Hu's family members, including his son, daughter and 10-year-old granddaughter, also showed off their rope-skipping skills at this year's event.
"I'm very optimistic that I can perform at the Ethnic Games four years from now, while my second grandson will be over 5 years old and can also join," Hu added.
Rugby's relative
In terms of popularity, "sparkler-grabbing" reigns supreme for the Zhuang, Dong and other ethnic groups in Guangxi Zhuang autonomous region.
Tan Yimou, of the Zhuang people, is a typical enthusiast and has practiced the game, which is also known as 'Chinese rugby', since he was 12 years old.
The tough-tackling sport shares many similarities with rugby but uses a colorful disk, which is about the size of a man's hand, instead of an oval ball.
"Sparkler-grabbing made its debut as an exhibition event at China's second Ethnic Games in 1982.Four years later in Hohhot, it was listed as an official event when I first represented Guangxi as a player," Tan recalled.
At that time, sparkler-grabbing was still foreign to most people from other parts of China, or it was merely viewed as an oddity that was held during local festivals.
Tan is proud to have played a major role in promoting the sport.
"It's helpful to popularize sparkler-grabbing through standardizing rules and taking it closer to modern sports so that more people can participate," he said.
"It's part of who I am, promoting sparkler-grabbing is more important than anything else."
His efforts have paid off, with Guangxi, now coached by Tan, only managing to scrape out a victory against a vastly improved Beijing team.
Tan was also happy to see that sparkler-grabbing was one of a number of traditional sports to be included in school curricula in Guangxi as part of the government's Healthy China initiative.