Xi cites necessity of safe, manageable cyberspace
By CAO YIN,YANG CHENG | China Daily | Updated: 2019-09-17 04:49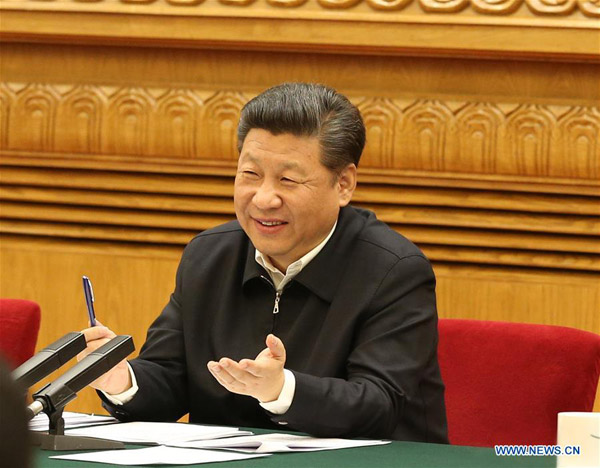 President Xi Jinping has highlighted the necessity of a cyberspace environment that is safe and manageable as well as open and innovative.
The security of personal information and people's legitimate rights and interests in cyberspace will also be safeguarded, said Xi, also general secretary of the Communist Party of China Central Committee and chairman of the Central Military Commission.
He made the remarks in an instruction for a weeklong national awareness campaign on cybersecurity that opened in Tianjin on Monday.
Xi said efforts should be made not only to develop new technologies such as artificial intelligence, the internet of things and the new generation of communication networks but also to guide the application of the new technologies with laws, administrative rules and standards.
First launched in 2014, the weeklong campaign is an annual event that promotes national cybersecurity awareness. Activities such as a cybersecurity expo and technology forum will be included in this year's event.
In addressing the campaign's opening on Monday, Huang Kunming, head of the Publicity Department of the CPC Central Committee, stressed the implementation of Xi's instruction and understanding of the general trend of IT application development to cope with cybersecurity challenges and protect people's interests in cyberspace.
Eugene Kaspersky, CEO and founder of Russian-based cybersecurity company Kaspersky, said Xi's remarks represent a "more open market in China's cybersecurity field" and create more opportunities for foreign companies.
"We built a partnership with China Electronic Technology Cyber Security Co last year during the 2018 World Internet Conference," he said, adding that their collaboration will focus on anti-virus, cloud computing and information security products and services.
Liu Quan, director of the China Center for Information Industry Development Institute of Cyberspace, said China's cyberspace market has ample opportunities for foreign enterprises.
As for the illegal collection of personal data through smartphone applications — a problem that has been the focus of many public complaints — the cybersecurity coordination bureau of the Office of the Central Cyberspace Affairs Commission started a joint crackdown in January with other agencies to fight the problem.
They have received about 8,000 reports of illegal collection of personal information via apps and strengthened supervision, said Yang Chunyan, deputy bureau director.
Xinhua contributed to this story.