Blessing to the motherland from HK youth
chinadaily.com.cn | Updated: 2019-09-17 12:36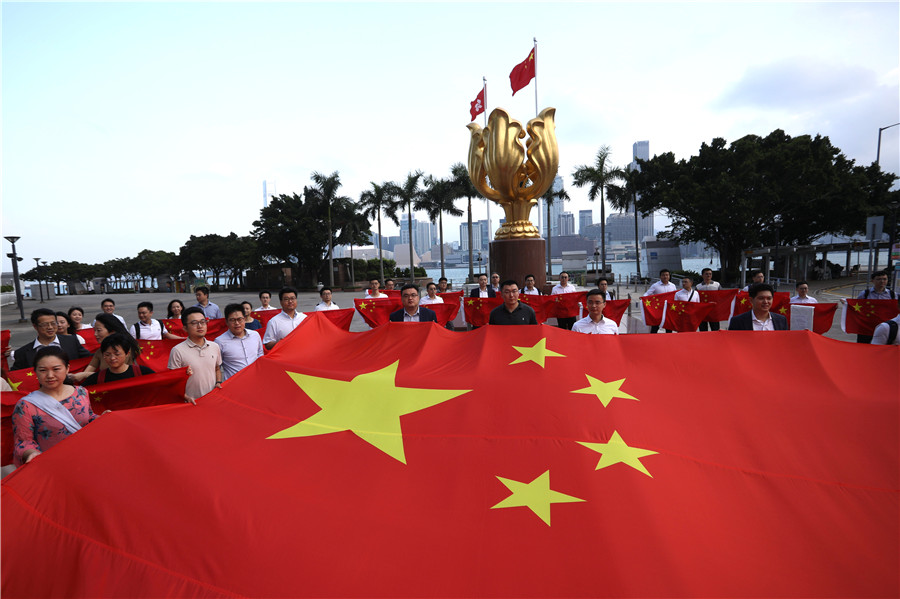 More than 100 young people gathered in Hong Kong's landmark Golden Bauhinia Square waving the national flags and singing the national anthem in a show of their patriotism.
They brought 70 national flags to the square to mark the 70th anniversary of the founding of the People's Republic of China, which will be celebrated on Oct 1 while chanting the slogan: "Best wishes to the motherland, best wishes to Hong Kong, happy birthday,"
Many participants joined the singing before going to work in the financial center about two kilometers away. They were all dressed for work in the sweltering heat even in the early morning.
"Many of my friends heeded a call online and came today to honor the motherland for its 70th anniversary. So I decided to come here before work to show my affinity for the motherland," said 26-year-old Mike Chong, who works at a bank.
By sending their best wishes to China, the young people expressed hope for the country to become even stronger and achieve advancements in every way, said Sharon Sun, who also works in finance.
"A stronger nation provides development opportunities for us," she added.
She said she hoped young people in Hong Kong would work harder so that Hong Kong can maintain its prosperity and stability.
Twenty-nine-year old Gao Lingli, who also works in finance, said she wished Hong Kong could ride out the recent turmoil soon and that peace and order could be restored,
Some participants rushed to work after the event, while others stayed to watch the flag-raising ceremony.
Patriotic flash mob has become a new trend in Hong Kong recently. Last Thursday, more than 1,000 people gathered at the International Finance Centre in Central singing the national anthem, while hundreds of people showed up at the concourse of Olympian City in West Kowloon on Friday.