Scola remains a 'Diamond' after all these years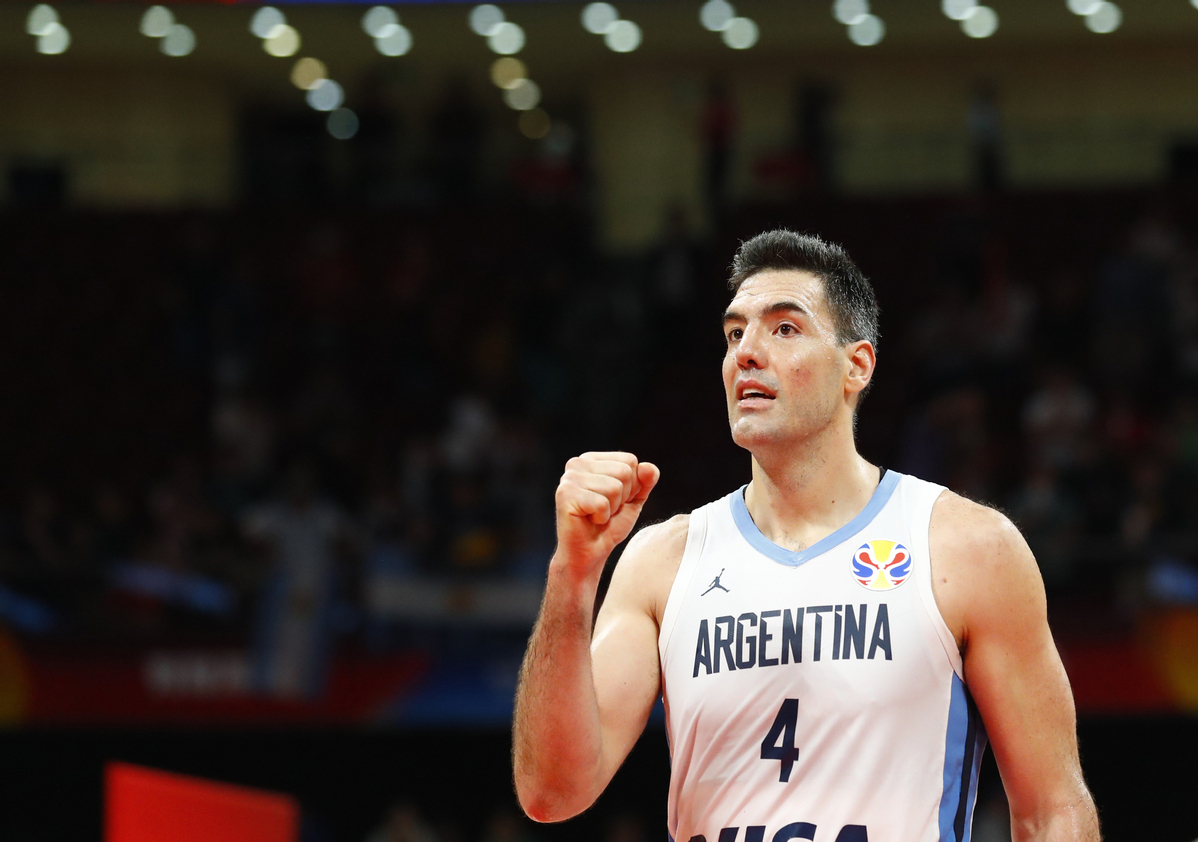 Yao's old sidekick belied his age to sparkle once more at Wukesong
Luis Scola is no stranger to Beijing's Wukesong Arena, where he led Argentina to the bronze medal at the 2008 Olympics.
More than a decade later, he was selected to the All-Star Five after the FIBA Basketball World Cup wrapped up at the stadium on Sunday night.
At 39, Scola was the oldest player in the tournament, but he averaged 17.9 points and 8.1 rebounds in his fifth World Cup, helping Argentina finish runner-up to champion Spain.
Scola was held scoreless in the first half of Sunday's final and finished with just eight points and eight assists, but that didn't diminish his overall contribution.
"Scola is our leader. He is a time-stolen man. He got up at six in the morning and made himself better and better and better throughout the tournament," said Argentina coach Sergio Hernandez.
In fact, Scola achieved all the goals he set for himself at the World Cup, ticking off each objective in a Twitter post: "First goal: pass the group. Second goal: enter the quarters. Third goal: qualify for the Olympic Games. Fourth goal: enter the semis. Fifth goal: win a medal."
As Chinese legend Yao Ming's teammate with the NBA's Houston Rockets, Scola won the hearts of Chinese fans and earned the nickname "Diamond" at the 2008 Beijing Olympics, impressing the crowds at Wukesong with his long hair and smart playmaking.
At the World Cup, he sported a different look.
"The hair is a little bit white now. I like it long, but when it gets white, it feels weird," Scola said after Argentina secured its quarterfinal berth with an 87-67 rout of Venezuela.
The flowing locks might be gone, but his determination remains as strong as ever.
Scola didn't enter the NBA until he was 27. He was a 2002 second-round draft pick of the San Antonio Spurs but didn't play an NBA season until 2007-08. He gained renown as a stalwart of the Argentine national team that defeated Team USA and won Olympic gold at the 2004 Athens Games, among other accomplishments.
Scola was a star in Europe, playing mostly in Spain, but could never join fellow Argentine standout Manu Ginobili on the Spurs due to buyout constraints with his team in Europe.
After a decade in the NBA that included stops in Houston, Phoenix, Indianapolis, Toronto and Brooklyn, he joined the Chinese Basketball Association's Shanxi Loongs in 2017, then transferred to Yao's old team, the Shanghai Sharks.
As the only member of Argentina's 2004 Olympic champions still playing for the national team, Scola has a wealth of international experience-but he was cautious heading into the World Cup.
Although he enjoys popularity among Chinese media, the Argentine star remained silent in front of local journalists but showed his friendliness by patting their shoulders or giving them high-fives. He didn't speak to them until his team made it to the last eight.
"I understand everyone talks about my age, but my brain is not functioning that way," said the 6-foot-9 forward. "I just enjoy playing and helping my team win."
In the semifinal, Scola displayed his offensive versatility by finishing with 28 points and 13 rebounds in the victory over France-offering a strong indication he could again be a force to be reckoned with at next year's Tokyo Olympics.
In other words, just what his" Diamond" nickname suggests: A solid, shiny, time-honored jewel.
Xinhua