Online novels seen as 'covert threat' to youths
By LI LEI | China Daily | Updated: 2019-09-20 09:05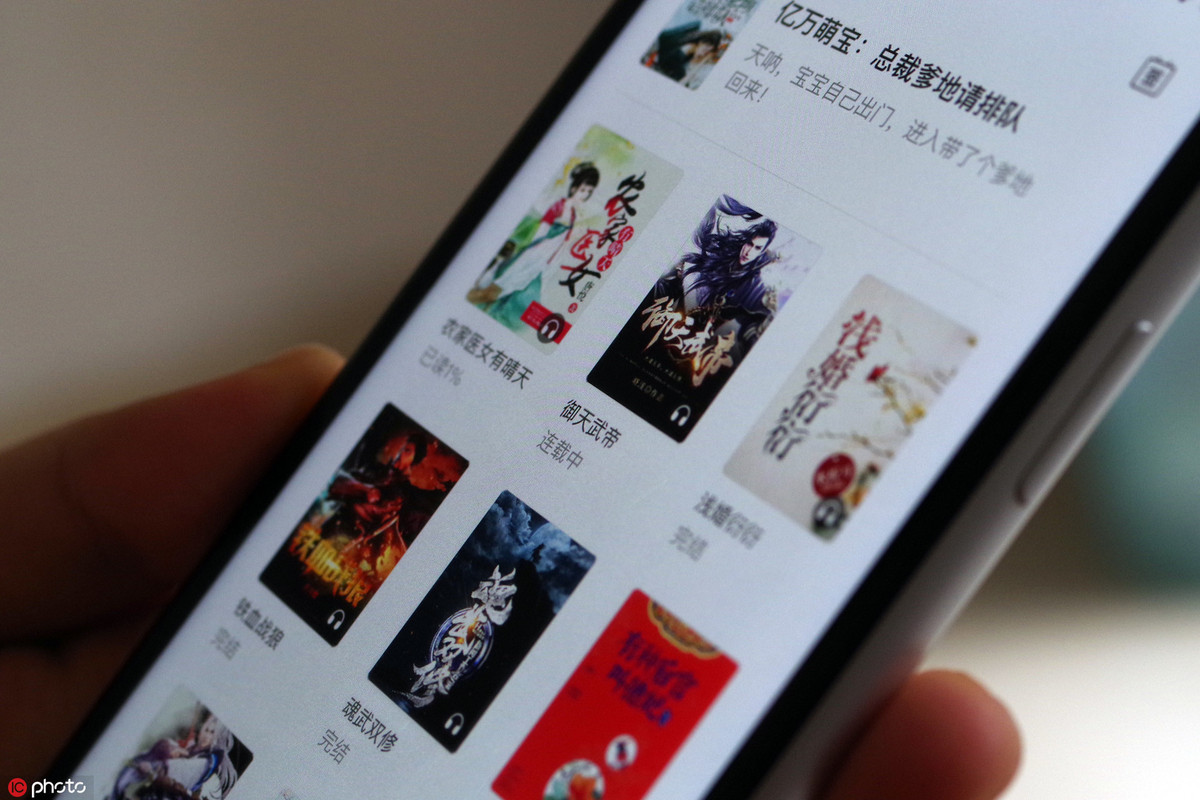 Research shows lack of oversight on vulgarity, violence on literature sites
Online games and pornographic websites are widely deemed threats to children's mental wellbeing and have long been in the crosshairs of internet watchdogs, parents and teachers.
Online novels, however, have received less scrutiny as they are believed to appeal less to school children.
But researchers and parents have found that such novels increasingly contain a host of vulgarities and violent messages that are as strong as their visual counterparts.
A recent report on the usage of mobile internet shows that over one-fifth of 1,034 students surveyed had encountered sexual or violent content while surfing online.
The respondents-aged 18 and younger-were scattered across five provincial regions including Beijing and the less developed Henan province, according to the study by the Nandu Big Data Institute, a research organ affiliated with the Southern Metropolis Daily newspaper.
To help children evade addiction or adult content, major game providers and video streaming websites have adopted filters designed for teenagers.
But the survey found such measures are rarely embraced by literature websites, which are rife with stories containing descriptions of sex or violence, despite a government crackdown.
"That's an issue that requires immediate attention," said Na Diya, a researcher leading the survey.
The monthslong research found that murder stories and those featuring sexual encounters are displayed freely on multiple literature platforms.
The most popular such novels include one named Death Game Group, a serial murder story involving a chat group that was created by dozens of middle school students on the Chinese messaging tool QQ.
The story, with detailed descriptions of how every murder was carried out, is available on multiple platforms including linw.net and bcty365.com, according to Southern Metropolis Daily. In addition, literature websites including www.qu.la are known among students for their abundance of sensuous stories.
China has seen a record number of underage internet users, who have started navigating cyberspace at younger ages.
Figures provided by the Cyberspace Administration of China show that China had 829 million internet users as of last year, and 21.6 percent of those users were aged 19 and younger. More than a quarter of the web surfers were students.
Sun Hongyan, a researcher on children's internet use at the China Youth and Children Research Center, said the negative influence of online novels on school children has long been underestimated by parents and authorities alike, as addiction to novels is less noticeable than addiction to video games.
"Speaking of novels, the first thing that parents think about may be classics," she said. "That has led many of them to let down their guard for the covert threat."
Apart from the sexual and violent messages, experts have shed light on other downsides of online literature, including the lack of a guarantee of tasteful writing and poor editorial standards that many fear could over time take a toll on children's language development.
Many have also expressed concerns for the so-called left-behind children in rural areas, whose parents have left for better-paying jobs in cities and have entrusted them to their aging parents and other relatives.
According to the China Internet Network Information Center, more than 79 million rural teenagers had access to the internet by the end of 2015.
Sun said that as this group of children lack parental oversight and have limited means for recreation, they could be more vulnerable to addiction and prone to seek satisfaction from descriptions of intense relationships.
"That includes behaviors that are not age-appropriate, such as sadomasochism," she said.