Brain behind 2022 mascot so proud of team's prize panda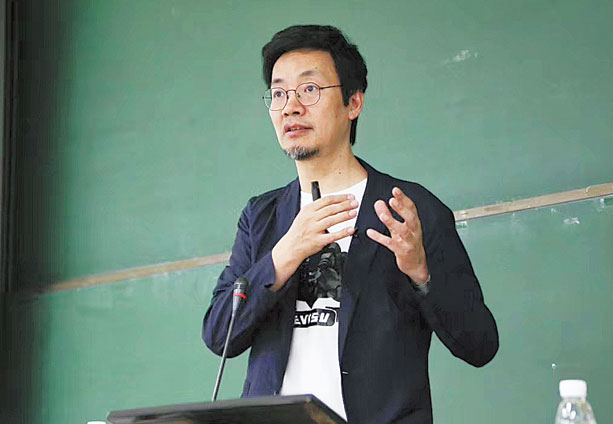 Cao Xue has endured the proverbial roller coaster of emotions since learning his team's design was selected as the mascot for the Beijing 2022 Winter Olympics.
After months of toil and sleepless nights, there were tears of joy on Aug 21 when Cao was told that cute cartoon panda Bing Dwen Dwen had beaten around 6,000 submissions to be the symbolic face of the Beijing Games.
But after being sworn to secrecy until the design was officially unveiled on Sept 17, Cao admitted the wait to tell everyone the exciting news was excruciating.
"I suffered for weeks after being told Bing Dwen Dwen had been chosen as the mascot for the Beijing Winter Games. I could not tell my friends, relatives, colleagues and even my family before it was officially announced by the 2022 organizing committee," said Cao, a professor at Guangzhou Academy of Fine Arts (GAFA).
Cao now finds himself catapulted into the spotlight, fielding interview after interview as he explains the process and thinking behind his team's creation, which has been described as a panda wearing an icy shell that's stylized as a sports helmet or spacesuit.
Bing translates as "ice" in Chinese, which is a symbol of toughness and purity, while Dwen suggests health and ingenuity-all characteristics associated with the spirit of the Olympics.
Cao acknowledges it is somewhat ironic that designers from Guangzhou, a hot and humid southern metropolis that rarely sees snow, ran out winners of a Winter Olympics design competition.
"I told an official with the 2022 organizing committee that those who have never seen snowfall are even more creative and imaginative in creating, designing and producing ice and snow works," he said.
"And nobody in China likes the snow and ice better than the Cantonese."
In fact, as Cao pointed out, Guangdong province boasts the world's second-largest indoor ski resort, so winter sports aren't completely alien to southerners.
The same can't be said for pandas, though. Cao chose the rare animal as the basis for the design because it has, as he says, become a symbol of goodwill and resonates with a global audience.
As part of the design process, Cao's team visited a giant panda nature reserve in Sichuan province last year.
Cao added that Bing Dwen Dwen is a gift for the country as it prepares to celebrate its 70th anniversary next month.
Liu Pingyun, another member of the winning team, revealed Bing Dwen Dwen underwent over a thousand design revisions before the final version was arrived at.
"To create, design and produce Bing Dwen Dwen, the 14-person team, which consisted of seven professors and teachers and another seven GAFA postgraduate students, worked overtime for several months," Liu said.
"We even joked that one of the women on our team, who wears glasses, had started to look like a panda because she was so focused on her work!"