A reopening of remembrance
By Wang Kaihao | China Daily | Updated: 2019-09-24 08:51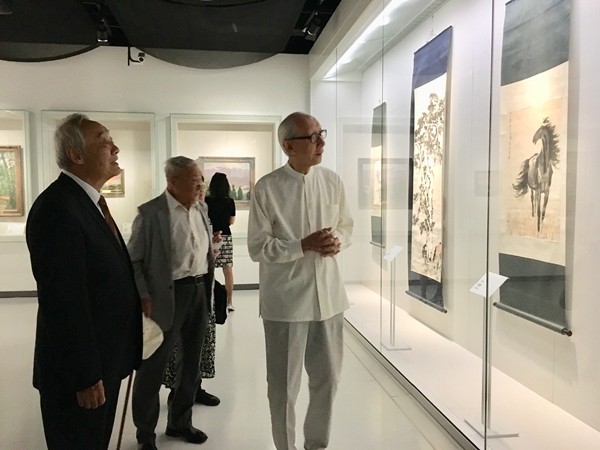 Xu Qingping says his father's patriotism is promoted through the display. Xu Beihong painted many pieces in support of China's War of Resistance Against Japanese Aggression (1931-45).
The exhibits include three of his best-known historically themed oil paintings-Tian Heng and His 500 Retainers (1930), Xi Wo Hou, or wait for our lord (1933), and Foolish Old Man Attempting to Remove Mountains (1940)-which are respectively considered to hail loyalty, freedom and persistence.
Also on show is a series of ink-and-water paintings of galloping horses, another representative theme in Xu Beihong's art that stands for tenacity.
"No matter what genre or size, Xu Beihong's works reflect strong Chinese characteristics," Liu Wanming, deputy director of the National Museum of China, says.
"We can see techniques of Western painting in his work ... but he fully expressed his cultural confidence as a Chinese artist."
Liu continues: "He revived ancient classics of Chinese paintings in a creative way-to get close to reality and give them romantic color."
Some exhibits reflect his connections with other important figures of the time. For example, his portraits of Indian poet and Nobel laureate Rabindranath Tagore-with whom he interacted in the late 1930s and early 1940s-and Xu Beihong's friendship with Chinese painter Qi Baishi.
The memorial museum is located in the neighborhood where Xu Beihong had lived. However, his old house was demolished in 1967, during the construction of the city's subway. In 1982, a 2,000-square-meter memorial hall was rebuilt around the site. It was open until 2010, and then closed and reopened again after the recent renovation.