60 dancing years
By Chen Nan | China Daily | Updated: 2019-09-26 08:47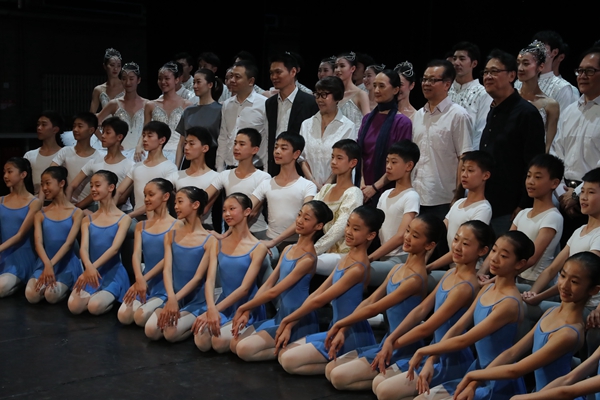 Before the Beijing Dance School formally opened, then-Soviet ballerina Elena Oleg Alexandrovna helped to establish a regime based on the Bolshoi Academy in Moscow. Her fellow dancer and choreographer Pyotr Gusev was the school's artistic director from 1957 to 1960. In 1958, the school successfully performed Swan Lake, featuring Bai Shuxiang as the white swan.
In the following year, the school formed the first Chinese ballet troupe with Bai alongside 21 other dancers and an 18-member orchestra. It soon became the Central Ballet of China, which is now known as the National Ballet of China.
"It was incredible that we Chinese dancers could perform Swan Lake in such a short time. Everything was fresh, such as the costumes, lighting and the stage design," says Bai, 80, who was born in Xinbin county, Liaoning province, and was selected to study at the Beijing Dance Academy in 1954. "For the Chinese audience, Swan Lake represents Russian ballet."
Bai recalls that after she performed Swan Lake, Gusev told her, "You are an artist now."
From 1959 to 1961, under the instruction of Russian experts, the National Ballet of China staged Le Corsaire and Giselle.
According to Bai, the history of ballet in China is short compared to the history of ballet in the West.
"But the key to Chinese ballet's growing popularity is telling homegrown stories," she says.
In 1964, China's first original ballet production, Red Detachment of Women, premiered in Beijing. It is best known in the West as the ballet performed for former US president Richard Nixon during his visit to China in 1972.
Based on a film with the same name, it tells the story of a rural girl, Wu Qionghua, who escapes a life of slavery and joins an all-female Communist Party army battalion led by commander Hong Changqing on Hainan island during the civil war in the early 1930s.
Bai played the role of Wu in the original ballet production and she, along with choreographer Li Chengxiang and composer Wu Zuqiang, as well as ballet dancers of the company, spent months in Hainan province to better understand and portray the soldiers. Red Detachment of Women remains one of the most popular ballet pieces of the company and has been staged around the world more than 4,000 times.