Books that speak volumes
By Wang Kaihao | China Daily | Updated: 2019-09-28 09:00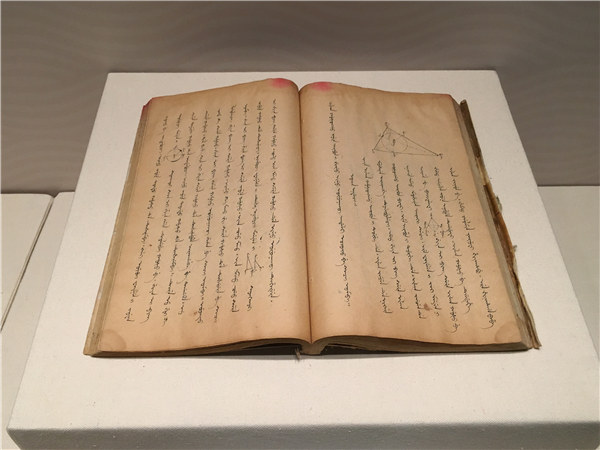 An exhibition at the National Library of China in Beijing illustrates how books published between the 15th and 19th centuries allowed China and the West to gain insights into one another.
In most history books, the Manchu Qing Dynasty (1644-1911) Emperor Kangxi is depicted as nursing great ambitions to make his country strong and prosperous.
But under his reign (1662-1722) the empire is known for its exclusion, Sino-foreign trade and communications having been strictly curbed.
But that page of history does have another side. Anyone seeing a Manchu-language edition of Euclid's Elements at a new exhibition in the National Library of China is likely to gain a new understanding of this emperor.
Thanks to a group of European missionaries serving for the imperial court, Kangxi was exposed to Western natural sciences and technology. He was obviously a keen student of Elements, using red ink to highlight certain sections.
"The emperor believed his divine power derived from heaven," Zhao Daying, a researcher at the library, says.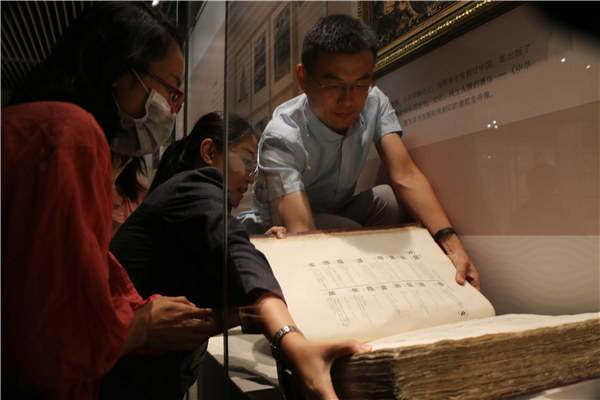 "He thus felt that he was given the privilege of knowing the rules of nature and of the universe. But that privilege did not extend to others; he did not disseminate what he learned to a larger circle at all."
More than 300 precious ancient books throughout Chinese history, collected from 40 public institutions and 30 individuals nationwide, are now on display in an exhibition celebrating the 110th anniversary of the National Library of China that opened on Sept 7.
Compared with other national treasures in the library that tell of the country's history in a matter-of-fact way, this exhibition comes across as truly exotic. As with Kangxi's geometry textbook, dozens of other exhibit give visitors a special insight into Sino-Western communication.
In the footsteps of the Italian Jesuit Matteo Ricci (1552-1610), European missionaries continued to come to China in the late Ming (1368-1644) and early Qing dynasties, introducing important Western books of the time to the country.
The Belgian Ferdinand Verbiest, also an astronomer, was Kangxi's first teacher of Western sciences. A collection of illustrations presenting his astronomical instruments, printed in 1674, is displayed in the exhibition in Beijing. The book in which they are contained is on loan from Liaoning Provincial Library.