Missive that went missing for centuries
By Wang Kaihao | China Daily | Updated: 2019-09-28 09:30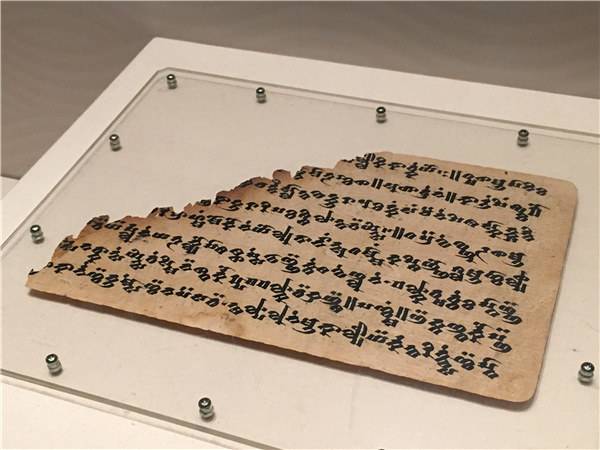 Treasure trove of texts in languages dead and alive tells story of thriving communications
It's a letter that slumbered in the desert for 1,000 years undelivered and unanswered, having been lost in transit somehow as it was on its way to a place far off in the West.
In the ninth-century scribbling, unearthed in Hotan prefecture, Xinjiang Uygur autonomous region, a Jewish merchant reels off a greeting to the expected recipient before cutting to the chase: he wants his contact to obtain some sheep from his landlord no matter the cost.
The one-page letter, written in Persian using Hebrew script, is now on display in an exhibition at the National Library of China that brings to light an all but forgotten aspect of the ancient Silk Road, the network of Eurasian trade routes that thrived for much of the period between the second century BC and the 14th century.
"Nowadays barely anyone seems to know about how active Jewish traders were in the eastern part of the Silk Road," says Liu Bo, a researcher in the ancient books department of the national library. "That letter not only throws light on this research field but also gives people a new understanding of the Silk Road."
Since 2005 the library has collected more than 700 ancient manuscripts from Hotan, which Liu says has greatly helped studies on the Western Region (a term historians use to denote Xinjiang and Central Asia).
"Numerous caravans and explorers shuttled along the routes bringing frequent cultural communications," Liu says. "Each person on the routes may have traveled only on a small section of this huge network, but as their stories are put together we can get a much broader picture of the Silk Road."
The library's text collections abound with ancient tales and stories that tell of the prosperity along the eastern section of the Silk Road not only in Chinese but also in many ancient Indo-European languages, some of which no longer exist, but hints of which are on display in the exhibition.
Maitrisimit, dating back to no later than the ninth century, was found in Hami prefecture in Xinjiang and written in Kuchean, the earliest known archaeological discovery of drama scripts in China. It includes 27 acts that follow various anecdotes of Maitreya, the Laughing Buddha.