Tibet celebrates PRC's 70th anniversary
Share - WeChat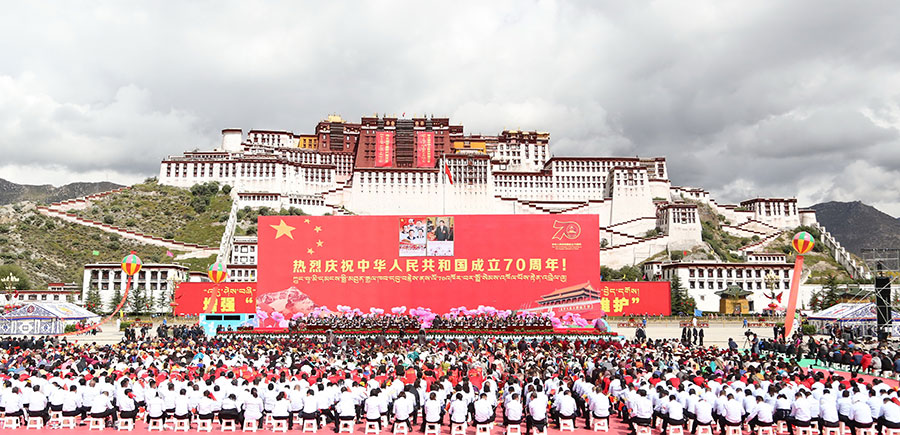 More than 4,000 people gathered Sunday in Potala Palace Square in Tibet autonomous region for a celebration marking the 70th anniversary of the founding of the People's Republic of China, which falls Oct 1.
Government officials, farmers, herders, students, soldiers, policeman, and monks attended, carrying miniatures national flags and holding flowers and khadak, a white silk representing purity.
They sang the national anthem, listened to speeches and danced in unison.
Over the 70 years Communist Party of China leadership, people in Tibet have driven historic change, said Wu Yingjie, the region's Party secretary, during the ceremony.
According to Wu, the region's GDP has soared from 129 million yuan ($18 million) in 1951 to 147 billion yuan in 2018.
Urban residents' per-capita disposable income reached 33,797 yuan in 2018, while that of rural residents hit 11,450 yuan, said Wu.
Dekyi Medog, a singer from the region, said on this the year of China's 70th anniversary, she wanted to bless the country with her songs.
"I want to express my heartfelt thanks to the motherland and the Party, and I wish my country more prosperity and flourishing in the future," she said.
Basang Drolma, a student representative from the region's Lhasa Middle School, said she was honored and pleased to live and study in the new era.
Thanks to the leadership of the Communist Party of China, Tibet has launched democratic reform, socialism construction and the reform and opening-up policy, she said.
The people of the region have left poverty far behind and have been enjoying wealth and progress in the new era, she said.