HK's business center turns into war zone
China Daily Global | Updated: 2019-09-30 09:09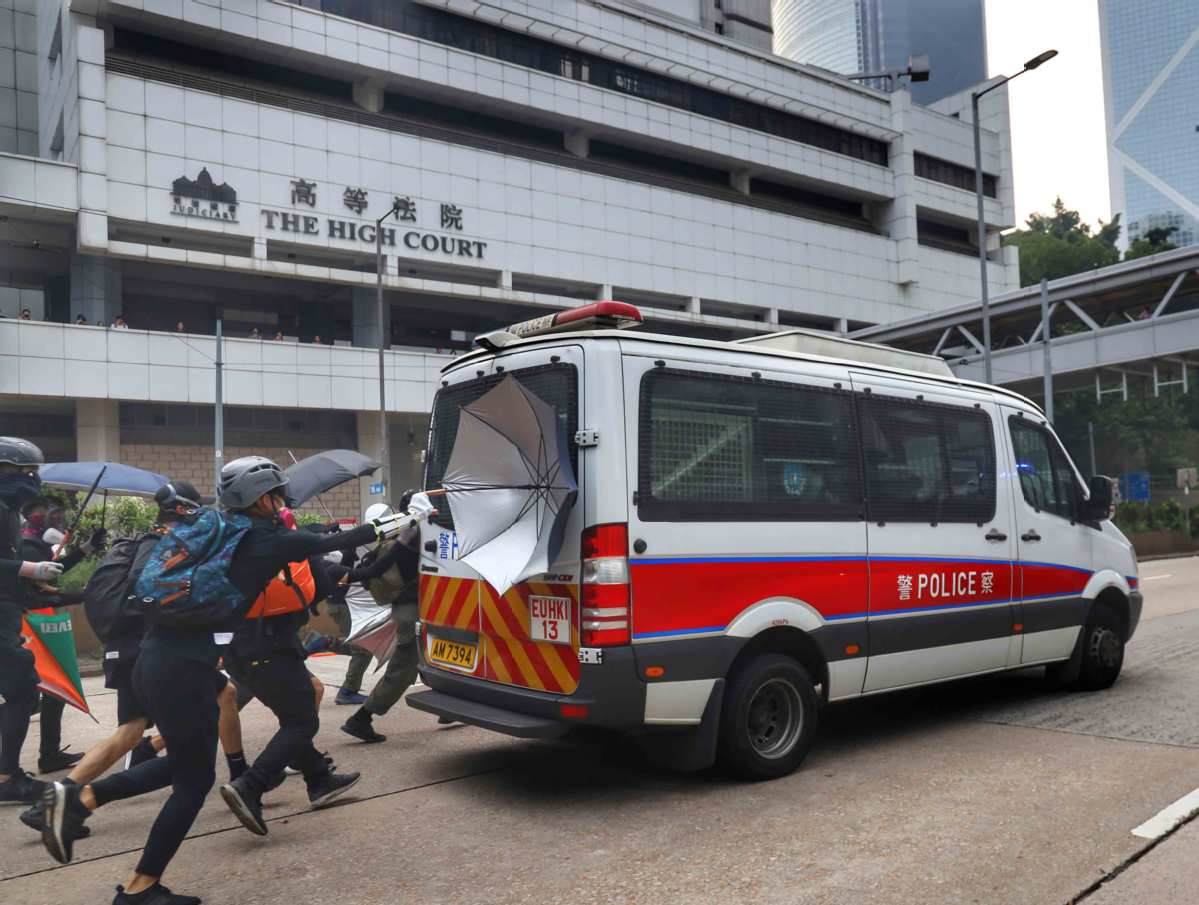 Weekend sees radicals hurling gasoline bombs, indulging in incidents of arson

Hong Kong's once-bustling Causeway Bay turned into a war zone after black-clad mobs went on the rampage on Sunday, a day after they targeted the city's Admiralty with violence and vandalism that have gripped the city for close to four months.

There were incidents of arson, bricks or gasoline bombs flying, or scattered glass splinters and graffiti all around Causeway Bay. Fire and smoke spread through the streets and the MTR stations, with loud bangs stemming from gasoline bombs and bricks being hurled by radicals in protective gear.

Most shops and major shopping malls downed the shutters on Sunday after an illegal assembly by radicals went ahead without even applying for police permission. The city's law requires organizers to seek police approval for any public assembly.

They held the flags of the United States and of other countries when marching from Causeway Bay to the government headquarters in Admiralty.

In a brazen attack, some mobs lobbed gasoline bombs and bricks at the law enforcers in Admiralty. They also set fires at several locations. Heavy smoke was seen at a footbridge connecting the MTR station and a shopping mall in Admiralty.

Fearing violence, the SOGO shopping mall and the World Trade Centre announced they were closing for the day on Sunday. Another landmark building, the Hysan Place, said it would close the shopping center at 1 pm. By 2 pm, most of the stores in Times Square had shut.

A restaurant, Cafe De Coral, and a Starbucks outlet along Hennessy Road were vandalized by radicals. Offensive graffiti was painted on their signs and glass entrance.

At the same time, another gang vandalized the subway station of Wan Chai by smashing the station's glass entrance at one of the exits and hurling gasoline bombs into the station.

They took the battle from Causeway Bay to Admiralty, targeting almost every major thoroughfare along the way. At around 4 pm, a group of radicals tried to set up a barrier at the Harcourt Road of Admiralty using traffic cones and hurled gasoline bombs at the police.

The acts of violence and vandalism, which initially began as a protest against the now-withdrawn extradition bill, has now transformed into a mode of venting out anger. There have been instances of some residents being beaten up for holding views different from those of the radicals.

A man who displayed the Chinese national flag during an assembly at Tamar Park on Saturday became the target of the latest round of attack by radicals. He was brutally assaulted, with his face covered in blood.

Two weeks ago, a man was beaten unconscious after he chastised the radicals for holding foreign flags. On Sept 23, Tse Chun-chung, chief superintendent of the Police Public Relations Branch, said that incidents of lynching by rioters had been increasing.

During Saturday's mayhem, radicals occupied roads, blocked traffic, besieged government headquarters, vandalized public property and set fires randomly.
Some of them hurled gasoline bombs and bricks at the government headquarters and police officers.

The police attempted to disperse them with water cannons and tear gas.
Late on Saturday, the Hong Kong government "strongly condemned" the violence, saying the radicals' acts jeopardized the safety of police officers and seriously breached public peace.

As of Friday, the police had arrested 1,596 people in connection with anti-government protests since June 9. According to the police, they were arrested for different offenses, including riot, participating in unlawful assembly and possession of offensive weapons.