Ping-pong, Ali and Yao: Wow!
By Murray Greig | China Daily | Updated: 2019-09-30 10:07
Nation's journey from sleeping dragon to global sports superpower
Pride, perseverance and patriotism have fueled New China's evolution from sleeping dragon to global sports superpower, with no shortage of highlight reel moments along the way.
After decades of dormancy, the ascension began in 1971 with "the ping heard 'round the world", and was boosted by a ringing endorsement from "The Greatest" in 1979.
It soared to new heights with the emergence of a homegrown international superstar ahead of the hugely successful 2008 Beijing Summer Olympics, and today is inspiring dreams of greater glory at the 2022 Winter Games, when Beijing will become the first city to host both versions of the Olympics.
Here's a look at three definitive highlights in the transformation of New China sports:
Ping-pong diplomacy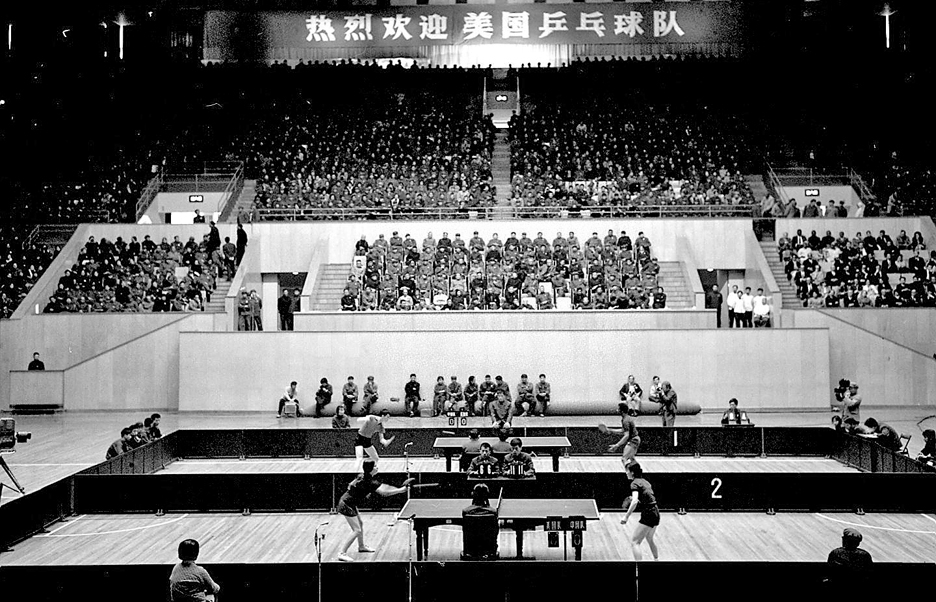 After missing his team bus at the 1971 table tennis world championships in Nagoya, Japan, American Glenn Cowan was offered a lift by the Chinese squad. Three-time world singles champion and national icon Zhuang Zedong broke the awkwardness by stepping forward to shake Cowan's hand and speak to him through an interpreter. He then gifted his scarf to the 19-year-old.
Zhuang's gesture quickly became the talk of the tournament-and caught the attention of Beijing. A few days later an official invitation was proffered for the Americans to visit China, marking the first time in more than 20 years that a US delegation of any kind was invited behind what Western media called the "Bamboo Curtain".
From April 10-17, a dozen players, coaches and team officials visited Guangzhou, Shanghai and Beijing, getting an up-close look at life in the People's Republic. Between trips to the Great Wall and the Summer Palace, the Americans proved no match for their hosts in a series of exhibition games, but nobody cared. The tour motto was "Friendship first, competition second"-and that's exactly how it played out.
The visit culminated with an audience and banquet with Premier Zhou Enlai at Beijing's Great Hall of the People. Time magazine billed the tour as "the ping heard 'round the world", and later that year China's national team made a reciprocal visit to the US.
Richard Nixon called it "the week that changed history" and in February 1972 he became the first US president to visit the Chinese mainland, meeting with Chairman Mao and Premier Zhou to pave the way for normalization of relations between the two nations.
Ali punches in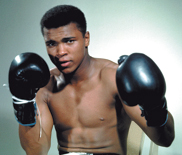 In early 1979 China and the US established formal diplomatic ties, but there was still a void in terms of China's participation in international sports. In an inspired effort to fill it, Chinese leader Deng Xiaoping invited retired three-time world heavyweight boxing champion Muhammad Ali-aka "The Greatest"-to meet with him to discuss possible solutions.
Ali arrived in Beijing on Dec 19, 1979, carrying a message from US President Jimmy Carter about the importance of having China participate in the 1984 Summer Olympics in Los Angeles. During their three-hour meeting, Deng and Ali also discussed how boxing, banned in China since the mid-1950s, could become a catalyst in the drive by both sides for better cooperation and understanding.
By the time Ali returned in 1985, boxing was back on China's sports landscape, and in 1993 he was ringside for the nation's first international pro fight. "This is a great breakthrough for China that will open the door for their own athletes to compete as professionals in other sports," Ali told the New York Times. "The Chinese government and people are great supporters of all sports… and it was boxing that made this breakthrough possible."
Yao mania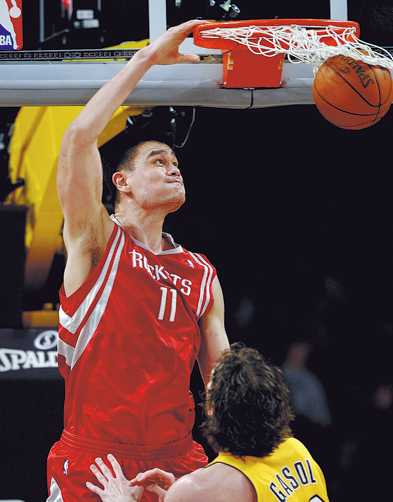 No athlete is more responsible for New China's rise to global sports superpower than 7-foot-6 Yao Ming, the Shanghai native who in 2002 became the first international player who wasn't a graduate of the US college system to be selected first overall in the NBA Draft.
In 2004, two years after Yao joined the Houston Rockets, the NBA became the first American professional sports league to go to China when it scheduled preseason games in Beijing and Shanghai. The "China Games" have gone on to become an annual showcase, paving the way for other global leagues to follow.
Thanks to Yao's impact, the National Hockey League, National Football League, Major League Baseball and English Premier League (soccer) all have a presence in China today. Pro tennis, golf, auto racing and athletics have also flourished.
Yao retired in 2011 following an injury-shortened career that included eight NBA All-Star selections, 9,247 points (19.0 average), 4,494 rebounds and 920 blocked shots. Hailed as the ultimate global ambassador for the sport both on and off the court, he was inducted into the Naismith Memorial Basketball Hall of Fame in 2016.
"Walking around China with Yao Ming is like walking through New York with The Beatles," former Rockets GM Carroll Dawson said at the retirement ceremony for Yao's No 11 jersey. "He gave our team and our league a global face; he's truly a superstar who belongs to the world."