Lab-grown diamonds shaking up the industry
Share - WeChat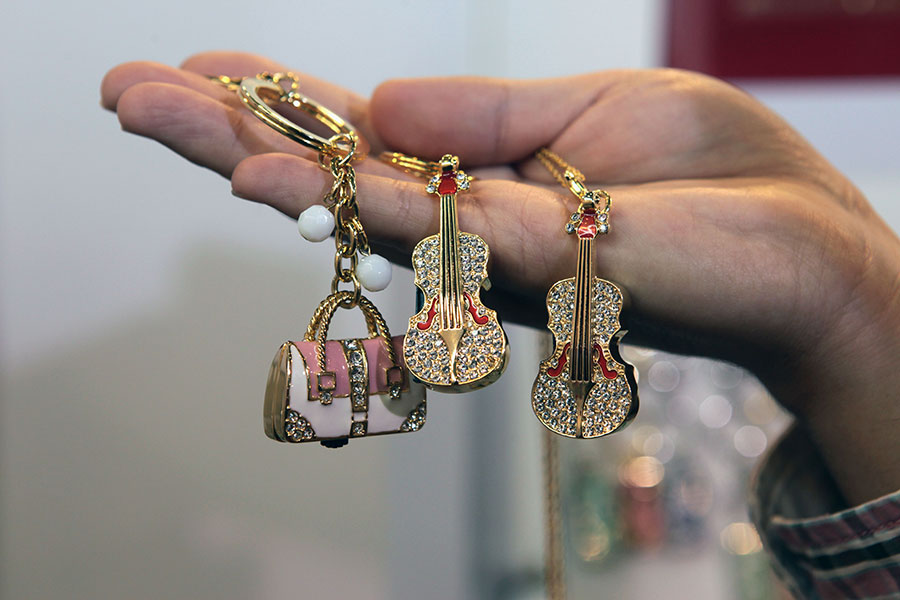 Young consumers in China are taking a growing interest in cheaper, more accessible alternatives to mined gems
It sparkles and shines like a diamond from the Earth's mantle, but it's grown in a laboratory.
Lab-grown diamonds, which have been used for industrial purposes for decades, are now shaking up the $87 billion consumer market as cheaper alternatives to mined gem stones.
Replicating the process of how mined diamonds are formed, labs today use two major processes to grow diamonds - tigh pressure/high temperature (HP/HT) and chemical vapor deposition (CVD), both of which are used to create an environment of extremely high pressure and temperature.
"Most industrial applications of lab diamonds are associated with their hardness, a characteristic that makes diamond an ideal material for cutting tools," said Han Xiaoping, chief researcher at industry and energy website china5e.com.
"More recently, many institutions and companies have started to consider diamonds for use in computer chips, satellites, and even 5G networks as they can be used in extreme environments. Nano diamonds, or diamonds with a size below 1 micrometer, also have the potential to operate at higher speeds while using less power than the silicon-based chips," Han said.
For years, lab-grown diamonds were commonly used in industries related to high-end manufacturing.
"Yet with technological advancements, many labs are now able to create gem-quality diamonds at lower costs," said Sun Lihua, a geologist at the Gem Appraisal Center of Peking University, China's leading institute that offers diamond grading services.
"Rapid technological improvements have allowed many Chinese labs to eliminate the presence of other elements that impact diamond quality, such as nitrogen molecules that make the stone look yellow and reduce its value," Sun said.
The cost of growing lab diamonds has also dropped by up to 90 percent in the past 10 years, according to a report from business analysis website ifanr.com.
Today, the cost of making a lab diamond is about 30 percent lower than that involved in mining a gem of similar size and quality, said Li Zheng, research manager at market research provider Leadleo Research Institute.
"Meanwhile, the time it takes to grow a 1-carat diamond is now five to eight days, much shorter than the time it takes to create a mined diamond, which can take billions of years to form," said Tang Bin, deputy director of the Gem Appraisal Center of Peking University.
"Aside from the fact that lab-grown diamonds are created artificially, rather than discovered under the Earth's surface, they are the same in terms of their physical and chemical characteristics," Tang said.
Cheaper, better, and more accessible - all these characteristics are making lab-grown diamonds a popular alternative to mined gems.
Although the consumer market for lab diamonds is only worth $150 million, taking up about 2 percent of the consumer market for all diamonds, industry predictions show it is expected to grow at 22 percent each year and reach $14.9 billion by 2035, taking up about 5 percent of the consumer market for all diamonds.
In 2018, De Beers, the world's largest diamond miner, launched its lab-grown diamond line Lightbox Jewelry. It charges about $800 for a 1-carat lab-grown diamond, which is much cheaper compared with $8,000 for a mined diamond.
Media reports said the move was to address a sales slump in mined diamonds as the industry struggles with economic uncertainties and the rise of lab-grown diamonds. Media reports show that sales of rough diamonds plummeted 44 percent to $280 million in the last week of August, compared with $503 million in the same period a year ago.
Lab-grown diamonds are also becoming more popular in China.
"With the post-1980 and post-1990 generations emerging as a major buying power, lab-grown diamonds used in jewelry will see an increasing presence," Li said.
According to Li, more consumers born in the 80s, 90s, and even millennials, are turning to lab-grown diamonds as they are cheaper than mined gems of similar quality, and marketed as eco-friendly and ethically sourced.
"Consumers from those generations are increasingly conscious of the environmental and ethical impact of their purchases, such as whether workers are fairly paid and the work is done in safe and environmentally friendly conditions, things that large corporations often fall short on despite promising to adhere to strict ethical and environmental standards," said Tang of the Gem Appraisal Center of Peking University.
Despite claims of lab-grown diamonds being eco-friendly, a report from Trucost, an analysis company under S&P Global, challenged this view. It pointed out that making and polishing a 1-carat diamond can produce about 511 kilograms of carbon dioxide equivalent compared with 160 kilograms for a mined gem.
However, the report was supported by the Diamond Producers Association, an organization formed by seven of the world's leading diamond companies.
"Even if that were true, it is worth noting that most chemical waste from producing lab-grown diamonds can be further managed within the lab. But for mined diamonds, it is another story," Tang said.
In China, where 90 percent of the world's lab-grown diamonds are produced, diamonds grown for the consumer market take up 3 percent of the total diamond market, according to a report from the Lead-Leo Research Institute.
Today, China makes 56 percent of the world's gem-quality lab-grown diamonds, outpacing India in second place, according to a report from South China Morning Post.