Talks end in contrasting assessments
China Daily | Updated: 2019-10-07 07:45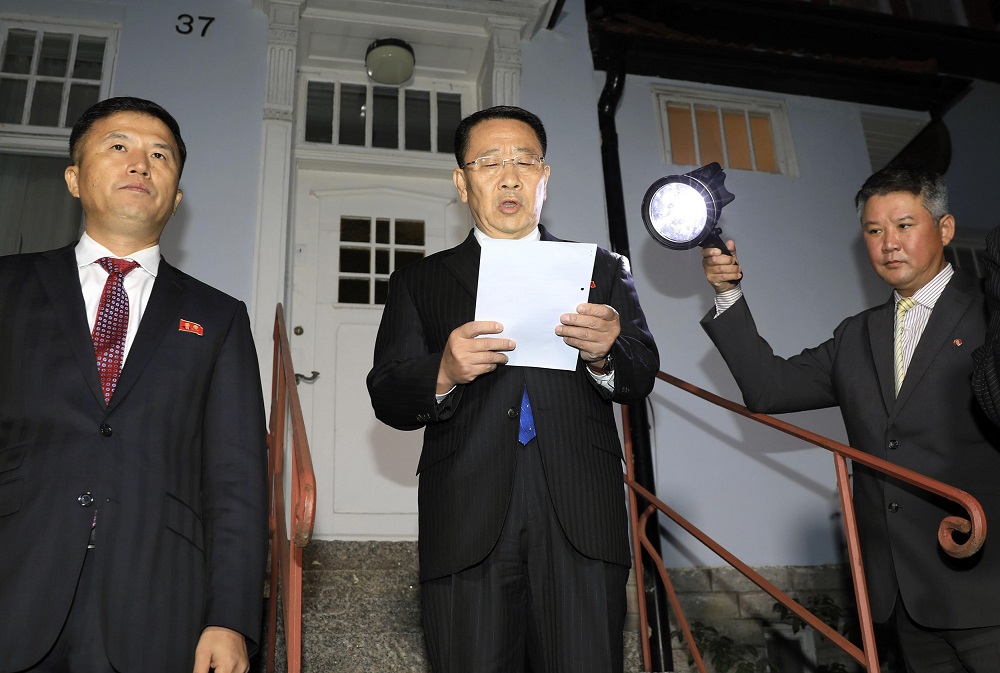 DPRK says Saturday's meeting broke down while US hails 'good discussions'
STOCKHOLM - The Democratic People's Republic of Korea and the United States walked away on Saturday with opposing assessments of nuclear talks in Sweden, which Pyongyang said broke down but Washington called "good discussions".
"The negotiations did not live up to our expectations and were canceled. I am very disappointed," DPRK's chief negotiator Kim Myonggil told the Republic of Korea's Yonhap news agency after the talks.
The first DPRK-US talks in more than seven months were held in Lidingo, a suburb of Sweden's capital Stockholm, and lasted eight-and-a half hours.
"It is now up to the United States to resume the dialogue," Kim Myong-gil was quoted by the Swedish daily Dagens Nyheter as saying.
"It's a big failure. If there is no breakthrough now, it will be very difficult to plan for a summit between Trump and Kim (Jong-un). And without a summit, there can also be no bilateral agreement" on denuclearizing the Korean Peninsula, Jerker Hellstrom, a security policy analyst at the Swedish Defense Research Agency, told public broadcaster Sveriges Television.
'Dialogue needed'
Hours after Kim Myong-gil's remarks, the US State Department said officials from the two sides had "good discussions".
Its delegation, which was led by Stephen Biegun, US special representative for the DPRK affairs, "had good discussions with its DPRK counterparts" and has accepted an invitation from Sweden to "return to Stockholm to meet again with its DPRK counterparts in two weeks time, in order to continue discussions on all of the topics," said US State Department spokesperson Morgan Ortagus in a statement.
The Swedish Foreign Ministry has made no comment on Saturday's talks. Earlier, Swedish Foreign Minister Ann Linde tweeted that dialogue between Washington and Pyongyang is "needed to reach denuclearization and peaceful solution".
The discussions followed months of stalemate after a February meeting between DPRK top leader Kim Jong-un and US President Donald Trump, and came only days after Pyongyang's test of a sea-launched ballistic missile on Oct 2.
Ortagus also said that "the early comments from the DPRK delegation do not reflect the content or the spirit of today's eight-and-a-half-hour discussion".
"The US brought creative ideas and had good discussions with its DPRK counterparts," she said.
Ortagus said the US "previewed a number of new initiatives" that would allow progress on the statement reached in Singapore at the first Trump-Kim summit last year.
The two leaders then adopted a vaguely worded document on the "complete denuclearization of the Korean Peninsula" but little progress has since been made on dismantling the North's nuclear program.
Similar-level talks on DPRK's nuclear disarmament were held in Stockholm in March 2018 and then in January this year.
Pyongyang claimed to have entered a new phase in its defense capability with the test of the submarine-launched ballistic missile on Oct 2. The Pentagon said on Oct 3 that the missile appeared to have been launched from a "sea-based platform" and not a submarine.
Trump has said he sees no problem with a string of short-range missile tests conducted previously by the DPRK, while insisting his personal ties with Kim Jong-un remain good.
The United Nations Security Council is expected to hold closed-door talks early next week on the latest test, diplomats said.
Those talks were requested by Britain, France and Germany, as the European powers push for the world body to keep up pressure on Pyongyang which is under heavy US and UN sanctions over its weapons program.
Since the US-DPRK talks began, Russia and China have been calling for the UN to start lifting sanctions so as to create momentum toward the North's denuclearization. But the US has refused.
AFP - Xinhua