Forex reserves to maintain momentum
By Chen Jia | China Daily | Updated: 2019-10-08 09:03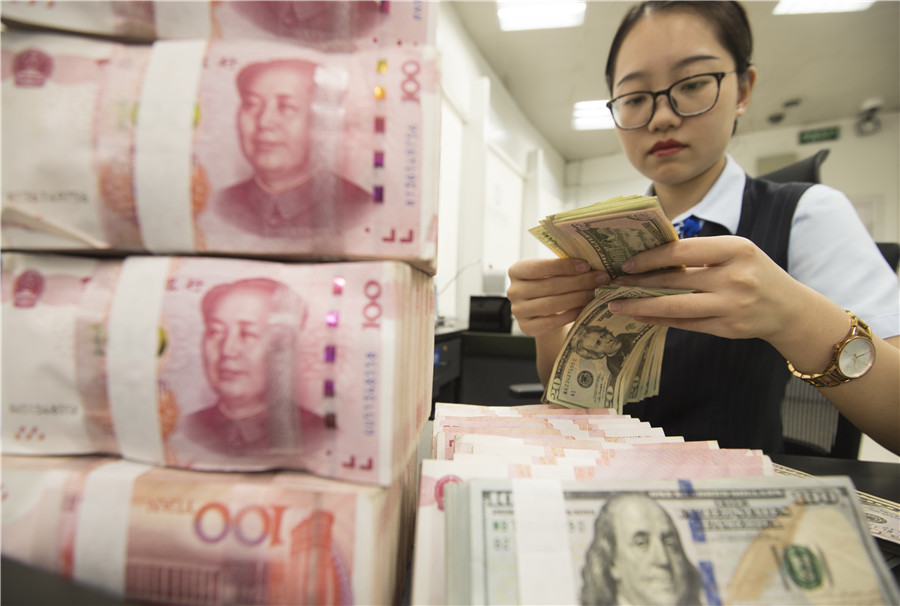 Foreign currency holdings stay above $3 trillion mark by the end of Sept
Chinese foreign exchange reserves, the world's largest, remained above the $3 trillion mark by the end of the third quarter, indicating generally balanced capital inflows and outflows amid trade tensions, analysts said.
The nation had foreign exchange reserves worth $3.092 trillion on the mainland by the end of September, up 0.6 percent or $19.7 billion from the beginning of this year. In August, the reserves stood at $3.107 trillion, according to data released by the People's Bank of China, the central bank, on Sunday.
At the same time, the PBOC continued to shore up its gold purchases for the tenth consecutive month in September. The holdings rose to 62.64 million ounces last month from 62.45 million in August.
The country's foreign exchange regulator, the State Administration of Foreign Exchange, attributed the change in reserve size to factors such as the exchange rate and changes in asset pricing, even as China's foreign exchange market remained largely stable last month.
In September, the US dollar index rose and the bond prices in major countries declined, influenced by factors like global economic growth, monetary policies of central banks of major countries and the global trade situation, according to a statement on the administration's website.
Wang Chunying, spokesperson and chief economist of SAFE, said China's economic resilience and sound growth momentum has helped keep foreign exchange reserves on an even keel.
"Looking ahead, unstable and uncertain factors in the global economic and financial environment are increasing, along with the slowing global growth and more volatile global financial markets," she said. "Supply and demand in the foreign exchange market are basically balanced."
China will continually push forward the all-around reform and opening up, which could also help stabilize the foreign exchange reserves, Wang said.
The relatively stable size of foreign exchange reserves proved that the PBOC is committed to a market-oriented foreign exchange regime, and the monetary authority is tolerating a much more flexible renminbi, said Huang Jun, chief Chinese analyst at currency trading platform Forex.com, a foreign exchange trading platform under GAIN Capital Holdings Inc.
It also indicated the generally balanced capital inflows and outflows so far this year, when the country accelerated financial opening up, he said.
According to Huang, it is reasonable for the PBOC to increase its gold holdings, just like other central banks in emerging economies, as the precious metal helps offset financial market volatilities and preserve the value of assets.
The PBOC has increased its gold reserve by 105.7 metric tons since December 2018, according to the official data.
Analysts predicted that central banks will continually add gold in the official reserves, given the uncertainties of China-US trade talks and gloomy global economic outlook.
Some major central banks' monetary easing, such as the US Federal Reserve's rate cut and the European Central Bank's restart of equity purchases, will also stimulate gold buying, they said.