Oil expert wins title of 'role model of the times'
By Yang Zekun | China Daily | Updated: 2019-10-08 09:49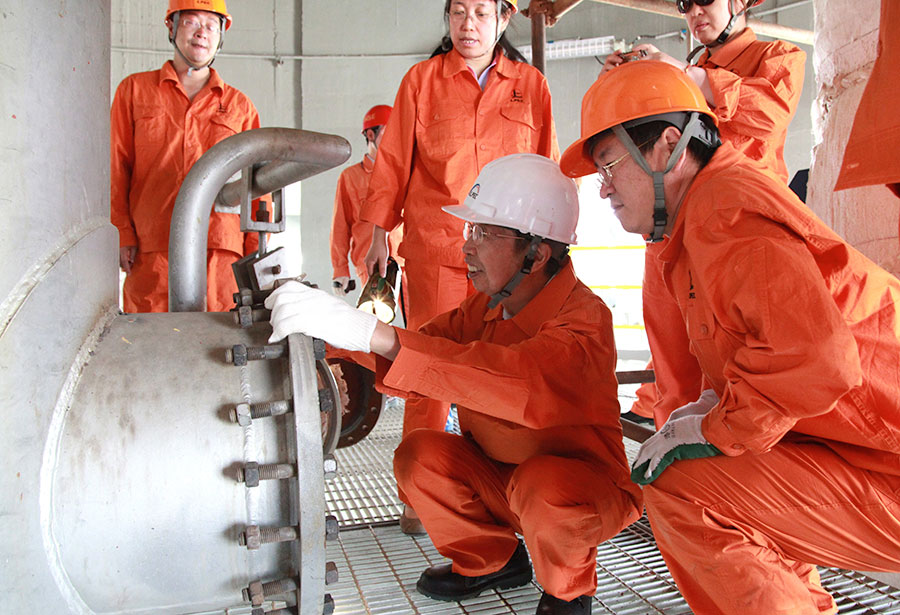 Chen Junwu, an expert on oil refining engineering technology, was awarded the title of "role model of the times" by the Publicity Department of the Communist Party of China Central Committee on Monday.
Born in 1927, Chen is an academician of the Chinese Academy of Sciences and has devoted himself to China's petrochemical industry for 70 years. As the founder of catalytic cracking engineering technology in China and a prestigious specialist in oil refining engineering and coal-chemical technology, he has made groundbreaking contributions to advance the country's oil refining industry, according to the Publicity Department of the CPC Central Committee.
At present, China has built and put into operation more than 150 sets of catalytic cracking units-which break long petroleum molecules into shorter more useful ones-with a total annual processing capacity of nearly 200 million metric tons. Over the years, the catalytic cracking process has produced nearly 70 percent of the nation's gasoline, 40 percent of its propylene and 30 percent of its diesel, according to Science and Technology Daily.
Chen presided over the design of China's first fluidized catalytic cracking unit in the 1960s, which broke the monopoly of western countries on the deep processing technology of oil refining.
In the 1980s, Chen directed the design of China's first coaxial catalytic cracking unit and won the first national scientific and technological progress award in 1985. He was elected as a member of the CAS in 1991.
In the early 1990s, Chen started to look for oil substitutes for the sake of national energy security.
In August 2010, the world's first set of 1.8 million-ton methanol-toolefin units was completed and put into operation in Baotou, Inner Mongolia autonomous region, under Chen's guidance.
The 92-year-old Chen has also cultivated many talented professionals for the petrochemical industry. He once started an advanced petrochemical workshop, and many of its members became technical experts in the industry.
From 2010 to 2016, Chen insisted on giving lectures and joining discussions in Zhengzhou University every month and directed research teams in biofuel research and demonstration.
In 2016, he used all his part-time income from the university, about 200,000 yuan ($28,000), to establish an award for outstanding young students in the field of chemical engineering.
"I hope that more young people could step on my shoulders and grow faster, forge ahead on the path of scientific and technological innovation, make greater achievements and serve the country," Chen said.