China reach men's team final of Gymnastics Worlds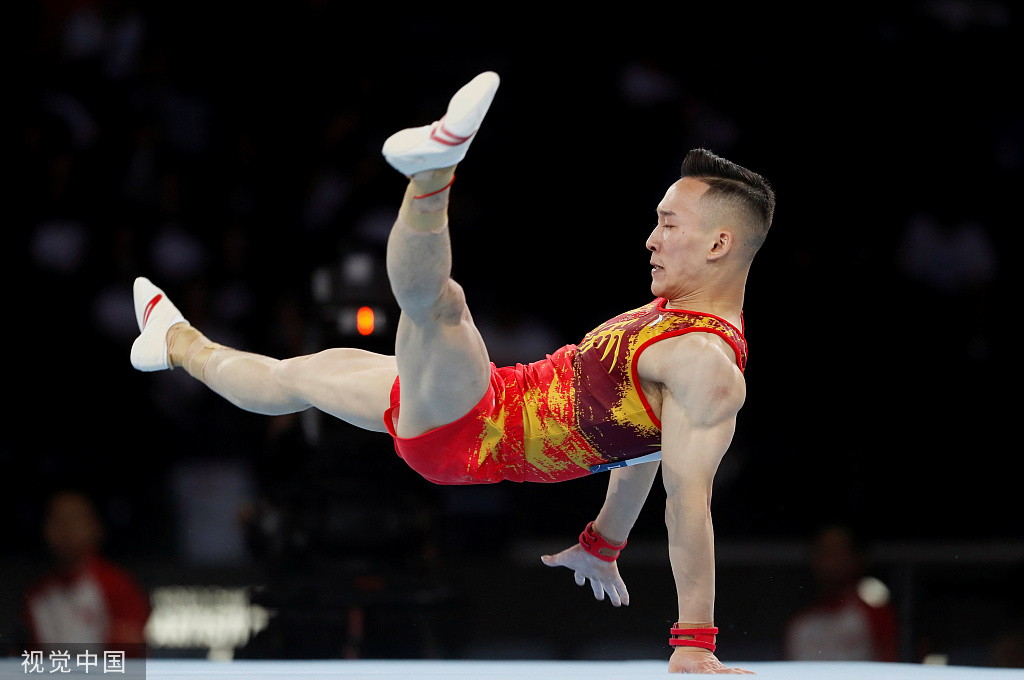 STUTTGART - China have qualified for the men's team final at the 2019 World Artistic Gymnastics Championships, finishing runners-up in the qualification round.
With 258.354 points, China qualified behind leaders Russia (259.928), but ahead of Japan (258.026) who finished third. The United States finished seventh out of eight qualifiers with 250.359 points.
Xiao Ruoteng (85.831/3rd) and Sun Wei (84.899/5th) managed to reach the men's individual all-around final, where Russia's Nikita Nagornyy (87.333) led the way ahead of compatriot Artur Dalaloyan (86.531).
Zou Jingyuan finished fourth (14.958) on the pommel horse, with Britain's Max Whitlock (15.266) finishing first. 2017 all-around gold medal winner Xiao missed the final after an unsuccessful performance in which he dropped off the apparatus.
"I didn't expect it; I was a bit nervous," Xiao told Xinhua afterwards. "I wasn't expecting this to happen. I guess it was psychological. It affected me mentally for the rest of my apparatus. I definitely didn't show what I'm capable of."
Asked if he was affected by a fan in the crowd shaking a cowbell, he said, "It happened so quickly that I wasn't sure what had happened to me. We can talk about this or that, but I think it's still a problem for me."
"I don't need to think about that or anything else. Just perform to my best," Xiao said of the team final on Wednesday, adding that he believed Chinese gymnasts would perform well then.
"We still have the chance to win the team final as defending champions. We had too many mistakes today and could have done much better," the 23-year-old commented.
Elsewhere, Lin Chaopan finished sixth on the horizontal bars (14.433), while Xiao (14.966/4th) and Sun Wei (14.800/6th) reached the last eight of the parallel bars.
Two-time world parallel bars champion Zou did not advance to the final, finishing only 16th, while Lin (14.933/2nd) and Xiao (14.833/4th) also reached the finals on the floor.