Suspect in deadly arson attack on Japanese animation studio begins rehabilitation
Xinhua | Updated: 2019-10-08 22:25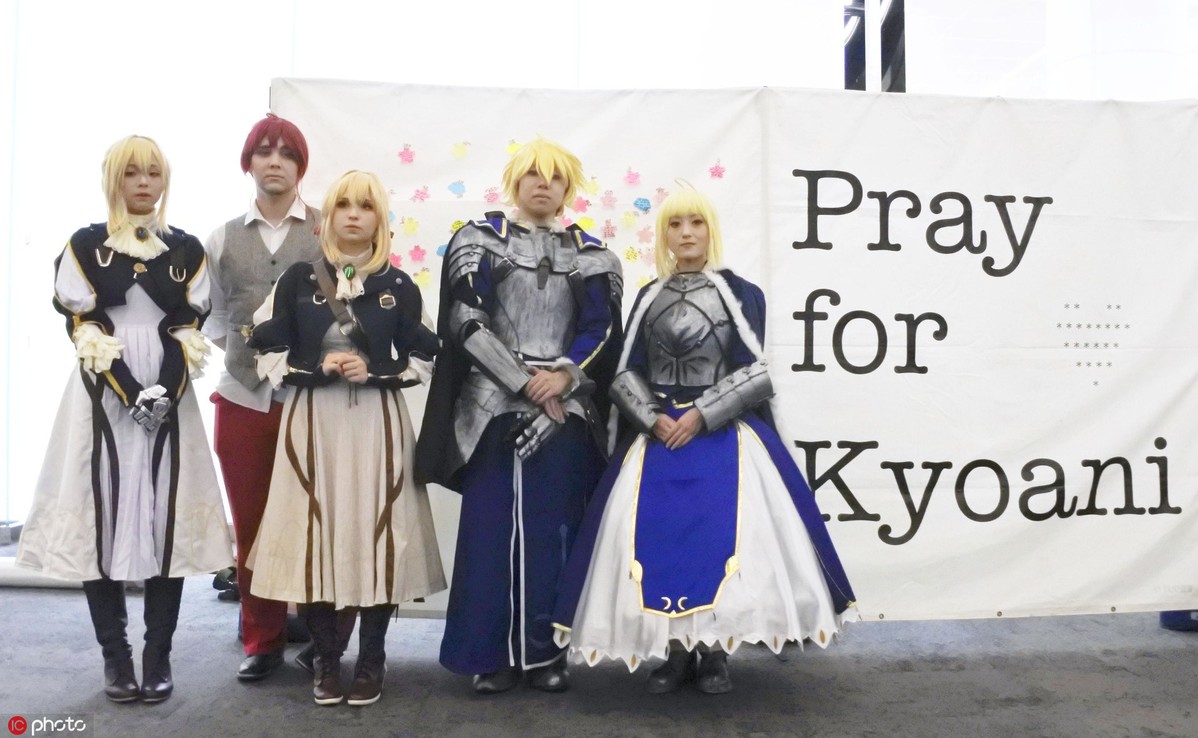 TOKYO - The suspect in an arson attack on a Kyoto Animation Co studio which left 36 people dead and severely injured himself with severe burns, has begun rehabilitation, local media reported Tuesday.
According to sources close to the matter, the condition of the suspect, Shinji Aoba, 41, has improved since the attack on July 18, to the point where he can sit down.
Since the attack and having undergone multiple skin grafts, Aoba can now sit in a wheelchair in the hospital in Osaka where he had previously been confined to a bed due to his injuries.
He is also able to hold brief conversations, sources close to the matter said, but has declined to talk about the attack.
An arrest warrant has been issued for Aoba on suspicion of murder and arson, but the suspect cannot be arrested until it has been established by medical experts that he will be physically capable of being confined if found guilty and handed down a custodial sentence.
The apparent motive behind the arson attack on the studio, at which the average age of the employees was just 33 years old, may have been down to a personal grudge, investigators have found.
Aoba i suspected to have spread and ignited gasoline at the studio in Uji, Kyoto, which ultimately left 36 people dead and dozens more injured.
After arriving in Kyoto on July 15, he is believed to have spent three days in the vicinity of Kyoto Animation's headquarters and locations associated with the studio's television anime series "Sound! Euphonium," a story about a high school music club in Uji.
After entering the studio on July 18 with two canisters filled with gasoline and shouting "Die!" he went on to douse the inside and possibly some of the victims in the flammable liquid before setting it on fire.
Firefighters battled the blaze at the three-story building, one of the worst seen in Japan in recent history, from around 10:30 am until it was finally extinguished at 6:20 am the following morning.
Firefighters and police said at the time that the majority of those killed in the inferno were found on a stairway that led to the building's roof.
They said that multiple victims were found collapsed upon each other on the stairs connecting the third floor to the rooftop.
The door to the flat rooftop, the only lifeline and escape route for the victims, was closed when the firefighters arrived, they said, intimating it may have been deliberately locked.
The suspected arsonist told investigators he torched the studio as he believed they had plagiarized his ideas.
On Sept 6, Kyoto Animation released its first film since the devastating attack, which saw very emotional fans turn out in droves to show their support to the studio which has released a number of titles over the years, much-loved both in Japan and overseas.