China eyeing more gains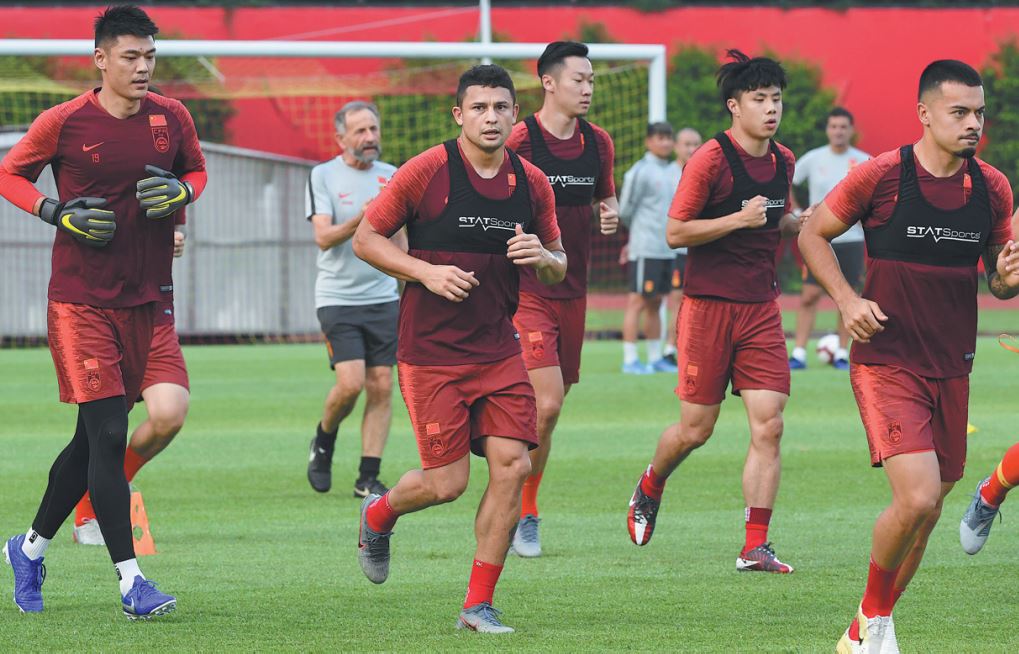 World Cup qualifier against Guam a great chance to build on momentum
China will attempt to take another small step towards the 2022 World Cup on Thursday when minnow Guam visits Guangzhou.
A 5-0 stroll for Marcello Lippi's side against the Maldives, along with the addition of two naturalized players, have given Chinese fans belief that the nation's wait for a second appearance at the finals could be nearing an end.
US Pacific territory of Guam looks like easy pickings for Lippi's men after it lived up to its 195th FIFA ranking by losing 1-0 in the Maldives before being swatted aside 4-1 by Pacific neighbor the Philippines.
Lippi's squad assembled in Guangzhou on Saturday, with Brazil-born Ai Kesen, aka Elkeson, and 39-year-old captain Zheng Zhi among eight players from the city's Chinese Super League-leading Guangzhou Evergrande team on the 25-man roster.
"Our priority is to enter the next phase," Lippi said at training in Guangzhou over the weekend.
"So I have to call on our best players. I hope we can score more, it looks easy but we need to be at our best."
After Thursday's game, China faces a tougher test away to the Philippines next Tuesday.
Star striker Wu Lei has also linked up with the squad but is expected to be rested against Guam after facing a busy schedule for Espanyol last week.
Last Thursday, Wu was on the scoresheet as the Spanish club won a Europa League clash against CSKA Moscow in Russia before the former Shanghai SIPG forward played the full 90 minutes in a La Liga loss at Real Mallorca on Sunday.
According to reports, Beijing Guo'an midfielder Zhang Xizhe will deputize for Wu, who hopes the squad can build on the morale-boosting win in the Maldives.
"We were prepared to face all kinds of difficulties before the match against the Maldives," Wu said in a blog post.
"The trip to Maldives and the venues there were a new experience for all of us... Despite the beautiful landscape, we focused only on the match. We won the first qualifier, but that was just a start."
Coach Lippi will also hope the victory was the first step on a road to redemption and ultimately the World Cup finals in Qatar.
The Italian failed to steer China to the 2018 finals in Russia in his first stint at the helm.
Lippi stepped down in January following the country's disappointing Asian Cup campaign which ended in a limp quarterfinal loss to Iran.
However, the Chinese Football Association rehired Lippi as head coach in May, with the 71-year-old vowing "to spare no effort to repay the Chinese fans who give me love and respect with a whole new Chinese national team."
Barring the retention of veteran captain Zheng, Lippi has made good on that promise, introducing younger players into the fold, as well as acquiring the help of two new Chinese citizens, Ai Kesen and Li Ke.
Ai Kesen made an immediate impact against the Maldives by bagging a brace, while London-born Guo'an midfielder Li, aka Nico Yennaris, contributed defensively in the second half off the bench.
"There was a lot of pressure, but when the game starts and you're playing, you don't focus on that," Li, a product of Arsenal's youth academy, told Tencent Sports.
"This (naturalization) is a massive honor for me. I'm very proud of what I've achieved so far."
The pair's performances appear to have appeased fans who had initially expressed concerns about the CFA's naturalization policy.
Ai Kesen, in particular, has endeared himself to supporters, as evidenced by the hero's welcome he received from autograph hunters at Guangzhou airport on his return from the Maldives.
Lippi is no doubt the policy is the best way forward for China.
"In many of the matches we played before, we were up against teams that had four or five naturalized players in their lineups," Lippi said before the first qualifier.
"As long as the foreign players are good enough and can meet the naturalization regulations, they all could be on our list.
"Although they were not born in China, many of them have played and trained here for many years. They know our training philosophy and have close connections with our coaches.
"I believe once they wear the red jersey, they will try their best to fight for the country."
England-born Tyias Browning might also be an option for Lippi soon. The former Everton defender has reportedly completed the naturalization process and has taken the Chinese name Jiang Guangtai.
Another Evergrande player, Alan, currently on loan at Tianjin Tianhai, is reportedly set to follow suit. The 30-year-old Brazil-born forward last month told teammates that he is "already Chinese".
CFA president Chen Xuyuan, though, says the naturalization option should be used with caution and with careful consideration for the good of the game in China.
"I originally disagreed with this idea," Chen said after his election in August. "That's a compromise we had to make to realize our imminent goal of qualifying for Qatar. But it's not going to be part of our long-term strategy."