Ripples from GM strike widen as contract negotiations enter 4th week
By Ai Heping in New York | China Daily | Updated: 2019-10-09 09:18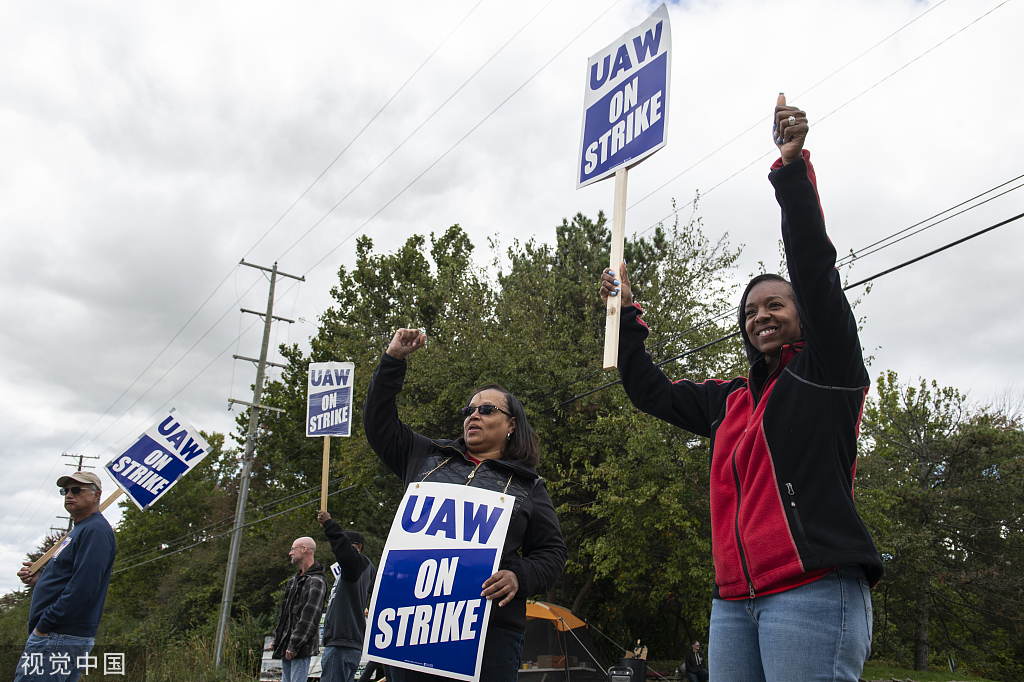 General Motors Co and the United Auto Workers, or UAW, on Monday entered the fourth week of contract negotiations since the union began a national strike against the automaker 22 days earlier.
With seemingly no end in sight, it has become the longest national strike at a US automaker in two decades.
The impact of the strike by 46,000 GM-UAW members at 55 GM facilities around the US is beginning to be felt on a national level through layoffs and work stoppages at affiliated companies.
The UAW on Sunday said it had rejected another contract proposal. "We, in this union, could not be more disappointed with General Motors," Terry Dittes, the UAW's lead negotiator with GM, said in a letter to members. "These negotiations have taken a turn for the worse."
GM said in response that it would continue to negotiate in good faith.
The company said plants in Mexico that build pickup trucks and transmissions have ground to a halt. GM laid off 6,000 workers at a plant in Silao. On Monday, GM said it was temporarily laying off a further 415 workers at a propulsion plant in the city of Ramos Arizpe.
The New York Times reported on Monday that the company and union hit a roadblock over the question of moving production from Mexico to plants in the United States.
The union, which has been on strike since Sept 16, has pressed GM to shift production of some sport-utility vehicles and pickup trucks from Mexican factories to create and secure jobs in domestic plants, two people close to the talks said, according to the newspaper.
The company has closed a car plant in Lordstown, Ohio, and engine and transmission plants in Baltimore, Maryland, and in Warren, Michigan. A second car plant in Detroit is scheduled to close in January.
GM has offered to invest $7 billion in US plants that would create 2,700 jobs and preserve 2,700 others, including keeping a factory in Detroit open. It also has offered to build a new battery plant with a partner near Lordstown that would hire union workers.
With the strike entering its fourth week, the economic repercussions are expected to become more deeply felt by GM, as well as the UAW members who try to live on $250 a week in strike wages - less than half of what they take home weekly. The effects are also being felt on the broader economy in southeastern Michigan, where many striking GM members and companies affected by the strike are based.
Loss of income for GM and non-GM employees because of the strike will lead to reduced consumer spending, said Patrick Anderson, CEO of the Anderson Economic Group, based in East Lansing. "Even if the strike ends today, it's still going to be with us at Christmas shopping time."
Anderson said that "as predicted, daily losses started off slow at under $10 million per day". But with the strike continuing into a fourth week, losses could reach $90 million a day.
In 1998, the UAW went on strike against GM for 54 days.
AP and Reuters contributed to this story.