Local governments urged to protect migratory birds
By Zhao Yimeng | chinadaily.com.cn | Updated: 2019-10-09 17:05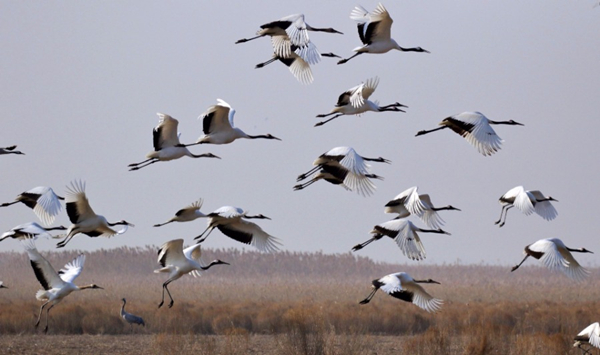 The national forestry authority urged local governments to strengthen the protection of migratory birds and remove threats to their safety, as migration season is ongoing.
According to a notice posted on the State Forestry and Grassland Administration's website on Tuesday, local authorities are asked to attain accurate information about the species of migratory birds in local territory and the state of their habitats.
Actions should be organized to patrol and guard the birds' habitats and to clear up nets, traps and poisonous bait set up to hunt them.
Local governments are also asked to advance the work on making wildlife protection a part of officials' performance assessment, a move to push officials to take actions in the sector.
With migration season ongoing, there has been a high number of criminal cases involving the hunting and eating of wildlife.
Unlawful activities including illegally fattening, transporting, killing and selling migratory birds along migration routes have been uncovered recently, the notice said.
Local forestry authorities should better coordinate and communicate with departments responsible for public security, customs, border defense and transportation, according to the notice.
They are asked to check the illegal production and sale of clap nets, as well as social media, courier services and e-commerce platforms to get clues to lead them to illegal activities related to the catching and selling wildlife.
The State Forestry and Grassland Administration said it will make public the major cases of hurting wildlife including migratory birds, and local governments that are found with fault in these cases will be held responsible according to laws and regulations.