Disruptions spread to campuses across HKSAR
China Daily | Updated: 2019-10-10 08:52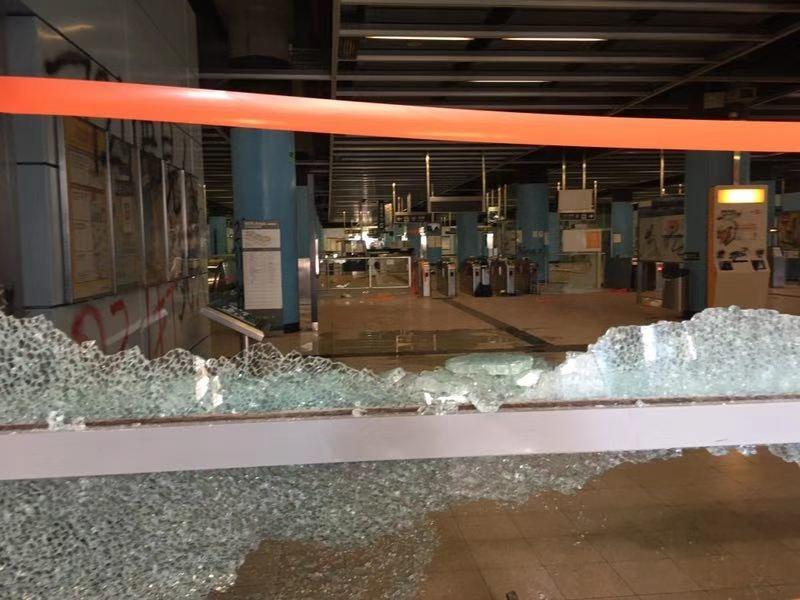 Educators in the Hong Kong Special Administrative Region on Wednesday urged schools to strengthen campus regulations and make young people responsible for their behavior as violence and political wrangling flare up on school campuses.
The remarks came after a series of bullying and vandalism incidents erupted at secondary schools and universities this week.
Chan Wai-keung, a lecturer in social sciences and humanities at Hong Kong Community College, affiliated with Hong Kong Polytechnic University, was restrained in class by dozens of students on Tuesday for almost five hours because he voiced support for harsher penalties for violating the new anti-mask law. Students demanded he apologize, trained laser pointers on him and manhandled Chan.
On the same day, a group of masked black-clad radical protesters, including students in their uniforms, besieged PLK Yao Ling Sun College due to what they called the "unfair" punishment of two students who last week were involved in a brawl caused by different political views. Radicals vandalized the school's outer walls and threw debris onto campus grounds. Glass doors were also smashed.
Noting that tolerance does not mean indulgence, Ho Hon-kuen, chairman of the Education Convergence teachers group, said society should no longer turn a blind eye to violence, vandalism and any other illegal acts.
Schools must act when students behave inappropriately. They should deal with them in accordance with campus regulations, and stress the bottom line of the law and morality, Ho said. "Otherwise, it will give young people free reign and encourage violence."
The Education Bureau, schools, family and society all have a responsibility to say no to such malicious acts and reject politics on campus, Ho said.
He also called for a cross-sector joint statement that makes it clear that violence, vandalism and bullying will not be tolerated on or off campus.
Wong Kwan-yu, president of the Hong Kong Federation of Education Workers, agreed with Ho. Usually, it should be enough for secondary schools in Hong Kong to regulate students with principles and policies, Wong said.
Schools are never an appropriate place for advocating political positions, he said, adding that if things get out of hand, school officials should be held responsible.
However, Wong said that most schools across the city are capable of dealing with such issues, so far as no more than 10 schools - out of the more than 500 in the city - have experienced political turmoil on campus.
Chris Lonsdale, a current affairs commentator who has lived in Hong Kong for more than 30 years, said one problem with the education system in Hong Kong is that society tries to protect youth from the consequences of their actions.
Those who adopt violence should be taken to task and punished for committing violence on campus, said Lonsdale, who works in the education sector.
"Anybody who wants the best thing for Hong Kong people and for people more broadly, should condemn violence, should not engage in violence, should not glorify violence and should actively start to look for ways to create bridges, conversation and dialogue where we can solve these problems," he added.
China Daily