Seniors search for second chance of love
Share - WeChat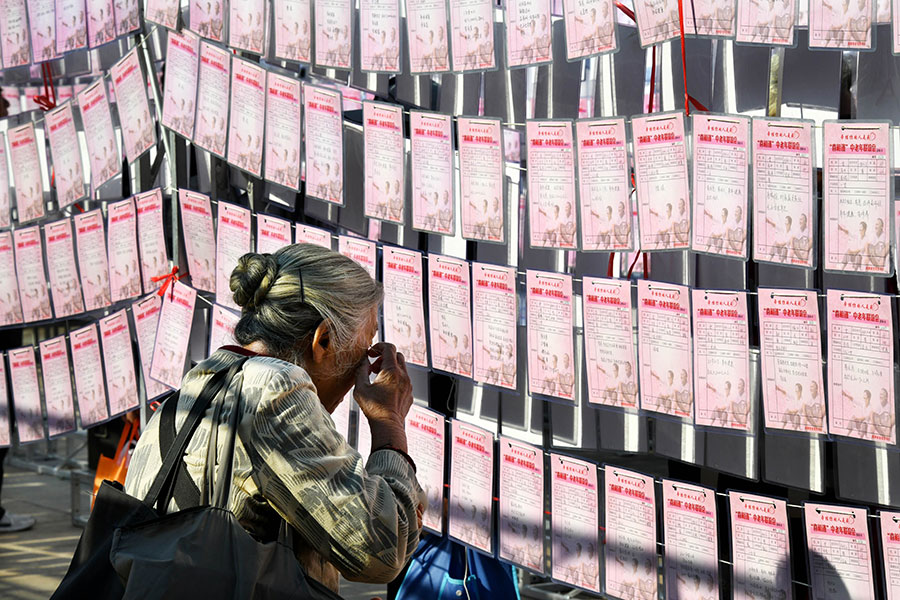 Scruples
Fu said matchmaking is complicated for seniors because it involves the two parties' assets, wills and families. Income, assets, families, health and other issues have to be carefully considered before seniors enter into a relationship.
He thinks that many non-Beijing natives are only looking to obtain something, such as a house, money or help for their children to get Beijing hukou, the certificate of permanent residence.
All people with Beijing hukou enjoy benefits such as welfare and social and medical security, and are allowed to buy homes or cars in the capital. They also have easier access to education and lower tuition fees, and their children are allowed to take the national college entrance examination in Beijing.
Han, the cleaner, has no Beijing hukou, but doesn't feel inferior to those who do. "It's not a big problem; those who put too much emphasis on issues like hukou and finances may not be sincere about dating," she said.
"It's hard for seniors to find a suitable spouse if they expect too much from their new partner. Nobody could bear to be with a man who suspects his wife has only married him for hukou or money. Dating is not just about money - it also needs love. Those who don't want to pay but want a full return are doomed to an unhappy relationship."
Geng wants to find someone with drive and independence. She has Beijing hukou, but never mentions it initially as she thinks people who ask about such things are not honest about their intentions.
Despite an unhappy marriage, the 63-year-old, who sells healthcare products, raised two children. Now the children are earning good incomes, they think Geng needs to live for herself.
"I have spent decades on the family, and now I should try to live for myself and find a spouse to talk to and help me," she said. "The children usually work outside (Beijing), and although I can contact them at any time, I don't want to affect their lives too much, so having a partner would be perfect."
Though Geng, who lives in Fengtai district, wants a new partner, she refuses to compromise on her ideals.
"Some people may have a house, a car, a pension or some savings, but they just rest on their past achievements and have no forward momentum. I don't like such people," she said.
Concerns
In China, children's opinions can have a great impact on their parents' decision to remarry, because most seniors want their offspring's blessing and believe their lives are intertwined forever.
Though Zhang Ziling, who works for a company in Jiangsu province, has changed her opinion about her father's decision to find a new spouse, she still has concerns.
The 34-year-old's parents divorced eight years ago. Her father, 62, who runs his own business, wants to start a new life.
"He said had not done it before for fear of affecting my life," Zhang said.
While she can't give the idea her full support, she can live with her father's decision after discussing it with him many times. Initially, she was opposed because her father has a comfortable lifestyle and has been single for years, so she didn't see the need to bring a stranger into the family.
"I don't want to adapt to a new person, even though my father has said he has enough savings for a new family and it would not affect me too much. However, it's not just about the money, it is about many things," she said.
Zhang has various concerns, including whether a new stepmother would be sincere about her father. She wonders if he would fit into a new life and what the woman's children would think of their "new family". Would they have any bad intentions?
"Cases such as marrying for money and conflict among remarried families are quite common, and there are also doubts about the children in step-families," she said.
In July, police in Hubei province arrested four married women, ages 60 and older, on charges of targeting seniors who lived alone. The women planned to enter into illegal marriages and gain access to their new partner's savings and bank accounts.
Zhu Shijie, 82, from Beijing's Shunyi district, remarried 10 years ago. His wife - who he met at a matchmaking event in Changpuhe Park - is 24 years younger than him.
His son is in favor of the marriage, but his daughter is opposed. Both children visit their father - whose "new" marriage is harmonious - a couple of times a month.
Zhu believes that that his daughter's opposition stems from a fear that his assets will be shared among "outsiders", even though he left his business to her and her husband when he retired and gave his son three houses in Beijing.