Nice hosts 4th Sino-French Cultural Forum
Xinhua | Updated: 2019-10-10 09:28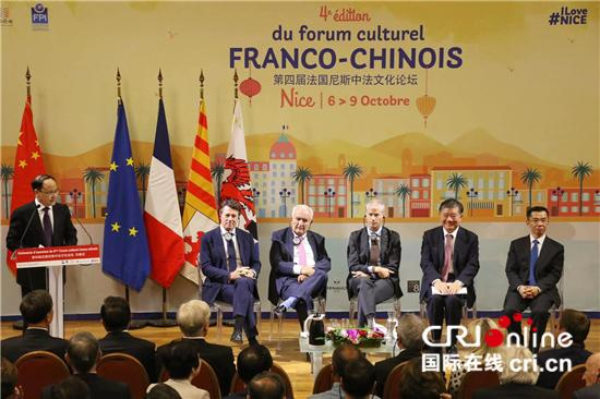 NICE, France, Oct. 9 (Xinhua) -- The 4th meeting of the Sino-French Cultural Forum in Nice, southern France, has attracted some 300 participants for discussions and exchanges on cooperation in the areas like tourism, cultural industry, film, and education.
During the opening ceremony of the event that concluded on Wednesday, Chen Zhu, vice chairman of the Standing Committee of the National People's Congress of China, said that 2019 marks the 70th anniversary of the founding of the People's Republic of China and the 55th anniversary of the establishment of diplomatic relations between the two countries.
"The fourth Sino-French Cultural Forum that we organize on this day has relevance for the past as well as the future, and thus it takes on particular importance," he said.
"With the Belt and Road Initiative as its theme, the forum aims to gather vibrant strengths of our two countries through cultural exchanges and to promote cultural pluralism and the multipolar development," he said.
Former French Prime Minister Jean-Pierre Raffarin said that, despite the differences between the French and Chinese cultures, the two countries have always adhered to coexistence between different cultures and respected each other. In face of the challenges and conflicts in today's world, he said countries should coordinate their efforts to promote peace and convergence through cultural exchanges.
The Chinese Ambassador to France Lu Shaye said China and France should play an important role in reinforcing dialogue between civilizations and promoting cultural diversity under current situation.
French Minister of Culture Franck Riester recalled that cultural exchanges between France and China have been increasing in recent years and collaboration on arts, cinema and publications has strengthened. The two countries have also advanced cooperation in museum exchange, heritage protection and library digitization.
The Sino-French Cultural Forum was initiated in 2016. The previous three meetings of the forum were held in Beijing, Lyon and Xi'an.