Marathon runner aims to break two-hour barrier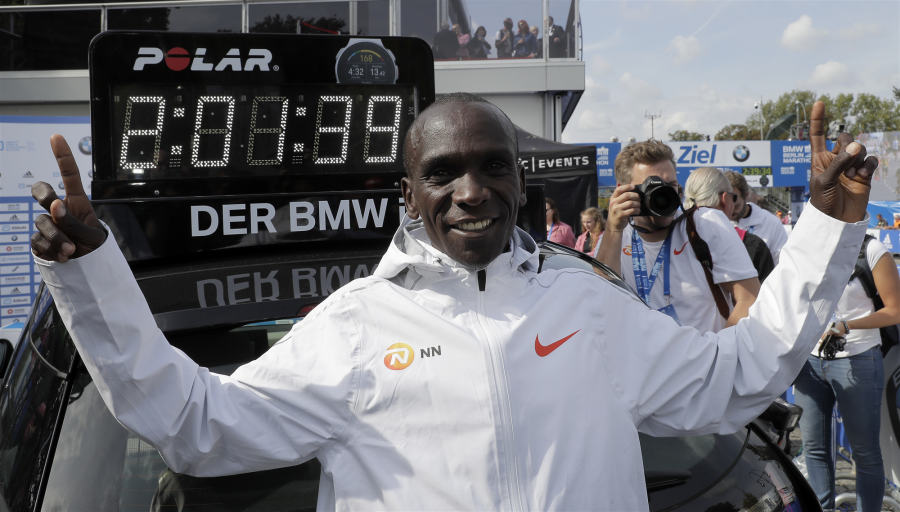 Kenyan athlete poised for challenge in Vienna
Kenyan athlete Eliud Kipchoge will be in illustrious company if he manages to run the first sub-2-hour marathon — a boundary of human endurance that has resisted every attempt to break it.
Success would rank alongside individual sporting achievements that include British runner Roger Bannister breaking the 4-minute mile; Nadia Comaneci, from Romania, becoming the first gymnast awarded a perfect 10; Jamaican Usain Bolt sprinting 100 meters in 9.58 seconds; and Germany's Steffi Graf holding the world No 1 ranking in women's tennis for 377 consecutive weeks.
It would also sit comfortably alongside other incredible human efforts.
These include: the first free-solo ascent of El Capitan, the vertical rock formation in Yosemite National Park, California, by United States climber Alex Honnold; Austrian sky diver Felix Baumgartner's highest free-fall parachute jump 39 kilometers above Earth; and the first confirmed ascent of Qomolangma — known in the West as Mount Everest — by New Zealand mountaineer Edmund Hillary and Nepali Sherpa Tenzing Norgay.
Kipchoge, 34, who is regarded as the greatest modern-era marathon runner, holds the official world record time for the event of 2 hours 1 minute 39 seconds, and also recorded a stunning 2 hours 0 minutes 25 seconds in Monza, Italy, in 2017 at an event organized by Nike, which was aimed at breaking the 2-hour barrier.
Kipchoge is unbelievably consistent, winning 11 out of the 12 marathons he has competed in.
With his record run in the Berlin Marathon last year, he cut a staggering 78 seconds from the previous best-ever mark, representing the biggest single improvement in the world record for the event for 51 years.
His next attempt — the Ineos 1:59 Challenge, tentatively scheduled for Saturday in Vienna, the Austrian capital, pending good weather conditions — will see the Kenyan attempt to overcome what is regarded as the last great barrier of modern athletics, to run 42.2 kilometers, or 26 miles 385 yards, in under two hours.
His best time, achieved on the Monza racing circuit, was not officially recognized because Nike, the event sponsor, used a lead car and about 30 elite pace runners.
The time he set fell only 25 seconds short, meaning he needs to only run 1 second faster each 1.6 km to break the two-hour barrier, which is well within his ability. The Ineos 1:59 Challenge will also not be an official record attempt, although breaking the barrier would be hugely significant.
The event is being supported and managed by United Kingdom petrochemicals giant Ineos, one of the world's largest manufacturing companies. Ineos owns the license for cycling's Team Ineos, which it bought this year from Team Sky. Tour de France champion riders Chris Froome and Geraint Thomas are in the Team Ineos ranks.
Ineos is owned by the UK's wealthiest man, Jim Ratcliffe, a keen sportsman who has competed in more than 30 marathons.
"Eliud Kipchoge is the greatest-ever marathon runner and the only athlete in the world who has any chance of beating the two-hour time," Ratcliffe said in a statement.
"Nobody has been able to achieve this. It's not unlike trying to put a man on the moon. If Eliud runs 1:59, it will be the first time that any human has been able to break that barrier. We have a responsibility to ensure he is given the best chance."
After an extensive worldwide assessment process, The Prater, a landmark park in Vienna, was chosen by the organizers as the venue that will provide Kipchoge with the optimum conditions to write himself into the history books.
The attempt will be staged by running laps on a 9.6kilometer course centered on the Hauptallee, a long, straight tree-lined avenue that runs through the heart of The Prater.
Each lap will feature Kipchoge running two 4.3km out-and-back stretches of the avenue, with turning points at the Lusthaus and Praterstern roundabouts at either end.
According to research, Vienna has the weather conditions in October for a consistent and optimum performance. In case of adverse weather, an eight-day window to hold the event up to Oct 20 has been agreed with the city authorities.
Team Ineos CEO Fran Millar spoke about the logistics of the challenge, the extensive preparations for the event and why Kipchoge was chosen.
"Eliud is in the prime of his career, 34 years old, and with the Tokyo 2020 Olympics and other big-city marathons coming up, it felt like a 'now or never opportunity'," Millar said.
"We'll give him all the very best support we can, and we anticipate he will be in top form. Then, I think it will be down to whether he 'has it in the tank'.
Regardless of whether he achieves his target, the scale of Kipchoge's accomplishments is remarkable. For example, at the first Olympic marathon in Athens, Greece, in 1896, the winner only just broke 3 hours, finishing in 2 hr 58 min.
The possibility of failure is a key factor in such sporting endeavors, and the organizers have embraced this in their marketing. "With all sport — the excitement of it and why we love it — is that element of the unknown, the risk of it, the 'will-they-or-won't-they' factor," Millar said.
"Eliud's team speak immensely highly about him being an 'athlete of a generation'. He really is phenomenal."
Critics have seized on the planned use of a pace car to suggest that "marginal gains" are being exploited to push Kipchoge over the line by creating some kind of wind block. Millar said the sole purpose of the car is to fire a laser beam on the track to mark the sub-two-hour speed for the pace-setters.
"It was really important for Jim (Ratcliffe) and Ineos to emphasize this as a human endeavour, and not make it about science and technology," Millar said.
"It's important that while we assist Eliud and give him everything that he needs for a successful attempt, we don't want to make it into something that people question the credibility of. So, the laser, for example, is there to project the pace and to keep the pacers in formation. The car will keep a distance, won't provide an aerodynamic advantage and will be there primarily to give his split times.
"In terms of the course, we didn't want any downhill (sections) or any tailwinds, but we wanted a big-city marathon look and feel, so a city with the heritage of Vienna is fantastic. It's been a huge undertaking, and there are a huge number of components."
For pacing, Kipchoge will be accompanied by five to seven elite marathon and middle-distance runners.
None of them can match his pace for the duration of the event, so they will swap in and out and run with him for sections of just 5 or 10km. To keep him supplied with fluids, a cycle rider will draw alongside him as he runs.
Thousands of fans will cheer him on along the route, and the event will be broadcast worldwide, with many live feed agreements already in place.
Kipchoge, who has been preparing for his record attempt at his training camp in Kaptagat, Kenya, said he is confident that history will be made.
"I learned a lot from my previous attempt and I truly believe that I can go 26 seconds faster than I did in Monza two years ago," he said. "It gives me great pride to accept the challenge presented by Ineos. I am very excited to show the world that when you focus on your goal, when you work hard and when you believe in yourself, anything is possible.
"This time, I'm feeling superb and I know what will happen. I will break the two-hour barrier."