Miao batiks a delightful sight
womenofchina.cn | Updated: 2019-10-10 11:00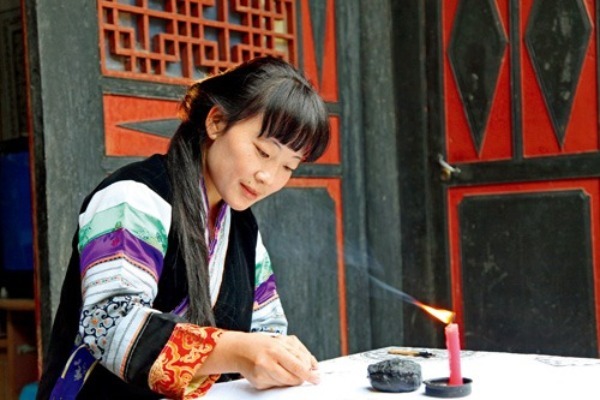 The batik works by residents of Danzhai, Anshun and Zhijin, counties in Guizhou Province, represent the acme of the Miaos' batik craft. In accordance with the counties' customs, every Miao woman teaches the craft to her daughter(s).
Various geometrical figures and the Chinese zodiac (the 12 animals, which represent the 12 Earthly Branches, and which symbolize the years in which people are born) are common patterns on batik works. Miao women also create patterns of scenes and figures from folk tales.
Cai Qun, a native of Dazhai, a village in Zhijin County, in recent years has put a lot of effort into promoting the Miaos' batik craft, and in helping local women attain greater wealth by selling their batik works.
In April 2006, Cai opened a small restaurant in her village, which is three kilometers from Zhijin Cave, one of the county's top tourist attractions. Many customers were attracted by the batik embroideries (created by Cai) displayed on the restaurant's walls. Some of the customers paid high prices for some of the artworks.
Recognizing the business opportunity, Cai established a small workshop, and she employed more than 10 women to make and sell batik embroideries. In 2007, Cai won third prize for one of her batik works during the Guizhou Competition of Tourist Products.