World's top players savor Shanghai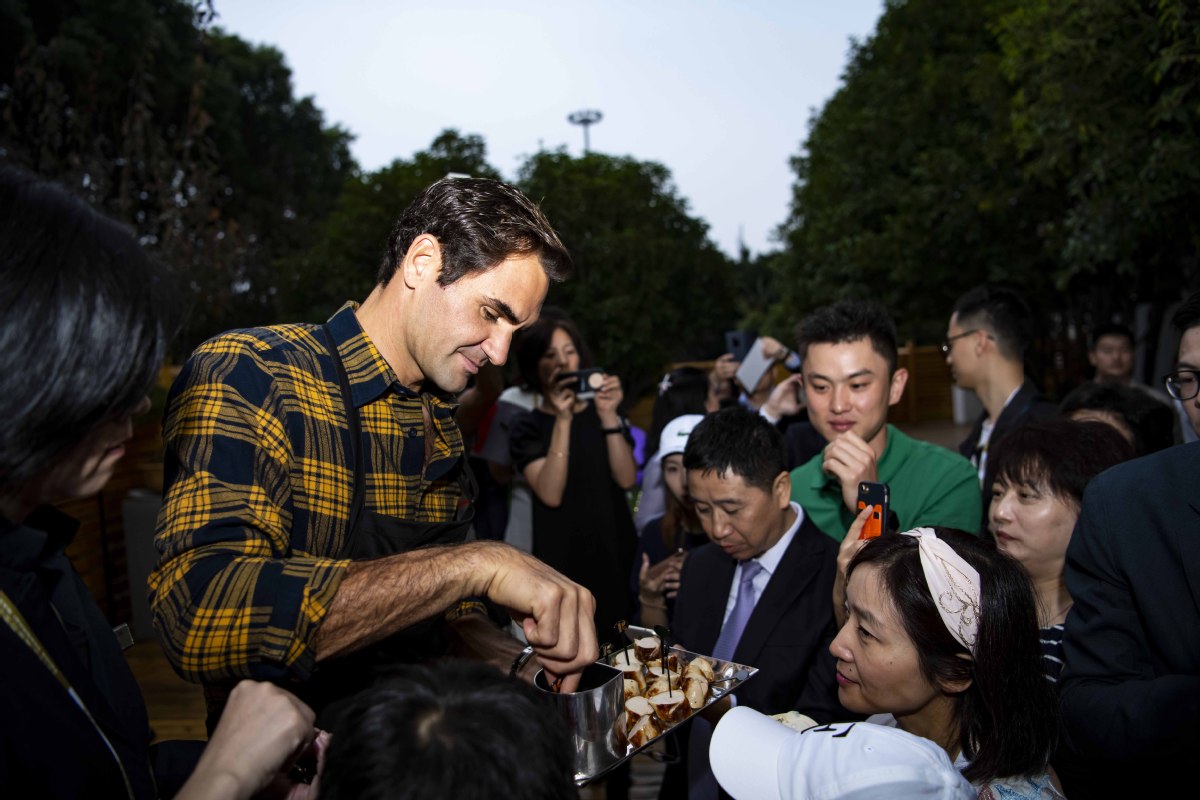 Masters tournament offers much more than prize money and ranking points
The Rolex Shanghai Masters is turning the season's grueling final stretch into a memorable showcase for the world's best players.
From Novak Djokovic's impromptu writing of Chinese characters to Roger Federer's city tour with family members, the year's penultimate ATP Masters 1000 event serves up a unique destination where cultural experiences are proving as attractive as the prize money and ranking points.
Defending champion Djokovic, who has won four titles in Shanghai over the past decade, has shown he's equally adept at learning how to write in Chinese.
Starting from scrawling part of his name in illegible characters, the Serbian world No 1 on Wednesday impressed the Shanghai crowd by writing "Kai Xin", a phrase translated as "happy" in English, on the lens of a TV camera following his straight-sets win over Canadian ace Denis Shapovalov at the packed central court at Qizhong Tennis Center.
"I think people appreciate when you pay them respect through learning a little bit of their language and a little bit about their culture, their heritage, their tradition," said Djokovic, who beat American star John Isner 7-5, 6-3 on Thursday to set up a potential quarterfinal clash with Greek world No 7 Stefanos Tsitsipas.
"I try to pay them respect and give something back not just through tennis but through my very basic knowledge of the Chinese language and Chinese characters," added the 16-time major winner.
"I try to upgrade it every year, and I have a couple of phrases that I know makes them happy. I also thinks it makes your stay feel more comfortable. You have a little bit more, you know, friendliness towards you and more positive energy."
Swiss great Federer, targeting a third championship in his eighth appearance in the tournament, is growing accustomed to his huge popularity in the city, where poster-waving fans clad in red outfits flock to catch a glimpse of the 20-time major winner at the practice court and sponsor events.
After a sightseeing tour to Shanghai landmarks like the Bund, Robert Federer, who is making his first trip to Shanghai with his 38-year-old son, said he's having too much fun to leave.
"My father told me, 'Can you please play next year so I can come back again?' He's having such a great time," Federer said. "So I'm like,'Alright. I will try my best to be back here again next year.' It was funny."
Earlier this week the Swiss star shared the spotlight with Tennis Hall of Famer Li Na at a cooking competition. Federer and Chef Simon from the tournament's official hotel, the Kunlun Jing An, went head-to-head in a sausage "cook-off" at an event called Meet the Masters, with Li serving as judge.
China's two-time Grand Slam champion (2011 French Open and 2014 Australian Open) joked that the two cooks were in a tiebreaker "and Roger won narrowly".
"I enjoy this a lot," Federer said. "It's so very different to where I come from. I have lived in many different places in Switzerland and traveled extensively, but China is pretty special, the way this city and this country are set up."
To help the athletes get used to their surroundings, the player services department of the organizing company helps with everything from restaurant recommendations and shopping tips to advice on cultural differences and avoiding such faux pas as making a gift of a clock (for which the Chinese word sounds like "end of life"). With the official hotel located in the downtown core and filled with chic boutiques and trendy eateries, players can easily explore the tree-lined streets at their leisure.
The riverside Bund, where the players' party was held, is a favorite for its vibrant nightlife, as is Shanghai Disney Resort, which Federer's family visited last year.
"Hearing about their adventures here in Shanghai is super exciting. They are having a blast while I'm working. It's all good," the Swiss legend said.
A top ATP player typically plays 20-30 tournaments a year, jetting between cities, countries and continents. A huge part of the challenge is managing life off the court and trying to maintain a balanced routine when it comes to eating, sleeping and relaxing.
Chase Larson, the on-site player control supervisor who oversees a staff of around 20, said the tournament has done a good job helping players focus on tennis for the week.
"Players like their routines. If they win, they'll usually want to hit with the same partner or practice on the same court at the same time," said Chase, who is in his 11th year of managing the services.