Ecuadorian President orders curfew, militarization in Quito
Xinhua | Updated: 2019-10-13 11:12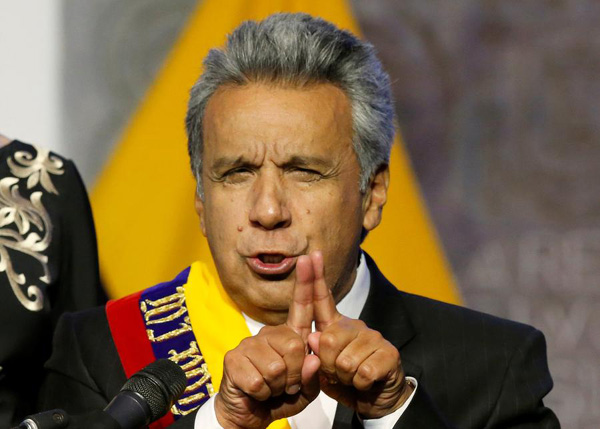 QUITO - Ecuadorian President Lenin Moreno declared curfew and militarization of the Metropolitan District of Quito on Saturday after 10 days of anti-government protests.
"I have ordered the curfew and the militarization of the Metropolitan District of Quito. It will take effect from 3:00 p.m. (2000 GMT)," Moreno tweeted. "This will facilitate the police action against the intolerable excesses of violence."
Shortly after he tweeted, Moreno reaffirmed his decision in a televised address.
"We are going to restore order throughout Ecuador. We start with the curfew in Quito. I've order the Joint Command of the Armed Forces to take necessary measures and operations immediately," Moreno said. "Everything is now completely clear, even to fellow indigenous groups."
Those behind the acts of violence and vandalism in the protests "are drug traffickers, the criminals, the Latin Kings (the largest gang group in Ecuador), and the correistas (supporters of Ecuador's former President Rafael Correa)," Moreno said.
The president said he welcomes indigenous groups to a direct dialogue with his government.
Ecuador's Ministry of Interior asked people to stay at home after the curfew was announced.
Authorities reported new disturbances caused by protesters demanding the repeal of the Decree 883, which ended four-decade-old fuel subsidies and raised the prices of gasoline and diesel.