President salutes Nepal, warns separatists
Share - WeChat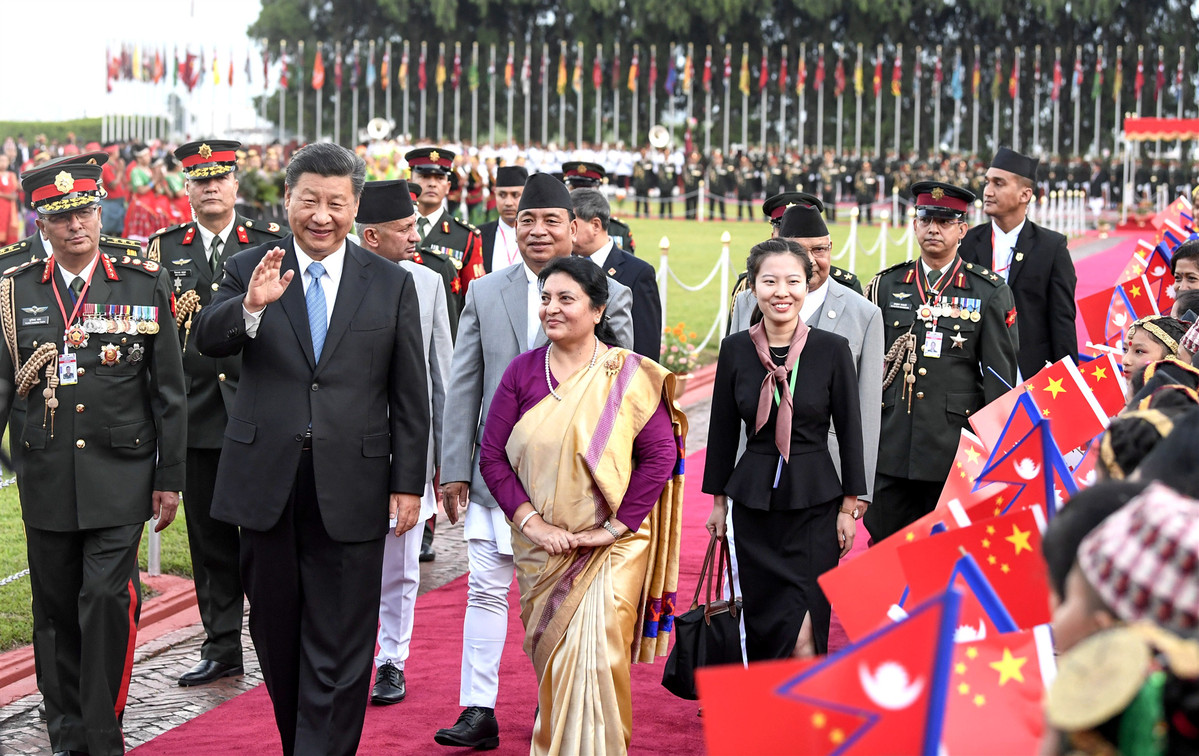 President Xi Jinping, making the first visit to neighboring Nepal by a Chinese president in 23 years, said on Sunday that China appreciates Nepal's stance of upholding the one-China policy and other core interests. He also said that any attempt by separatists to split China will be in vain.
Xi made the remark during a meeting with Nepal's Prime Minister K.P. Sharma Oli in Kathmandu.
Those who engage in separatist activities in any part of China will be smashed into pieces, Xi said, adding that external support for separatists will be seen by the Chinese people as delusional.
During the talks, Oli reaffirmed his country's support of China in safeguarding its national sovereignty and territorial integrity.
Noting that Nepal firmly backs the one-China principle, Oli said his country resolutely opposes any use of its territory to engage in anti-China separatist activity.
Xi called on the two countries to further connect their development strategies. China supports Nepal in developing its economy and improving its people's livelihoods, Xi said. He also emphasized the importance of jointly building the Belt and Road, saying the two countries should speed up the process of boosting interconnectivity.
The two countries should take improving cross-border roads into consideration, initiate a feasibility study for building cross-border railways, gradually open more ports, increase direct flights and enhance cooperation in telecommunication, Xi said.
The two sides should also make more efforts to promote trade and investment and push forward the China-Nepal cross-border economic cooperation zone, Xi said, adding that China would like to help Nepal develop hydropower.
The two countries should enhance people-to-people exchanges and promote communication in such areas as education, tourism and local government, Xi said. China will continue to offer a helping hand for Nepal's reconstruction after the devastating earthquake in 2015, he added.
Xi also stressed the importance of enhancing law-enforcement cooperation, fighting terrorists and cross-border crimes and jointly supporting multilateralism and free trade.
Oli congratulated Xi on the 70th anniversary of the founding of the People's Republic of China. Noting that China has made remarkable progress in the past decades, he said China's development represents an important opportunity for Nepal.
Xi's visit was a historic moment for the development of Nepal-China relations, Oli said, adding that Nepal's people were excited to host the Chinese president.
Noting that Nepal and China are real friends and partners, Oli said that the two countries have always respected and supported each other with no interference in the other's domestic affairs.
After the talks, the two leaders jointly witnessed the signing of cooperation documents covering such areas as interconnectivity, trade, investment and border management.
Xi arrived back in Beijing on Sunday night, wrapping up his three-day South Asian trip, which also took him to India.
President Xi Jinping, accompanied by President Bidya Devi Bhandari of Nepal, greets crowds after arriving in Kathmandu, the country's capital, on Saturday. Xi's state visit marks the first by a Chinese president to Nepal in 23 years.