Hong Kong's mask ban protects the innocent
By Martin Sieff | China Daily | Updated: 2019-10-15 07:18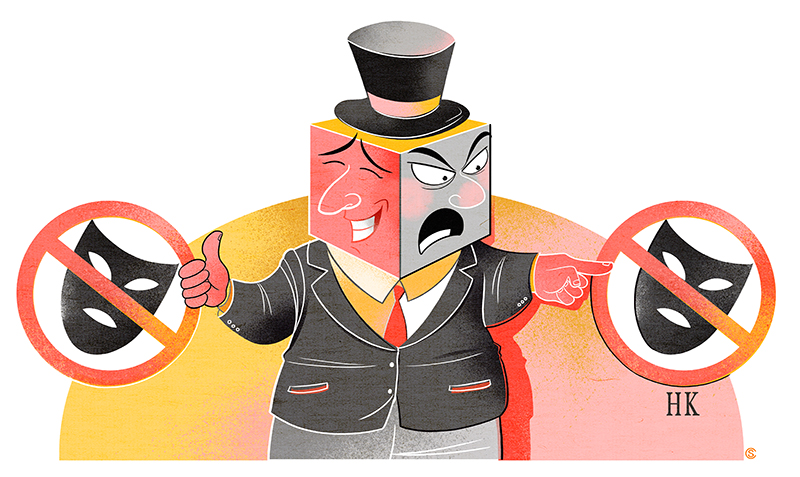 The carefully orchestrated global outrage over Hong Kong's new ban on face masks is the latest example of an Orwellian process: Traditional and historically admirable (or apparently admirable) measures and values are systematically hijacked by global forces of neo-imperialism, greed, jealousy, hatred and oppression.
The purpose of this exercise is to subvert and wreck peaceful law-abiding nations from within, leaving them open to carefully orchestrated foreign aggressions that wreak havoc on the lives of scores of millions of people.
Historically, enforcing bans on face masks was a move recognized by responsible governments, whether democratic, oligarchical or autocratic to protect their populations from criminals and terrorists. In recent years, leading Western nations that were quick to criticize others for not allegedly meeting their own standards have revived, strengthened or freshly introduced such laws.
Canada introduced Bill C-309 into its Parliament which became law on June 19, 2013. This legislation expressly forbids the wearing of any masks during a riot or other unlawful assembly. The purpose of this law is both clear and admirable: It is to protect law-abiding citizens from the terror of any mob. Those convicted of breaking the law face sentences of up to a decade in prison.
Mobs can be dangerous and run out of control to cause riots, racist pogroms and other violence at any time. The dark story of anti-Jewish pogroms or mob riots, fanned by ignorance and religious bigotry across Eastern Europe in the 19th century and even well into the 20th century is well known.
Almost unknown is the failure of the British authorities in India to protect minority Muslim communities during Mohandas K. Gandhi's enormous allegedly "non-violent" demonstrations against British rule in the 1920s and 1930s.
Gandhi wisely and cunningly worked overtime to provoke the British and restrain his own followers from attacking the British-controlled and well-armed police and army forces. But Hindus mobs supporting his own Congress Party repeatedly rampaged through Muslim areas killing tens of thousands of people overall.
The anti-mask ban in Hong Kong is a responsible and moderate effort by the special administrative region's government to maintain law and order to protect its population overall. The ban also serves to protect outspoken, targeted critics of the protests from terrorist and mob attacks and even lynching.
In the United States, such laws already exist in dozens of states. Many of them were enacted in the 1950s and 1960s specifically to protect non-violent protestors against segregation in the Civil Rights movement from being beaten up or murdered. In some cases, the laws were specifically enacted to prevent the notorious Ku Klux Klan being permitted to march publicly but secretly beneath its fearsome hoods. For more than a century by that time the Klan had reveled in its dark reputation as "The Secret Empire."
Also, many continental Western European countries west of Sweden and Poland have enacted such laws or comparable ones.
Russia also has similar legislation. None of the European Union states that have enacted such legislation has been subjected to the torrent of abuse for enacting them that China is now suddenly facing.
Ironically, the ban on face masks is more effective in the 21st century than ever before. This is because the proliferation of millions of closed circuit television cameras around the world has been a boon to global law enforcement wherever it has been applied.
China has predictably been criticized for investing heavily in CCTV technology, which is of inestimable value in protecting the safety of potentially billions of ordinary people around the world. But the great pioneer work in using such systems to ensure public security was actually undertaken by the government of the United Kingdom which is now so critical of China's commitment to the same kind of systems to ensure public safety.
Obviously, permitting mobs of thousands of people to wear masks would allow criminal elements to go berserk in killing, rapes and despoiling shops and other centers of commerce. Even the economic damage suffered by the collapse of law enforcement in such conditions creates pathologies and depressed economic conditions that last for decades.
The critics of Hong Kong's very timely and sensible new law have no love or true concern for the people of the special administrative region: On the contrary, they want to feed millions of innocent people into the jaws of lawlessness, anarchy and the breakdown of order and justice.
Masks hide the identities of heroes in US comic books: But in the real world it is murderers, rapists and robbers who resort to them, not to enforce justice but to destroy it. The lines between right and wrong, peace and conflict, security and terror in the Hong Kong violence grow clearer by the day.
The author is a senior fellow at the American University in Moscow. The views don't necessarily reflect those of China Daily.