Stuttgart flops eye Tokyo turnaround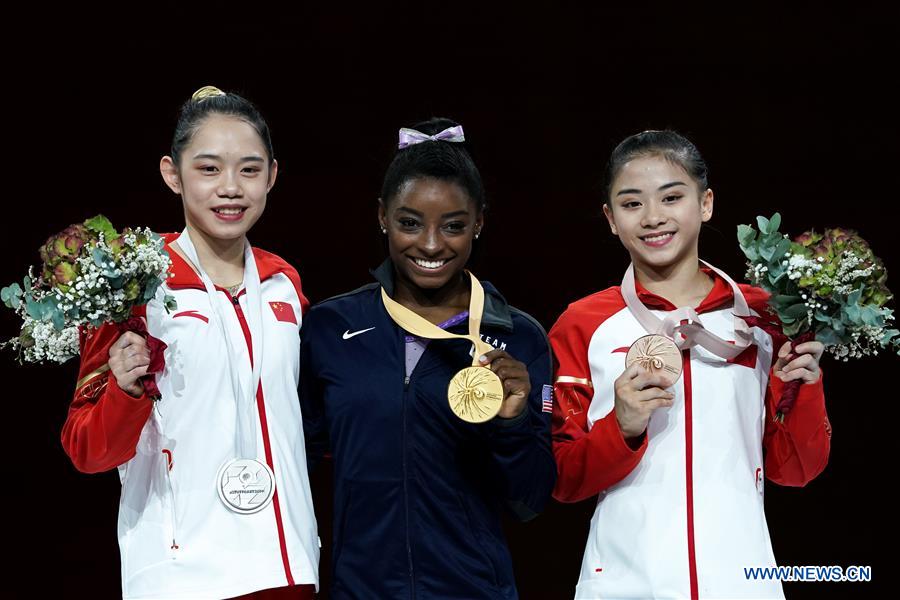 "No excuses."
That was the message from China's gymnastics bosses after the nation's miserable performance at the world championships, which wrapped up on Sunday in Stuttgart, Germany.
Team China won just three silver and two bronze medals-the first time in 26 years a Chinese squad has wound up without a gold at the worlds.
The lackluster effort prompted plenty of criticism online, with related topics viewed over 1.8 million times on Weibo by Monday morning.
A repeat at next year's Olympics in Tokyo would undoubtedly spark an even fiercer backlash.
"There's no excuse for the unsatisfactory result, so I understand the fans online who actually care about gymnastics and want Team China to have a great result," Miao Zhongyi, director of gymnastics at the General Administration of Sport of China, told media.
"From this point, I really feel sorry to disappoint all of them. We failed their passion and love for the sport."
Miao suggested the young squad wilted under the pressure of performing at a major meet.
"Gymnastics meets are protean and full of unexpected situations. So after the worlds, we have to carefully analyze all the mistakes we made this time," Miao added.
"I think the biggest issue for our young athletes is to have more stable performances and avoid mistakes.
"There's still a gap between us and the Russian and American teams. We should learn from them and learn how to show our best skills and advantages during the big tournaments."
Young talents Liu Tingting and Li Shijia contributed a silver and a bronze in the balance beam competition.
While there was certainly no shame in finishing runner-up behind American superstar Simone Biles, whose beam and floor golds on Sunday saw her win a record 25th medal at the worlds, Liu said she needs to relax more in the heat of competition.
"I'm much better than a few days ago when I lost on the bars in the team final, and we did not stand on the podium. I hope we can stand on the podium next year in Tokyo," Liu said on Sunday.
"We've been through lots of things at these championships, and the biggest thing for me is that I have learned how to face challenges, difficulties and failures ... and how to solve problems."
Li also reckons the experience she garnered was invaluable after bagging a medal in her worlds debut.
"I believe it's good, but not good enough," said Li.
"There are still lots of things to be improved. I don't have many flying moves to win more points. Hopefully, I'll have the chance to compete in Tokyo with more difficult moves and to produce better results."
Women's team coach Qiao Liang refused to be too critical of her young charges.
"I think the team did a great job, especially the youngsters, including Li Shijia, Tang Xijing and Qi Qi," said Qiao.
"It's their first time competing on this big stage. They have improved so much over the last year, and they performed really well this time.
"I hope we can learn from the mistakes and make adjustments during our preparations for the Tokyo Olympics. We will make some adjustments to make sure our athletes are in the best physical and mental condition."
While Team China certainly has plenty of work to do, it's difficult to see just how Biles can up her game.
The 22-year-old, who dominated the 2016 Rio Olympics, once again wowed the world by becoming the most decorated gymnast in world championships history with 25 medals, including 19 golds.
The American also became the first gymnast to earn five golds at a single worlds since 1958, topping the podium in the team, all-around, vault, beam and floor disciplines.
"I can't be more thrilled with the performance that I put out at this world championships," said Biles.