Award-winning photo highlights perils of life on the prairie
By Alexis Hooi | China Daily | Updated: 2019-10-21 07:44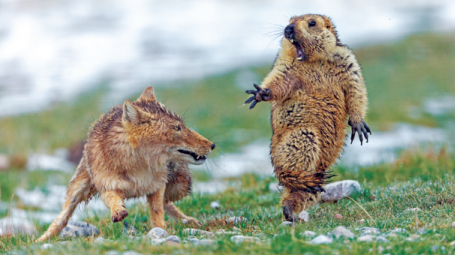 "Yikes!"-that's the first thing that came to my mind when I saw the award-winning photo by China's Bao Yongqing, who took a shot of a marmot jumping in fright as a Tibetan fox sneaked up behind it.
Don't get me wrong; the photo is worth every pixel that helped Bao make the headlines last week as Wildlife Photographer of the Year, one of the world's top photography accolades.
Dubbed The Moment, the winning entry was taken on the Qinghai-Tibet Plateau. The marmot, spooked by its crouching predator, dons an anthropomorphic look that, to me, is the screaming expression of alarm that goes well with daily life in a harsh, wild environment.
There's something else behind my initial reaction to the photo: Marmots, as cute, cuddly and vulnerable as they seem-and even more so through Bao's expert hand-are actually a dreaded animal for herders and horsemen on the grasslands.
Marmots are large furry rodents, part of the squirrel family. They feed on berries, flowers, grass, lichens, moss and roots. The highly sociable critters live in large groups, whistling to alert one another of any danger as they stand out in their large networks of burrows. These holes that they dig puncture and deface the precious grazing grounds of sheep, cattle and horses. Horses can be particularly at risk because the holes are a perfect fit for their hooves and any wrong step can almost certainly mean snapped limbs during a gallop. Horses disabled by marmot holes must be quickly put down by herders because they are virtually useless on the grasslands if they cannot walk or run.
I myself have been flung unceremoniously off a horse that unwittingly stepped into a marmot burrow with its right hind leg during a ride in the Xinjiang Uygur autonomous region. While no serious injuries were sustained to rider or mount, the experience made me acutely aware of the danger that the rodents poise.
Chinese author Jiang Rong, in his novel Wolf Totem, which won the inaugural Man Asian Literary Prize in 2007, also mentions the burrowing marmot as a significant threat to the grasslands and herding communities of the Inner Mongolia autonomous region.
Jiang's semi-autobiographical novel, of his experience on the Mongolian steppes in the late 1960s, also details environmental challenges such as desertification. Major green drives in recent decades, some encompassing the vast tracts of Inner Mongolia, have made admirable strides to rein in the encroaching sands.
Still, the marmots aren't all that bad-they can be tasty, fatty treats for predators; their rich oil can be used in essential leatherwork; and their pelts make good barriers against the biting winters of the north. Tourists, though, may want to steer clear of any stewed or roasted marmot offered on the grasslands. There have been cases of people dying or being hospitalized as a result of bubonic plague in marmot meat or merely coming into contact with the rodents in other countries. Marmots can also carry ticks that cause Lyme disease, while their bites can transmit rabies.
Inner Mongolian horse breeder Ma Jun, 52, said he keeps his distance from marmots and even trains his dogs to hunt them down.
"They may look like adorable animals for the visiting city dwellers. But they can be problematic for us," he said.
For horsemen like Ma, it seems that marmots themselves can be part of the perils on the prairie. Yikes.