Wang's hometown pride shines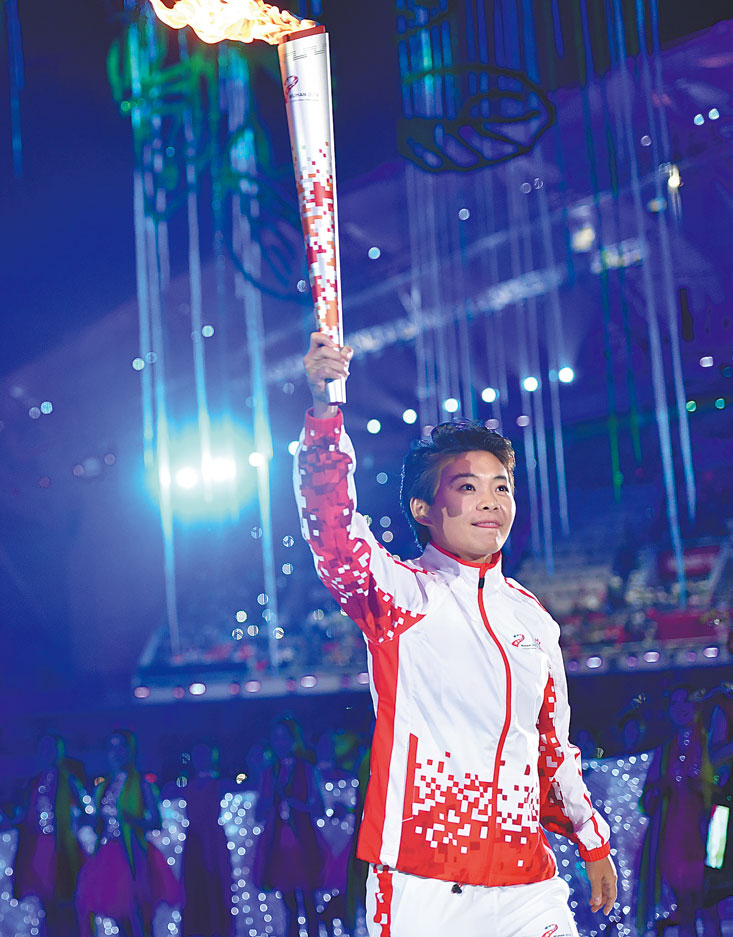 Being a torchbearer at Military World Games 'a sacred moment' for national team star
It was a special moment for Chinese soccer ace Wang Shuang when she stepped into the spotlight as a torchbearer at Friday night's opening ceremony of the 7th Military World Games in her hometown of Wuhan, capital of Hubei province.
The high-level international competition has attracted 9,308 athletes from 109 countries to compete for medals in 27 events.
"It was a great honor to be a torchbearer at the opening ceremony of the Military World Games," the 24-year-old Wang told Xinhua. "That was a sacred moment."
Wuhan has been making preparations for the Games for years, and having witnessed the dramatic development of her hometown, Wang, who is not competing because she is not in the military, said the event is a great platform for visitors from all over the world to better know the city.
"I've traveled a lot to train and compete since I was a kid, but every time I come back home, I can see and feel the changes in Wuhan," she said.
"The city is getting cleaner and greener, and an international event like the Military World Games definitely attracts the attention of global media, showing the world the strength and development of our country."
Watching China's Bayi female soccer team at the Games is definitely a must for Wang. The squad includes nine Chinese internationals who played with her at the FIFA Women's World Cup in France this summer when the Steel Roses were eliminated by Italy in the last 16.
Wang sat with Jia Xiuquan, head coach of the women's national team, to watch Bayi defeat South Korea 3-0 last Thursday, followed by a 4-0 victory over Germany on Saturday.
"I think the Bayi squad can win gold in the Military World Games, but they will face many difficulties. There's going to be many challenges waiting for them," said Wang, who launched her pro career with Wuhan in 2012 before joining South Korean side Daejeon Sportstoto in 2013.
She returned to Wuhan in 2015, and the next year signed with Dalian, where she won two league titles and was voted 2017's Chinese player of the year.
Wang's move to European top tier club Paris Saint-Germain in August of last year saw her become a household name back home, with her star rising further by being named 2018's AFC women's player of the year.
She found the net seven times in the French top flight last term and became the first Chinese to score in the Champions League before leaving PSG and returning to Wuhan this summer.
Speaking of her experience in Europe, Wang said Chinese players need a support team to help them adjust overseas, adding she might have stayed longer in Paris had she not been "distracted by things off the pitch".
"I had to deal with many things all by myself in Paris, like communication with the club, training and nursing my injuries. Things off the pitch really made me stressed, and I couldn't fully concentrate on soccer," Wang told Xinhua. "The distractions affected my performances at the World Cup."
Wang cites star forward Wu Lei, who plays for La Liga's Espanyol, as an inspiration.
"Wu is a big brother for me. He is a very good player. In the meantime, he has a good supporting team that takes care of him off the pitch. They have been very helpful for him," she said.
"I know the development of women's soccer is still far behind the men's game, but I hope I can have such a team to support me in the future."
Compared to her professional career, Wang said competing for the national team has always been her priority - and another reason she left PSG. But she's not ruling out a return to foreign competition.
"I learned a lot in Paris. The organization of the league and the professionalism of the players was great," said Wang. "Now I just want to focus on improving myself step by step. If I have another good chance to play in Europe, I will take it."