Coach Xu not taking anything for granted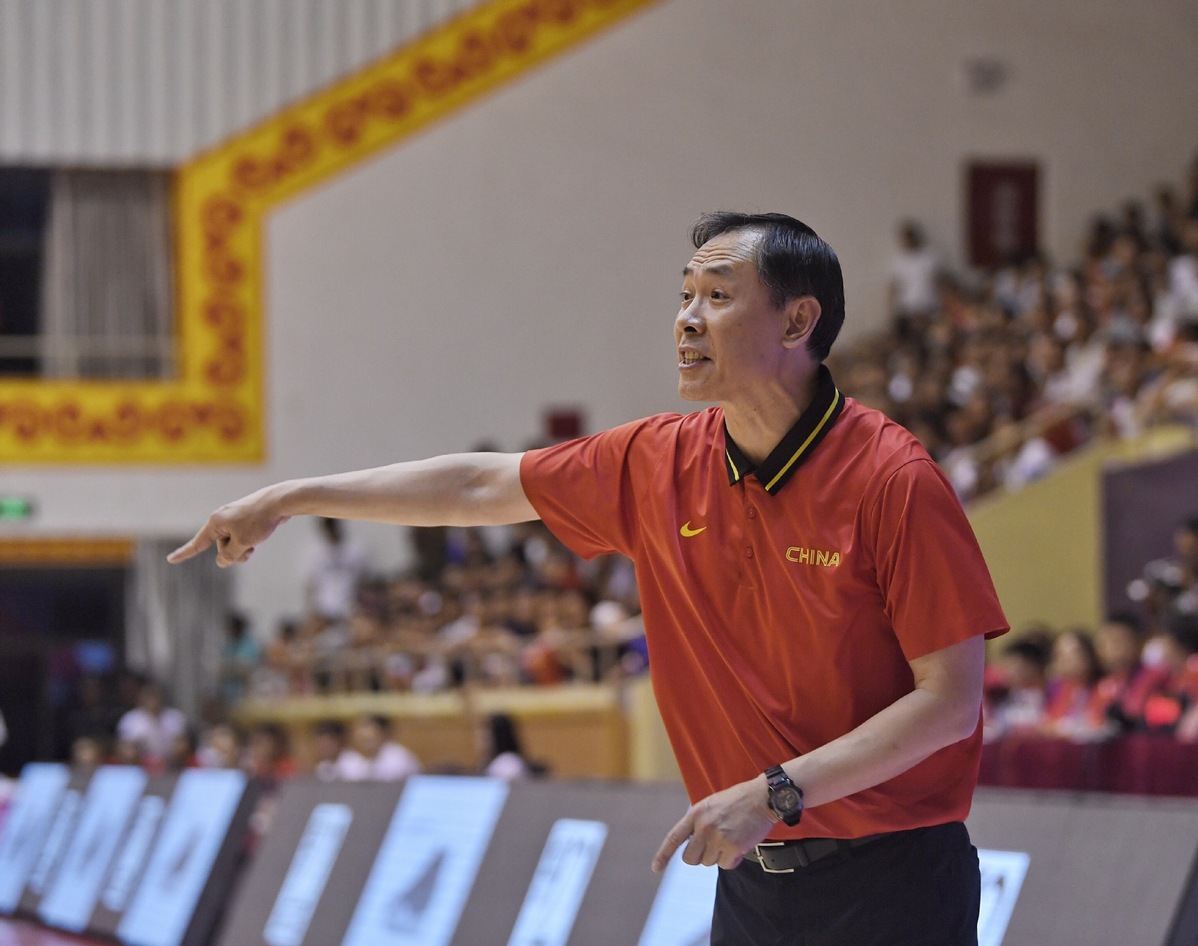 No room for complacency ahead of next month's Olympic pre-qualifiers
Xu Limin, head coach of China's women's basketball team, has full confidence in his squad going into next month's Olympic pre-qualifiers in New Zealand.
"We will fully prepare for difficulties ahead while maintaining our confidence and resolution at the same time. I trust everyone on the team in terms of finishing the job," Xu said in a recent interview with Xinhua.
After finishing runner-up at the FIBA Asian Cup last month, Team China will play in the Nov 14-17 Olympic Asia-Oceania pre-qualifying tournament against South Korea, host New Zealand and the Philippines, with the top two teams in the group advancing to the Olympic qualifying tournament in February.
Promising center duo Han Xu and Li Yueru joined Sun Mengran, Wang Xuemeng and Li Meng as departures from the national team to participate in the 7th Military World Games, and constant personnel changes during the team's preparation have posed unprecedented challenges for Xu in his third year since taking charge.
"The third year is vital to any coach, as it is the time when the team becomes mature in techniques and tactics and has a clear vision of players' positions, but this is not the scenario for me," said Xu.
"We need to approach this situation in a positive manner, and limit the difficulties, pressure and uncertainty as much as we can through our concerted efforts.
"We haven't met such challenges before, but we can approach it as a test and treasure the experience. I think everyone on the team can benefit from what we have experienced."
Xu said the team is focused on improving individual defense, ball possession and fitness training after the Asian tournament.
"We face tough challenges indeed, but nobody has complained about it. Everyone does her own part to help the team achieve our goal of qualifying for the Olympics," said the coach.
Xu offered chances to Guo Zixuan, Chen Mingling and Shi Xiaoye at the Asia Cup, and thinks they exceeded expectations.
"Although we didn't win the Asia Cup, those players made their contribution within their capabilities," Xu said.
China defeated all three upcoming pre-qualifying opponents by comfortable margins at the Asia Cup, but Xu doesn't expect them to be so easy next time.
"South Korea didn't dispatch their full squad to the Asia Cup, so the situation will be totally different in Olympic qualifiers. We need to prepare for possible difficulty ahead," he said.
"New Zealand was not at their best at the Asian Cup, so we cannot afford to be below par. Relatively speaking, we have the best possibility of defeating the Philippines, but we cannot take it for granted.
"We are a young team. Everything hinges on our preparation and performance during the competition. We cannot offer any excuse because of difficulties ahead.
"We need to take our fate in our own hands."
Xinhua