Do not insult virtue by linking Joshua Wong with it
By Zhang Zhouxiang | China Daily | Updated: 2019-10-22 07:46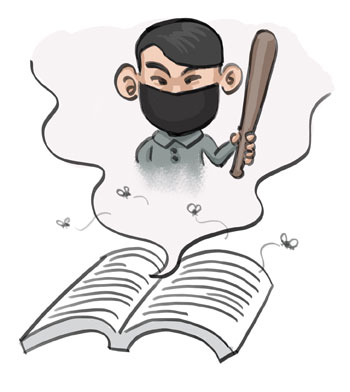 Joshua Wong, a key figure behind the unrest in Hong Kong, is described in a local middle school's textbook as a "celebrity with traditional Chinese virtues". China Daily writer Zhang Zhouxiang comments:
It might be correct to call Wong a "celebrity" because he is known nationwide, even worldwide, for his words and deeds encouraging the rioters in Hong Kong. Yet it is absurd to link him with "traditional Chinese virtues" because his words and deeds go against Chinese virtues.
Traditional Chinese virtues cherish peace in one's hometown and courtesy toward one's neighbors. Wong's family has been living in Hong Kong for two generations and he should take the city as his home, yet he encourages the rioters, making others live in fear. That is not courteous.
The Hong Kong Special Administrative Region is part of China and all its affairs are the domestic affairs of the Chinese nation. Yet Wong met US officials in Hong Kong, possibly for "guidance" on his deeds. Worse, he visited Germany and called on German officials to intervene in China. He acts as if China is a colony or semi-colony of the West. That's disloyalty to his nation.
Traditional Chinese culture cherishes responsibility. Even bandits who commit such crimes as robbery will not be dishonored if they take responsibility for their wrongs, instead of trying to pass the buck to others. In ancient Chinese novels, there are often such scenes showing bandits being treated with respect because they shoulder the responsibility for their actions.
To try and push one's responsibility onto others brings great dishonor in traditional Chinese culture.
Yet that's exactly what Wong has done. He has enticed young people to demonstrate in the streets and he has incited violence with his words and deeds. Yet when the violence happened, instead of trying to curb it, he flew to the US to pursue his academic studies at Yale. He left the students in the streets.
That deed alone is enough to dishonor Wong for life, because he let others take responsibility for his wrongs. Even among the demonstrators, his going to Yale has aroused discussion and debate.
Thus it is wrong to associate Wong with "traditional Chinese virtues". Actually, Wong's deeds are against the virtues of most countries, not only those of China. In China or the West, plundering one's own hometown, calling for outside intervention in domestic affairs, and passing the buck for one's wrongdoings onto others are all considered dishonorable deeds.