Twitter manipulating conversation on Hong Kong
By Zheng Yisheng | China Daily | Updated: 2019-10-22 08:16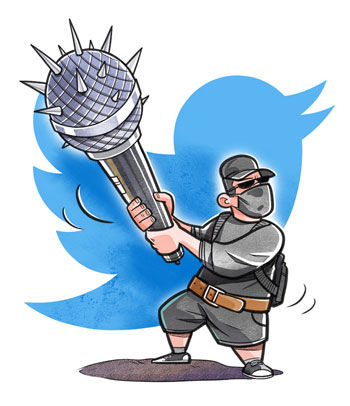 When Daryl Morey tweeted in support of the violent protests that have raged in Hong Kong for months, he probably did not foresee a huge backlash from China.
After many Chinese NBA fans expressed their anger, the general manager of Houston Rockets on Oct 7 explained his action by saying that, "I was merely voicing one thought, based on one interpretation, of one complicated event. I have had a lot of opportunity since that tweet to hear and consider other perspectives."
Morey may not just be making excuses.
Living in a filter bubble created by Twitter's algorithms, users who do not realize there is an anti-China bias in the algorithm can hardly see the whole picture of what's going on in Hong Kong.
Anti-China echo chamber
Twitter has long been accused of failing its users by creating echo chambers that fuel polarization. A study released by the Pew Research Center in April found that the world constructed by Twitter feeds is not even close to the real world, as about 80 percent of all the tweets are created by the most active 10 percent of users.
When it comes to deciding whose voices matter, Twitter picks a side, and it has even stopped hiding.
After Twitter's vice-president of public policy, Colin Crowell, met with the Hong Kong activists who flew to Washington to seek political support in September, the platform proclaiming its neutrality can no longer fool the world with its "free speech" slogans.
Crowell retweeted a post published by one of the activists he met, Denise Ho, thanking him and his team for their "good work in making people's voices heard". While three days before the retweet, Twitter suspended 4,301 accounts originating in China, following a purge in August that wiped out 936 Chinese accounts that, according to the "examples of violative content" the platform provided, denounced the violence of masked rioters in Hong Kong.
Whose voices matter to Twitter? It's more than clear.
By suppressing Chinese accounts in the name of curbing State-backed information operations, Twitter is in effect creating an anti-China echo chamber.
Twitter said that it will continue enforcing its content policing policies "to serve the public conversation". The problem is how could there be any conversation when only a one-sided view on the ongoing Hong Kong unrest is allowed to be heard?
Political bias has saved Twitter
Algorithms should not take all the blame, because deep down there is a political angle in Twitter's anti-China algorithm.
Apart from his own meeting with leading Hong Kong activists, Colin Crowell retweeted their posts of meeting US Senator Ed Markey, to whom Crowell was a longtime staffer.
Markey is one of the US politicians that have kept playing the "Hong Kong card". He went further by tabling a new bill to amend the so-called United States-Hong Kong Policy Act of 1992, which China criticized as evidence of US interference.
Among Twitter's myriad connections to US politicians, the one to US President Donald Trump is the most remarkable for the simple fact that the outspoken president and his followers have arguably saved the once ailing platform from dying.
Trump's tweets have caused controversy time and again. Meanwhile Twitter, which proclaims it holds all accounts to the same standards on its content policies, has for years turned a blind eye to violations by the US president in the name of "newsworthiness".
Twitter exposes Western hostility
Western media outlets often castigate China in apparent ignorance of the values gap. Fear of being taken over by China's rise and hubris about their political system are noticeable everywhere in their reports. What is not mentioned in their narratives is China's reiteration of its peaceful development path and the popularity enjoyed by its government.
The Western media fail to recognize their own prejudices and keep promulgating hostility toward China. Take the Hong Kong unrest for instance. Protesters' occupation of the airport was glossed over as "peaceful", despite the vicious attack on a mainland journalist. Police use of force is amplified as "brutality" even when they have exercised restraint and tolerance. Given the regularity of protests in the city, The Atlantic once described Hong Kong police as "expert in crowd management". Ironically this time, the Western media denounced them as "perpetrators" of government violence because they do not share the police's stance.
In selectively exaggerating what they want to report and neglecting what they do not want to report, Western media outlets, colluding with social media networks such as Twitter, manipulate public opinion on Hong Kong in disregard of facts.
Since Morey's tweet, the Western media has chased after the NBA for comments on Hong Kong protests that suit their narrative-without much success.
Golden State Warriors coach Steve Kerr, who has been vocal on human rights issues, said he was uncomfortable to comment on matters he doesn't understand.
Kerr compared the Hong Kong unrest to the gun violence problems in the US. "People in China didn't ask me about, you know, people owning AR-15s and mowing each other down in a mall," he said at a news conference on Oct 11.
The fallout of Morey's ignorant tweet should have introduced him to the other side of the Hong Kong protests. Does Morey now know that the violence of the rioters was deliberately hid from users like him on Twitter?
The author is a writer with China Daily.