Better support for severely disabled poor people
By Mong Jingxi | China Daily Global | Updated: 2019-10-22 09:27
Several ministry-level departments, including those responsible for education, health, water resources, and poverty alleviation, have responded recently to issues of public concern.
Forum focuses on relief for disabled living in poverty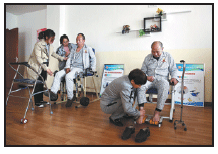 China will address problems faced by services that care for impoverished people who are severely disabled, an official with the State Council Leading Group Office of Poverty Alleviation and Development said.
Measures and policies will be formulated to better support such people in areas including compulsory education, basic medical care, housing security and drinking water safety, Xia Gengsheng, the office's deputy director, said at a forum on poverty alleviation for disabled people in Beijing on Oct 14.
The forum, jointly held by the China Disabled Persons' Federation, the State Council Leading Group Office of Poverty Alleviation and Development and the Ministry of Civil Affairs, discussed measures to promote caring services for impoverished people who are severely disabled.
Statistics from the China Disabled Persons' Federation show that China has about 1.69 million registered impoverished disabled people. Nearly half of them are severely disabled and 472,000 people need foster care services.
More monitoring for river basin water resources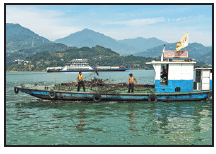 The Ministry of Water Resources will take a series of measures to strengthen the management of river basin water resources, Water Resources Minister E Jingping said at a meeting in Dongying, in eastern China's Shandong province, on Oct 11.
E said flood control, high-quality water resources, a healthy aquatic ecosystem and a livable water environment should be the four goals of China's river management.
In order to protect water resources, E said efforts should be made to improve water quality and ease water loss and soil erosion. He also underlined the importance of curbing overexploitation of water resources and preventing water pollution.
Information technology should be used to monitor larger water resources in real time, E said.
Undergraduate education reforms to boost talent
China will reform undergraduate education to improve its cultivation of talent, according to a guideline published by the Ministry of Education on Oct 12.
The guideline listed four areas for further reform, related to education and teaching management, education and teaching systems, and teaching personnel.
To strictly control examinations and graduation, the guideline called for efforts to improve the country's academic assessment system by combining process-oriented and result-oriented assessments.
The proportion of process-oriented assessments, such as Q& As in class, research reports and periodic tests, should be more reasonable, it said.
The guideline said universities should motivate students to study hard, make their academic tasks more challenging, and give them more time for reading and sports.
It also asked universities to improve appraisal systems to punish academic misconduct and improve standards for the conferring of degrees.
Shorter hospital stays indicate improvement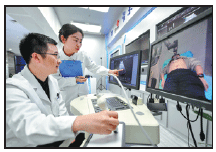 The efficiency of China's medical services has increased, with the duration of the average hospital stay dropping for five years in a row in top-level hospitals, according to a report issued by the National Health Commission on Oct 9.
The report said the average hospital stay last year was 9.3 days, down 42.6 percent compared with 1992. The average hospital stay is one indicator used when assessing medical benefits and efficiency.
Shorter hospital stays show that China's medical service has become more efficient through the development of new medical service models and the promotion of integrated medical services, said Guo Yanhong, an official with the commission.
In recent years, the commission has been working to optimize service procedures in hospitals across the country and offer services such as outpatient surgery and early rehabilitation.
The amount, quality and capability of China's medical services have improved continuously in recent years, Guo said.