Liu's World Cup record serves as Olympic primer
Share - WeChat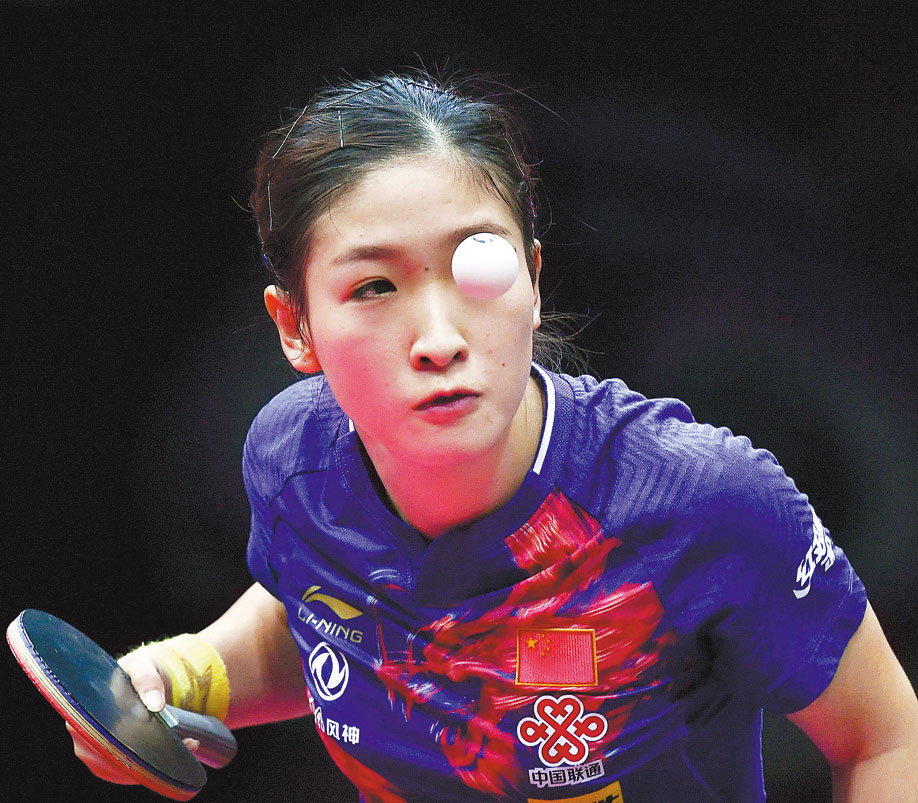 Unprecedented fifth title bodes well for golden defense in Tokyo
Liu Shiwen hailed her record fifth ITTF Women's World Cup title as her best yet after outlasting Zhu Yuling in an enthralling all-Chinese final in Chengdu, Sichuan province, on Sunday.
The 28-year-old Liu, seeded second, rallied past top seed Zhu 4-11, 11-8, 11-8, 11-6, 3-11, 11-9 to add another World Cup to the first world championships singles gold she won in Budapest in April, auguring well for the defense of her Olympic title next year in Tokyo.
"It's a very important victory for me," Liu said. "The four previous titles were all achieved when I was much younger, when I was fierce and had no fear at all.
"But this time, it came a year out from the Tokyo Olympic Games, when the atmosphere in our Chinese national team becomes quite tense."
Liu's previous World Cup wins came in 2009(Guangzhou, Guangdong province), 2012 (Huangshi, Hubei province), 2013 (Kobe, Japan) and 2015 (Sendai, Japan), with Sunday's triumph seeing her surpass compatriots Wang Nan and Zhang Yining to become the most successful player in the history of the tournament, which dates to 1996.
"I've waited so long for this trophy. I needed a major title to prove myself, especially after winning the world championship but then losing some of the tour matches," said Liu.
"That's why I put a lot of pressure on myself here and why I value the title so much."
Victory for Liu also avenged a 2017 final defeat to Zhu in Markham, Canada - a tension-packed seven-setter that remains Liu's only singles loss at a World Cup.
Liu's fifth title also sees her join an illustrious list of players - China's Deng Yaping, Ding Ning, Li Xiaoxia, Wang Nan and Zhang Yining - who have won both the Women's World Cup and a singles title at a world championships.
Only Liu, Wang (2003), Zhang (2005) and Ding (2011) have held both titles in the same year.
Somewhat strangely, in a year when every World Tour women's singles title has been won by a Chinese player, the cupboard is still bare for both Liu and Zhu so far.
The best for each player have been runners-up spots: Liu in March in Qatar; Zhu Yuling in January in Hungary.
"I hadn't won a title since the world championships, so I reflected on that and raised my game," said Liu.
"This time I did not think back on my previous results at World Cups. I just played this tournament as though it was the world championships or even the Olympics."
Liu had breezed past American wildcard entry Lily Zhang in straight sets (11-6, 11-1, 11-5, 11-5) to reach Sunday's final.
The 24-year-old Zhu fended off Singaporean veteran Feng Tianwei 4-2(11-1, 11-13, 9-11, 11-5, 11-5, 11-5) in the other semifinal.
Despite defeat to Liu in the final, Zhu was left to reflect on plenty of positives after suffering a number of recent setbacks.
The world No 3 missed out on selection for last month's Asian Championships in Yogyakarta, Indonesia, and lost in the first round of the Swedish Open to Japan's Miyu Nagasaki.
"I have not been in good form recently, but I think I performed well in this tournament. I tried my best to win every point from the very first match," Zhu said.
"Compared with my recent outings on the World Tour, I'm satisfied with my performance here and see it as a fresh start in my preparations for next year's Olympics."
Earlier on Sunday, Feng defeated Lily Zhang 4-1 (11-6, 11-8, 11-8, 5-11, 15-13) to finish third at the $250,000 annual event.
"I am very satisfied with my performance here," said Feng. "Actually my goal was to reach the last eight but now I'm bringing home bronze.
"I am very happy. This was my first time to play against Lily and she posed a lot of threats. She is an outstanding player. I know she is a top student as well. It is not easy for her to achieve this high level."
Lily Zhang became the first American and first player not born in Asia or Europe to reach a women's World Cup semifinal.
"Liu Shiwen was just too strong for me," said the world No 49.
"She did better in every aspect than me. I will keep this match footage as I am sure I can learn a lot from her."
ITTF.com contributed to this story.