Trudeau must free himself of undue influence: China Daily editorial
China Daily | Updated: 2019-10-22 20:32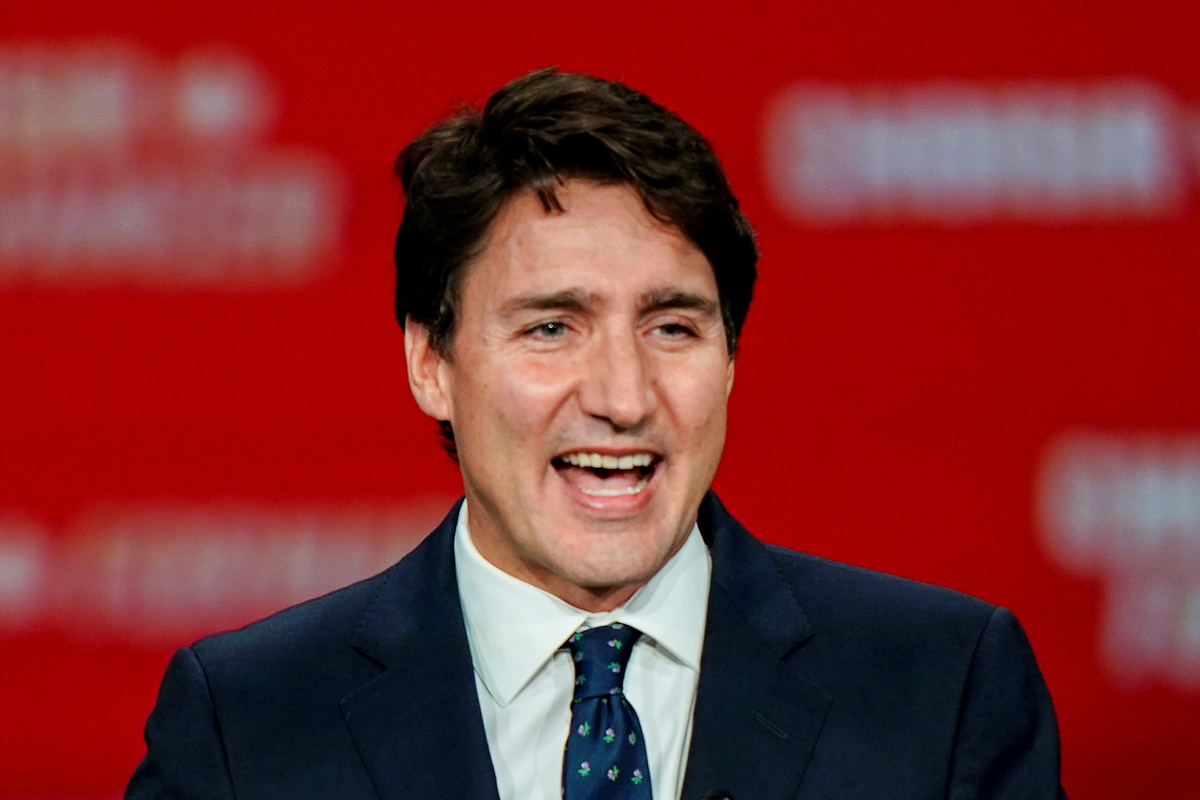 With Canadian Prime Minister Justin Trudeau set to have another four years to deliver some of his not-yet-realized promises, the young prime minister should be thankful that his personal charisma has been strong enough for him to survive some recent scandals and unmet expectations.
But his second term is likely to be even more difficult than his first, not only because his Liberal Party will need to rely on a coalition partner, but because he seems willing to continue being on call to do Washington's bidding.
It is partially due to his willingness to be at Washington's beck and call that Canada's interests, both economic and political, have become so closely entwined with, if not dictated by, those of its only land neighbor - as shown by Ottawa's brazen detaining of Meng Wanzhou, chief financial officer of the Chinese telecom giant Huawei, when Meng was in transit at Vancouver airport in December.
Putting all his eggs in one basket, Trudeau has failed to demonstrate the same courage and vision as his father Pierre Trudeau who as Canadian leader had the diplomatic foresight and courage to jump the gun on many other Western countries, establishing Canada's diplomatic relations with China in 1970.
It seems the junior Trudeau is less confident in his country acting independently and he is content to allow Canada to play the role of being its neighbor's forecourt.
Prior to his submitting to Washington's will, relations between China and Canada had been displaying good momentum. But since then, their relations have encountered serious difficulties. The responsibility for this lies completely with Canada.
The souring of bilateral relations after the detention of Meng has been compounded by Canada making a series of incorrect comments on Hong Kong, which it has no right to do, Hong Kong affairs are purely China's internal affairs, and its misinterpretation of the compulsory measures taken against two Canadian nationals as arbitrary detention, even though the two are being held on suspicion of engaging in activities that endanger China's national security.
It is to be hoped the Liberals' shrinking advantage against the Conservatives in the election will prompt Trudeau to reconsider his willingness for Canada to be an extension of the United States, a position which fundamentally deviates from his pro-globalization stance. He should view relations with China in a more objective way, which will better serve the interests of both countries.
Looking at China free of the auspices of the US administration, he would be able to appreciate that Canada shares similar views with it on globalization and multilateralism and that it is not an insurmountable problem to put relations back on the right track - he just needs to demonstrate the same courage and conviction as his father.