How to better promote China-Brazil ties
By Jiang Shixue | China Daily | Updated: 2019-10-23 08:17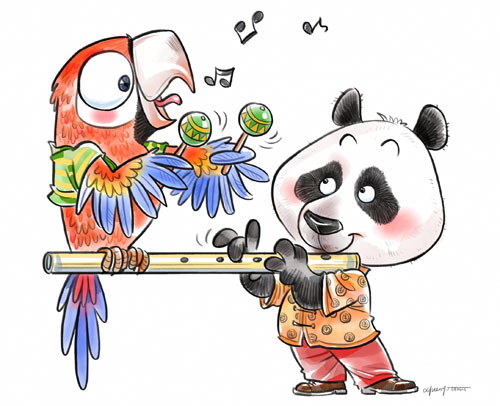 Brazilian President Jair Bolsonaro will pay his first official visit to China from Thursday to Saturday, during which he will meet with Chinese leaders and attend other bilateral economic and trade events as well as discuss issues of shared concern with Chinese officials.
China and Brazil are important emerging economies and have a comprehensive strategic partnership. The stable development of Sino-Brazilian relationship has been marked by fruitful cooperation over the past 45 years, and Bolsonaro's visit may help the two sides to advance coordination and co-development.
True, Bolsonaro made some remarks against Chinese investments in Brazil during the Brazilian presidential campaign last year; for instance, he said China was buying up Brazil. But his tone and attitude toward China changed after he took office. And on March 19, following his meeting with United States President Donald Trump, he announced that he would visit China.
On Aug 15, in the congratulatory message to mark the 45th anniversary of the establishment of China-Brazil diplomatic ties, Bolsonaro said he valued the bilateral relationship and hoped to see deeper cooperation between the two sides in the future.
Bolsonaro's stance on China changed because of the close China-Brazil ties, particularly in the field of trade, which can help boost Brazil's development and thus help fulfill Bolsonaro's promise of economic development, fighting corruption and improving social security.
High-level communication and the fast changing international situation have provided China and Brazil the chance to turn challenges into opportunities. To do so, the two sides need to not only strengthen bilateral ties but also address four issues.
To begin with, the two countries should deepen cooperation under the framework of the World Trade Organization, as well as through platforms such as the China-proposed Belt and Road Initiative, so as to promote diversity in trade and facilitate shared development.
Besides, complementary trade is the cornerstone of China-Brazil relations. In other words, bilateral economic ties were established on the basis of the two sides' comparative advantages-China having abundant labor force, strong manufacture ability and a huge market, and Brazil being rich in natural resources and the largest market in Latin America.
But the complementary nature of trade has confined bilateral trade ties to certain areas, raising questions on how China and Brazil can make progress in the economic field if their trade does not go beyond its complementary nature.
The Chinese and Brazilian governments have reached wide political consensuses. But there is a shortage of consensus between the two sides at the public, business and academic levels, which has prompted many Brazilians to raise doubts over China, and prevented Brazil from joining the Belt and Road Initiative. Which shows the two sides have to find ways to reach political consensuses at multiple levels.
Also, China and Brazil should jointly fight hegemonism and oppose other countries' unilateral and protectionist policies, which cause disorder across the world and go against the grain of globalization. Since the global economic slowdown has had a big impact on their economies, China and Brazil should try to take a unified stance against protectionism and facilitate bilateral and multilateral cooperation to safeguard the world order and promote globalization.
Another challenge for Sino-Brazilian ties is to offset the widespread influence of the US in Latin America. The US has been vigilant against Chinese investment in Latin America, and even tried to provoke disputes between China and some Latin American states. As Bolsonaro has adopted a pro-US stance since the presidential campaign, it is not easy for him to change his foreign policy.
Therefore, China and Brazil should develop their relations independent of US interference. Which is possible only if Bolsonaro refrains from involving a third party in Brazil's or any other Latin American country's relations with China.
The author is a distinguished professor at and director of the Center for Latin American Studies at Shanghai University. The views don't necessarily represent those of China Daily.