Street artists have a ball at Beijing's Shunyi festival
By YANG FEIYUE | China Daily | Updated: 2019-10-23 08:19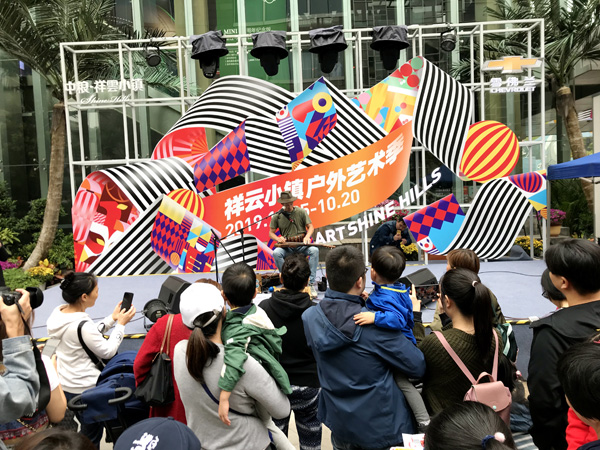 Zeng Yisu was doing magic tricks using a crystal ball at a vacant space in Shine Hills, a commercial zone in Beijing's northeastern Shunyi district in mid-October.
The ball seemed to float in the air above Zeng's hand. Sometimes, Zeng would catch passersby unaware by pulling stunts with the levitating orb right under their noses.
His performance received bursts of laughter and applause from both the audience and unwitting participants in his show, many of whom came from all across the capital to join the Shunyi street art festival that ran from Oct 5 to Oct 20.
"The audience has been very enthusiastic and quite interactive," the 25-year-old says.
The artist, who was born in Xiamen, Fujian province, has been perfecting his skills since 2008, and has delivered performances abroad in places such as Japan and Malaysia.
As of 2018, he was one of the top hosts of a channel on the video-sharing platform YouTube dedicated to crystal ball performances.
Yet, this was the first time he has given a street performance on the Chinese mainland.
"I like street performance," Zeng says. "The audience can see more at close quarters, which spurs me on to improve my performance."
Zeng is one of the many street performers, drawn from both home and abroad, that were invited to participate in the Shunyi festival.
There were more than 100 street performances during the festival by clowns, acrobats, living sculptures and singers, says Zhao Zhuo, an official with Shine Hills.
"We felt the vitality of street artists abroad, and we wanted to create similar ambience to release the energy of the commercial zone," says Zhao.