Xi's visit aimed to boost cooperation between China, Nepal and India
By Saroj Gautam | China Daily | Updated: 2019-10-23 08:20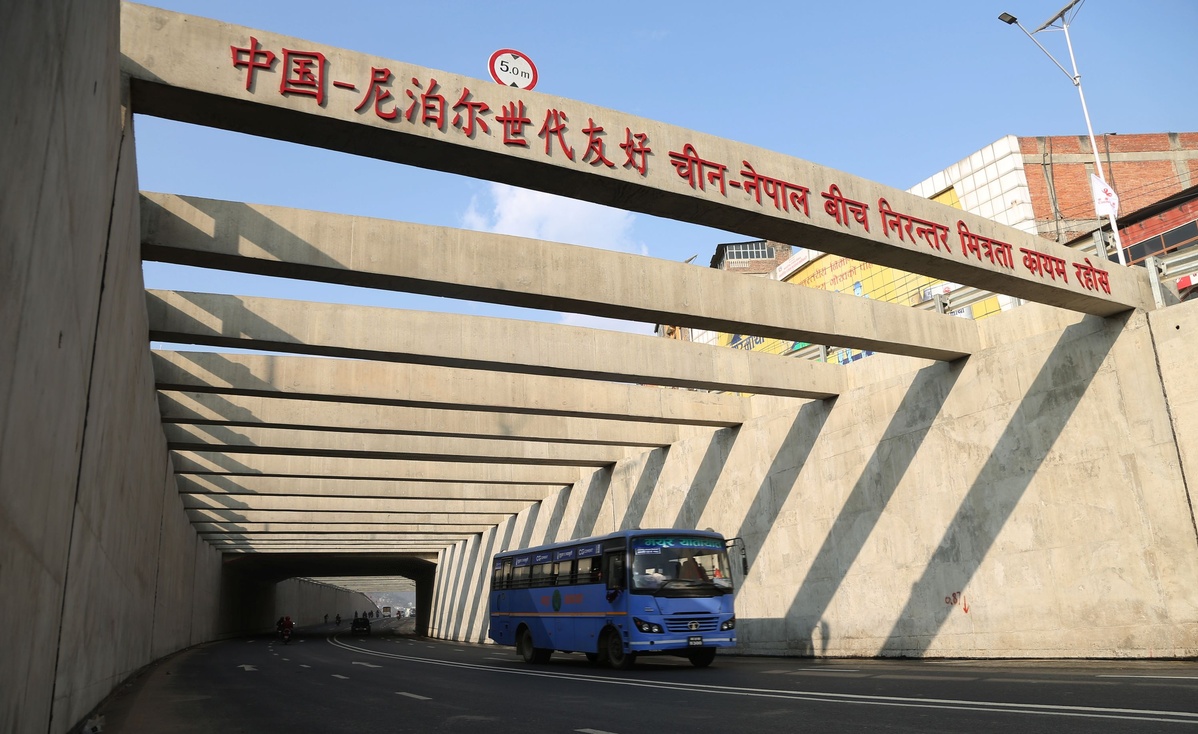 President Xi Jinping's recent state visit to Nepal, the first by a Chinese head of state in 23 years, has taken bilateral ties to newer heights while opening up multiple avenues for advancing cooperation in the new era. During his visit, the two neighbors agreed to upgrade their relations to a "strategic partnership".
Nepalese politicians, scholars and the media are engaged in decoding the messages given by Xi. Nepal's mainstream media, with almost identical editorials, highlighted three key messages: the strong bond between the two countries and Nepal's importance to China; Xi's support to transform Nepal from a landlocked to a "land-linked" country; and his assurance to Nepalese leaders to deliver everything he has promised.
During Xi's visit, the two countries signed 20 agreements in fields such as multi-dimensional connectivity, infrastructure building, people-to-people exchanges, agriculture, health and education, with a focus on capacity building and technology transfer.
China has also promised financial assistance of 56 billion Nepalese rupees ($491.44 million) by 2022 to Nepal, with the tourism sector set to reap the immediate benefits of Xi's visit, as China has pledged to encourage more Chinese people to visit Nepal to mark the "Visit Nepal Year" in 2020.
Sino-Nepalese relations enjoy a high degree of trust at both the state-to-state and people-to-people level, and Xi's visit has helped further cement the friendship between the two neighbors.
Xi said in Kathmandu that the sincere smiles on the faces of Nepalese people and Nepal's adherence to the one-China principle show China-Nepal friendship enjoys broad public support in Nepal.
Xi's visit to Nepal is at the same time a continuation of the historic legacy and a new beginning. Given China's growing regional and global influence thanks to its unprecedented economic growth, China's assurances to Nepal hold special significance for Kathmandu because they are different from those of other countries.
Nepal greatly depends on India for the supply of many basic commodities because of its geographical location. But with Xi promising to help transform Nepal from a landlocked to a "land-linked" country, even the grassroots community in Nepal seems optimistic about a better future. Some 50 years ago, Nepal got an alternative development path for the first time when China helped build the Araniko Highway. Even today, Nepal is seeking alternative paths of development, especially because a blockade along its border with India in 2015 threw life out of gear for months.
After the strategic Transport and Transit Agreement between Beijing and Kathmandu in 2016, Nepal heaved a sigh of relief because it provided the country with an opportunity to free itself from geographical constraints.
During Xi's visit, Beijing and Kathmandu agreed to work on a detailed report for the Kathmandu-Kerung railway project, which was also included in the Joint Communiqué of the Second Belt and Road Forum for International Cooperation in Beijing in April. As one of the most ambitious and game-changing projects, the rail link will connect Kerung county in China's Tibet autonomous region with Kathmandu in Nepal.
While explaining the legitimacy of the Communist Party of China governing the country for seven decades, Xi advised Nepalese leaders to not be content with glorifying the outcome of political movements but to focus on delivering the goods in line with the people's needs.
"Let's accomplish the plans, we have been doing the same in China," Xi said at the state banquet organized by Nepalese President Bidya Devi Bhandari. Nepalese political analysts said Xi's remark suggest he wants Nepal to adopt a proactive approach toward the China-proposed Belt and Road Initiative which promotes infrastructure development.
Xi has proposed a new model of global governance based on fairness and common development to fulfill the global governance deficit. He promotes multilateralism, consultation and understanding between different civilizations to increase mutual trust and achieve win-win results, in order to address the development deficit. In this context, his visit to Nepal following his trip to India should be seen as a move to strengthen China-Nepal-India trilateral cooperation.
The author is senior news editor at AP1HD Television in Nepal and writes on international relations and diplomacy. The views don't necessarily represent those of China Daily.