Meng's title shot in sight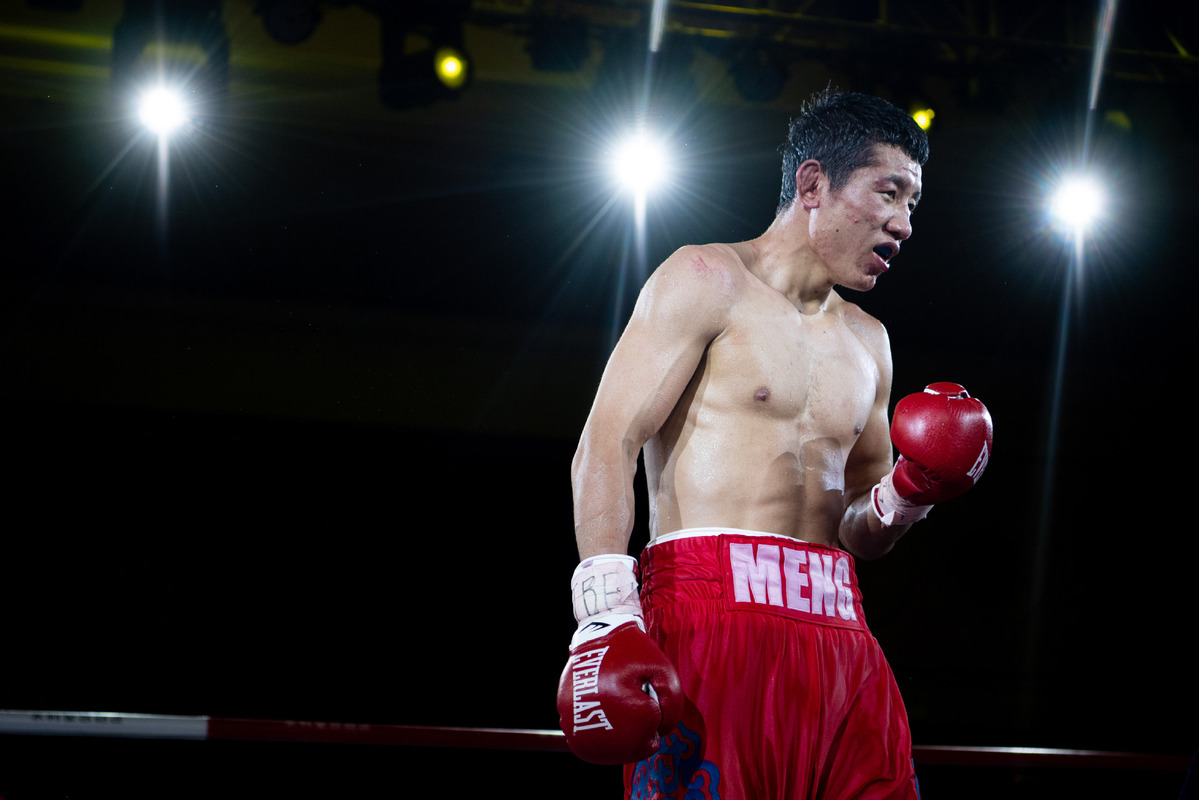 In the upcoming Year of the Mouse, Meng Fanlong could provide one of boxing's loudest roars.
After witnessing a spectacular title defense by IBF light heavyweight champion Artur Beterbiev in Philadelphia last week, Top Rank promoter Bob Arum wants to match the Russian against Meng - aka 'Cold Blood' - the undefeated No 1 contender from Chifeng, Inner Mongolia.
Last Friday, the 34-year-old Beterbiev (15-0, 15 KOs) floored previously unbeaten (17-0) Oleksandr Gvozdyk three times before stopping the Ukrainian in the 10th.
Immediately after the fight, Arum told boxingscene.com the champion's next title defense would be against Meng, "somewhere in China, somewhere around the time of Chinese New Year".
On Oct 10, Meng raised his record to 16-0 with a second-round KO of Mexico's Gilberto Rubio in the US.
The 6-foot-2 southpaw's 10th stoppage came in his first fight since scoring a lopsided unanimous decision over Germany's Adam Deines in their June 1 IBF International title bout in Macao.
Beating Deines made Meng the mandatory contender to challenge for Beterbiev's IBF crown, but the Montreal-based Russian opted to meet WBC champ Gvozdyk in a title unification bout.
"I'm excited to get the chance to fight for two world titles," Meng told boxingscene.com this week.
"I will be the first 'bigger' boxer from China, above featherweight, to get a world title shot. This is already making history, but I want more. I want to bring those belts to my country, where billions of people will be talking about it for generations."
Meng's promoter, Dino Duva of Roc Nation Sports, said the stars are aligning for the Chinese brawler.
"Fanlong has worked really hard and earned his right to fight for the world title," said Duva.
"When I first scouted him 10 years ago with the Chinese national team, I knew he was destined for greatness. He said he wanted to be a world champion, and I promised to deliver him that opportunity.
"Now it's all coming together. We know Beterbiev is a great champion, but Fanlong has the skill to box and beat anyone.
"Sometime in early 2020, he will get his chance to prove it ... and history will be made when he wins."
If and when the fight happens, it's a safe bet Beterbiev will be more than ready.
A slight underdog against Gvozdyk, the Russian was trailing on two of the three official scorecards when he ended it with a vicious combination, followed by a huge left to Gvozdyk's face.
According to PunchStat, Beterbiev outlanded Gvozdyk 60 to 14 over the last two rounds to close the show.
An IBF title fight between Beterbiev and Meng in China would validate IBF president Daryl Peoples' faith in the nation's commitment to grow pro boxing - particularly the IBF's Belt and Road Region tournaments, which are aimed at providing long-overdue championship opportunities for fighters from nations that have been on the outside looking in.
Two years ago, the IBF became the first global sports organization to integrate the Chinese government's Belt and Road Initiative into a high-profile professional competition series, incorporating 60-plus nations in Asia, Africa, the Middle East and Europe.
"With the IBF B&R, we have established a cooperative network of national federations from dozens of countries that previously only had a peripheral association with professional boxing, or in some cases none at all," said Peoples.
"The linchpin of the initiative is China's commitment to grow pro boxing.
"We have created a ratings system to allow fighters to be assessed by the B&R ranking committee and published quarterly.
"The champions and top contenders from each country are listed by division and they can qualify for our world rankings."
PUNCH LINES: WBA world featherweight champion Xu Can of Fuzhou, Jiangxi province, is scheduled to make his second title defense on Nov 23 in Indio, California, against Manny Robles of the US. Xu has a record of 17-2 with three KOs over 154 pro rounds, while Robles is 18-0 with eight stoppages in 100 rounds ... Unbeaten southpaw heavyweight Zhang Zhilei (20-0, 16 KOs) of Zhoukou, Henan province, is slated to face Russia's Sergey Kuzmin (15-1, 11 KOs) on Nov 30 in Monte Carlo. It will be the 6-foot-6 Zhang's first fight since stopping Don Haynesworth of the US in their WBO Oriental title bout in Changsha, Hunan province, in September of last year.