Murder suspect released, HK rejects Taiwan's request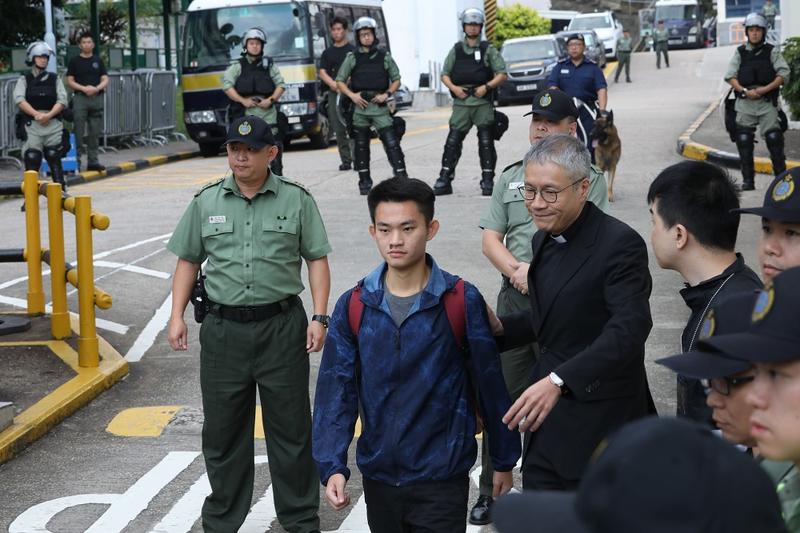 Taiwan's request to send law enforcement officers to Hong Kong to fetch a fugitive murder suspect has been turned down by the government of the Hong Kong Special Administrative Region.

Secretary for Security John Lee Ka-chiu slammed Taiwan's request as "irresponsible" and described it as an attempt to stop justice from being served.
In a statement released early Wednesday morning, the SAR government said that it is tantamount to cross-jurisdiction law enforcement, which is a disrespect for Hong Kong's jurisdictional power and is totally unacceptable.
Chan Tong-kai, the man at the center of the legal storm, said Wednesday he would turn himself in to Taiwan authorities in relation to a murder he is suspected of committing on the island.

Speaking at Hong Kong's Legisative Council (LegCo) Wednesday, Lee iterated the HK government's position, saying Taiwan's request could be deemed as "extreme disrespect" for Hong Kong's jurisdictional prerogative and was totally unacceptable.
Speaking outside Pik Uk prison upon release after serving a prison sentence for money laundering, Chan expressed his remorse and hoped that by surrendering himself, the family of the woman he is suspected of killing would find closure.
Chan also apologized to the people of Hong Kong and society, when asked about the protracted social unrest triggered by the now-withdrawn extradition bill that had been drafted keeping in mind complexities thrown up by Chan's alleged crime. More than a dozen reporters from media outlets, foreign and local, were waiting for Chan's release outside the prison in Sai Kung early Wednesday.
Chan, a Hong Kong resident, was suspected of murdering his pregnant girlfriend Poon Hiu-wing in Taiwan in February last year. He was arrested by Hong Kong police after fleeing to the city, and was convicted of money laundering after it was proved that had stolen money from his murdered girlfriend's bank accounts.
Following Taiwan's firm rejection of his proposal to surrender himself by entering the island, Chan canceled his flight today, said Reverend Peter Koon Ho-ming, who persuaded Chan to surrender himself. It's not certain when Chan will be leaving for Taiwan, Koon said.
"The authority of Taiwan has no law enforcement power in Hong Kong. Chan is Taiwan's wanted person and his surrender decision is voluntary. As he will be a free man after released from jail, the HKSAR Government has no authority to impose any restrictive measures on him,"reads the statement issued by the SAR government.
"The suspect could go to Taiwan accompanied by persons of his choice. Upon arrival, the authority of Taiwan can arrest him. If the authority of Taiwan is willing to handle Chan's surrender, it should immediately cancel the landing restriction of Chan in order not to contradict the warrant of arrest in force. Now that Chan voluntarily surrenders himself, why should one still be concerned that he will abscond and destroy evidence?"reads the statement.
"In response to Taiwan's claim that the Taiwan homicide case should be dealt with through legal assistance, the HKSAR Government considers it an excuse which has nothing to do with self-surrender. In fact, it is noted that Taiwan has handled similar cases with places where it has no legal assistance in the past. This time, Chan surrenders himself out of his own free will, and he is a person wanted in Taiwan. The case can be handled entirely outside any legal assistance regime. The assistance offered by Hong Kong will be based on Chan's request, and will have to be carried out on the basis of Taiwan's respect for Hong Kong's law and system,"reads the statement.
On Tuesday, acting Chief Executive Matthew Cheung Kin-chung urged Taiwan authorities not to let political motives override the rule of law and justice when handling the voluntary surrender of Chan.
Meeting the press before the weekly Executive Council meeting, Cheung said Taiwan's earlier decision refusing to accept the surrender of the suspect was "ridiculous" and "very confusing".
Cheung said it is was common practice for jurisdictions around the world to accept self-surrender suspects to uphold justice. He urged the island authorities to be pragmatic and proactive — instead of complicating matters.
Echoing Cheung's remarks, Taiwan's former leader Ma Ying-jeou said he was "very sad"about Taiwan's "ridiculous" move.
Ma accused the incumbent Taiwan leader, Tsai Ing-wen, of further traumatizing the victim's family by politicizing the case for the upcoming election.
"As the father of two daughters, I sympathize with the victim's parents. How can we be so cruel to let a murderer who killed a pregnant girl act with impunity?" he said.