Bolsonaro's visit to strengthen ties
By Renato Baumann | China Daily | Updated: 2019-10-24 07:51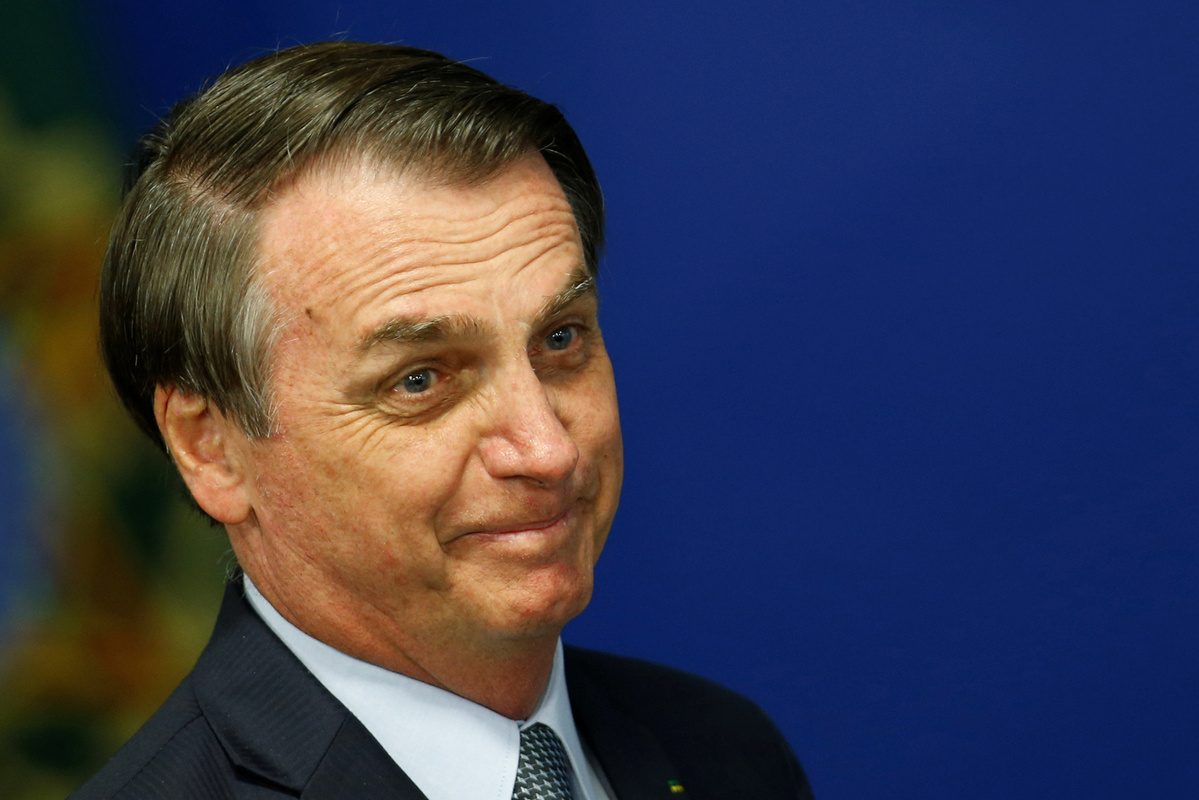 Jair Bolsonaro's remarks during his presidential campaign last year raised some eyebrows in China. But once he was sworn in as Brazil's President, the Brazilian government began signalling that it was keen to improve relations with China.
These signals came thanks to the revitalization of the Sino-Brazilian High-Level Commission (Cosban). After Brazilian Vice-President Hamilton Mourão met with Chinese President Xi Jinping in Beijing in May, the message of a renewed interest in strengthening bilateral relations became clearer. And Cosban, observers say, will play an important role in deepening bilateral ties in a number of areas.
Now, Bolsonaro himself is on a three-day visit to China from Thursday as part of a series of visits to countries in Asia and the Middle East. The underlying message is, of course, one of renewing the Brazilian diplomatic tradition as a "global trader", and welcoming more foreign investment.
Bolsonaro's visit to China comes at a moment of peculiar relationship between China and the United States. This has caused global concerns about the consequences of an increasing rise in bilateral trade (and other) barriers. In fact, a number of economies are suffering the negative consequences of the global economic uncertainty stemming from the present situation.
Brazil is a long-standing partner of the US given its geographical proximity to the US, the opportunities offered by the huge US market and the sheer convergence of commitments to the multilateral institutional system over 70-odd years.
The incumbent Brazilian government has on several occasions emphasized it is committed to openning up the economy and building a friendly environment for business. It has already initiated a number of initiatives in this direction, which tantamounts to a condemnation of trade protectionism. It would, therefore, be no surprise if Presidents Xi and Bolsonaro issued a joint statement condemning the growing protectionist trend.
Brazil and China are, of course, partners in such a potentially important initiative as BRICS. A number of measures have been taken to promote the five-nation group, but mechanisms should be established to intensify intra-BRICS cooperation in a number of areas.
An increasingly important set of issues has to do with combating climate change. China is a leader when it comes to reducing pollution and generating clean energy-solar and wind energy in particular. Brazil, on its part, has one of the cleanest energy matrix, but of late it has been accused of, among other things, not doing enough to control the fires in the Amazon region.
In this context, China and Brazil have a lot to gain from project financing and sharing experiences and by taking joint initiatives, and/or making joint commitments to BRICS. The BRICS New Development Bank can play a major role in this regard.
In 1823, the US introduced the Monroe Doctrine, which stated further efforts of European powers to colonize land or interfere with countries in North and South America would be viewed as acts of aggression, requiring US intervention. In effect, the doctrine "reserved space" for the US and asserted the US would act against any interference by European powers south of Rio Grande in order to maintain its dominance in the region.
This approach has been recently considered by some analysts given the sharp increase in Chinese trade with and investment in the region. Fortunately, the US administration has not made any such move so far, which is good news.
From the Brazilian perspective, it would be difficult to choose between the US and any other major economy-whether it is on the bilateral level or in multilateral forums-as it would go against Brazil's traditional "global trader" position and prove quite costly in diplomatic terms.
On the other hand, China has become Brazil's most important trading partner and made huge investments in the country.
But Brazil does not want its economy to be "US-dependent" or "China-dependent" in the future. Traditionally, Brazil has sought trade relations with every potential partner, and welcomed investment from any country that meets the basic requirements of the local economy.
Therefore, Bolsonaro's visit to China will help consolidate a relationship that has been gaining importance in recent years and will have no major implications for relations between Brazil and other countries.
The author is undersecretary for foreign investment, Ministry of Economy, Brazil. The views are personal and don't necessarily represent those of the Brazilian Ministry of Economy or China Daily.