Audio project to echo down the years
By LI LEI | China Daily | Updated: 2019-11-01 09:17

Recordist is helping to build a 'soundscape' of China from industrialized cities to remote western areas
Over the past few years, Luo Jun has been attempting to build a soundscape of his world with hundreds of thousands of audio clips-from a small project featuring the college where he teaches sound effects, to a grand work aimed at capturing the pristine vibrations of China's far west.
Some of his works, including one aimed at preserving the preindustrial audio memories characteristic of the southwestern city of Chongqing, his hometown, have resonated with local residents trying to cope with rapid urbanization in recent decades.
Luo, 37, recently made a name for himself in the hilly city by debuting a "sound map" of Chongqing University, in the runup to the institution's 90th birthday last month.
The audio project-launched in September at an exhibition on campus-allowed visitors to hear the signature sounds of university landmarks by scanning QR codes attached to sketches of them.
Wearing headphones, visitors were bombarded by an array of nostalgic sounds including the trademark ringing bells of the redbrick buildings, the scratches of pen on paper in the library and noises of swans on the lake waterfront.
The sounds were captured by Luo and his crew of seven technicians over the past 10 months using filmmaking audio equipment, and given as gifts to the institution.
"Sound is a crucial part of culture," said Luo, who earned a master's degree in film sound art at Beijing Film Academy in 2010, three years after taking leave from his teaching post at Chongqing University.
He said descriptions of sounds are plentiful in Chinese poems and other literary classics. The pitter-patter of raindrops on banana leaves and the croaking of frogs on a summer night are among the well-loved aural images adopted by the greatest Chinese poets and writers.
A part-time sound effects engineer for films, the teacher is on the constant lookout for unique sounds in his spare time. He said the endeavor is time-consuming and requires lots of patience and perfect timing.
"It's a norm for recording artists like me to stay up late to capture sounds," he said. "A natural audio environment cannot be reproduced, nor can it be fabricated."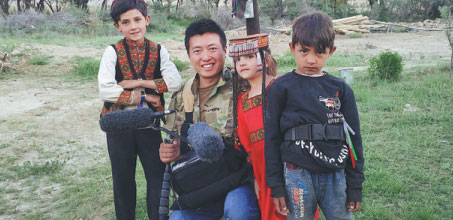 His efforts to document the fleeting audio memories associated with old Chongqing are a perfect example.
About two years ago, a photographer came to Luo and asked if he would create a soundscape that could offer an immersive experience for viewers of his photographs.
To try to achieve this, Luo traveled to a number of ancient towns to record the shouts of the street vendors, the bargaining of shoppers and the chatter of neighbors exchanging news in the early hours.
"Occasionally a motorbike raced by and the noisy engine spoiled it all," Luo said.
Born in the early 1980s, Luo has been obsessed with sounds since childhood. Radios, cassette players and recorders, among others, were his favorites in his youth. His working class-parents were only able to buy him a Walkman when he was in senior high.
Luo studied recording arts at college and later made it his career. Even outside working hours, he spends considerable time discovering new sounds, traveling to the remotest areas in the country, including the Khunjerab Pass in the Xinjiang Uygur autonomous region, and Garze Tibetan autonomous prefecture in Sichuan province.
Luo said sounds-ranging from the door that creaks open in the morning to the chirps of insects as night falls-are all parts of a city's pulse and breathing. "Only when you calm down at such places can these sounds become audible."
Tan Yingzi contributed to this story.