Fresh incentive for trilateral trade deal
China Daily | Updated: 2019-11-07 07:23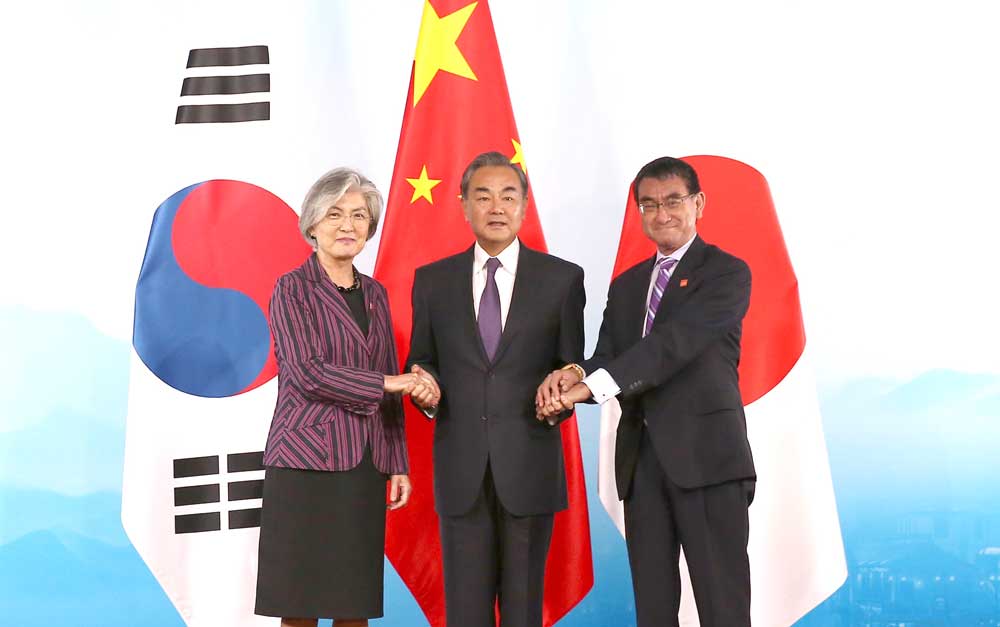 Editor's Note: This year marks the 20th anniversary of China-Japan-Republic of Korea cooperation and China will host the eighth trilateral cooperation meeting later this year, which Japanese Prime Minister Shinzo Abe will reportedly attend. Columnist Niutanqin comments in a WeChat post:
Premier Li Keqiang met with Abe in Bangkok, Thailand, a day earlier during the 22nd Association of Southeast Asian Nations plus China, Japan and ROK leaders' meeting. Since last year, high-level meetings between Japan and China have strongly promoted the positive development of bilateral relations in the new era, and Japan is ready to strengthen dialogue and communication with China, deepen pragmatic cooperation and keep closer coordination in international and regional affairs, Abe said.
At a time when relations between Japan and the ROK are worsening, the holding of the trilateral leaders' meeting between the three Asian neighbors is inspiring and it will hopefully promote trilateral cooperation and jointly safeguard regional peace, stability, development and prosperity.
Despite being neighbors, China-Japan-ROK relations seem to be the most complicated in the world and every now and then they quarrel with each other, and even shut off diplomatic contact for some time. But finally, all are changing significantly. Abe paid a historic visit to China last year and China's top leader went to Japan for the G20 Summit in the summer. After hitting a historical low, the relationship between Japan and the ROK also shows signs of thawing as the two countries' leaders met for talks in Bangkok.
If handled well, China-Japan-ROK cooperation will usher in a new spring and have a far-reaching impact on the situation in Northeast Asia and the world economy. That the ties between China and Japan have walked out of their low point is inseparable from the wisdom of their decision-makers, and the smooth advancement of China-Japan-ROK relations also hinges on the wisdom of the three countries' leaders.
For healthy and lasting development of their ties, the three countries should properly handle the sensitive issues among them.
With the Regional Comprehensive Economic Partnership having basically taken shape, it should provide some momentum for the China-Japan-ROK Free Trade Zone negotiations. There will be twists and turns in the process, and it will test the courage and vision of the decision-makers of the three countries, but it would be beneficial for all three countries.