Rebuilding Notre Dame
By Wang Kaihao | China Daily | Updated: 2019-11-07 08:39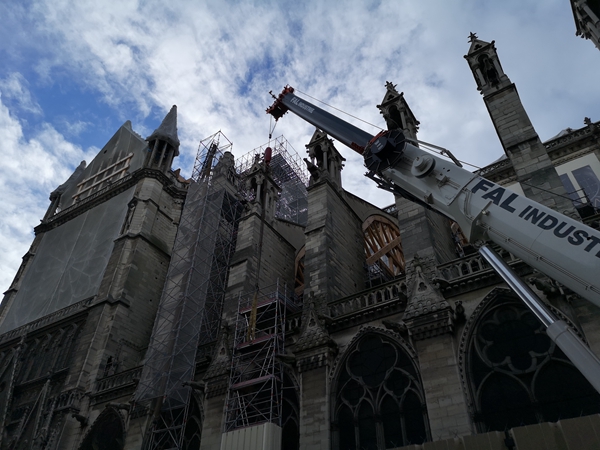 Under new joint Sino-French plans, cultural heritage experts from China will fly to Paris next year to help rebuild the iconic fire-damaged cathedral, Wang Kaihao reports.
When the oak-framed roof of Notre Dame Cathedral in Paris burned to the ground in a blaze on April 15, people around the world wept over the fate of the iconic 12th-century monument.
Yet, thanks to an unprecedented display of global unity, the rebirth of this cultural colossus is now guaranteed.
The cultural administrations of China and France jointly released a declaration on Wednesday in Beijing to kick off a program of bilateral cooperation to rebuild the world-famous cathedral.
With President Xi Jinping hosting his French counterpart Emmanuel Macron on a state visit to China, the declaration was signed by Liu Yuzhu, director of the National Cultural Heritage Administration and Franck Riester, the French minister of culture, in the Great Hall of the People.
"A loss of cultural heritage means the disappearance of a period of history and culture," Liu says in a written statement. "It also teaches us a lesson about ensuring the safety of cultural heritage, and prompts us to set red lines for the future that must not be crossed."
In line with the declaration, a team of Chinese experts on cultural heritage will arrive in Paris in 2020"as early as possible" to work on the site alongside French conservationists.
Liu reveals that the two countries have remained in frequent contact since the fire to explore avenues of cooperation.
"The project will greatly expand the horizons of Sino-French cooperation in terms of cultural heritage," he says. "It will set a good example to the world."
China is the first country outside France to reach an intergovernmental agreement over the renovation of Notre Dame, according to the National Cultural Heritage Administration.
Macron had previously stated that the renovation of the badly damaged cathedral would be completed in time for the 2024 Summer Olympics in Paris, but the French government has remained careful about mapping out a specific plan for its renovation involving international partners.
In August, the independent California-based publishing company GoArchitect organized a worldwide competition on the future renovation plans for the destroyed roof. A blueprint drafted by two Chinese architects living in the United States stood out from nearly 300 entries and was named the winner-but has yet to be selected as the official design.